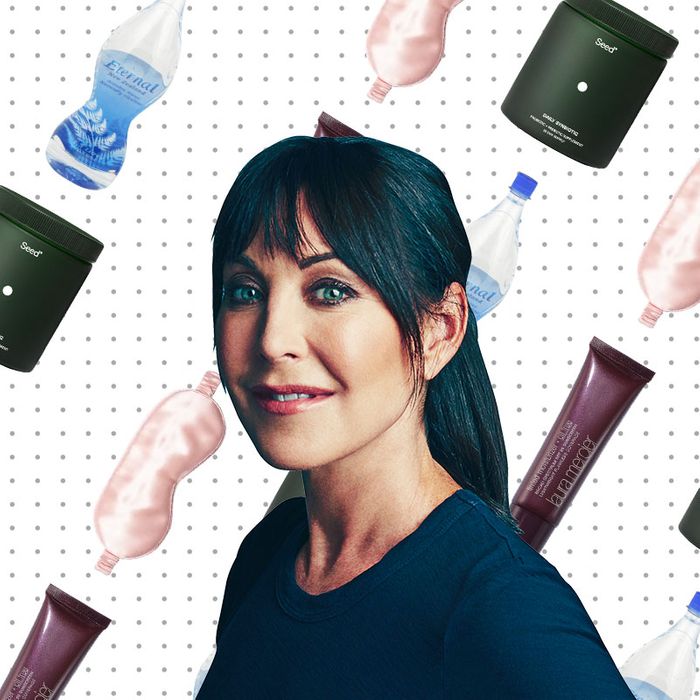 Photo: Courtesy of Tamara Mellon
If you're like us, you've probably wondered what famous people add to their carts. Not the JAR brooch and Louis XV chair, but the hand sanitizer and the electric toothbrush. We asked Jimmy Choo co-founder and creator of her own eponymous line Tamara Mellon about the eye mask, yoga pants, and probiotic she can't live without.
I'd never used a sleep mask when I first got this, but it's really soft and feels amazing on the face. I love to sleep in complete darkness; I'm always in a battle with my fiancé because he likes to sleep with the shade up, but I want to fall asleep in a black hole. This is how I compromise. The silk also has this nice squishy padded quality that's comfortable on the face.
I just love the texture of this stuff. I don't like to use anything too heavy on my face, and this will give me a bit of color in spite of my pale Irish roots. Plus it has sunscreen built in.
The most comfy yoga pants ever. I found them when I was looking for the perfect leggings to work out in, but now I'll just wear them as soon as I get home. I wear them on the weekends, and I'll even wear them in the office if I'm in a rush. If you're in a sweater and military boots, they look great even when you're not working out. I have maybe 20 or 30 pairs of only black ones.
I've been obsessed with Diptyque candles for years, and for the same amount of time I've been using the same scent: Baies. I must be going on ten years now. Baies is like a tree of berries. I first got hooked when I was living in London, and there's just something about the smell of this that is addictive. I probably have a drawer full of all different sizes.
Being English, I drink a lot of tea all day long. It's just my culture. I even have an electric water kettle in my bathroom. That's maybe too much information. When I'm getting ready, I just flip the kettle on, put my AirPods in for meditation, and lie down on the daybed in the bathroom. I like this one because I just found it on Amazon and it's cheap and chic. And I just really like the flavor of that green tea.
I have a thing about water. I think people who drink water out of plastic bottles shipped around the world are drinking water that's been in the bottle for months. It's gotten hot and the plastic has seeped into the water, and I'm sure that can't really be good for you. This is California spring water, and it's plastic that doesn't have the cancer-causing chemicals. It's local, and it tastes like it. I'll use it in my kettle to make tea, too.