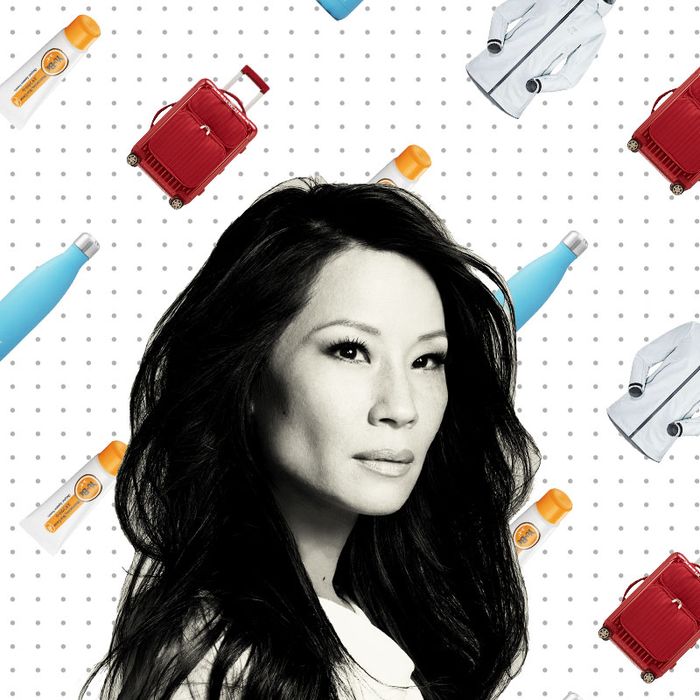 If you're like us, you've probably wondered what famous people add to their carts. Not the JAR brooch and Louis XV chair, but the hand sanitizer and the electric toothbrush. We asked Set It Up and Elementary star Lucy Liu, who directed her fifth episode of the show (it airs tonight), about the skin cream, carry-on, and water bottle she can't live without.
This cream was developed by a Japanese pharmacist — it's great for when I'm outside shooting and my skin's feeling a little dry. I find a lot of lotions to be overly scented, but this one's just perfect. It's become my go-to moisturizer for just about anything.
Even if you're running around on set in a costume for 14 hours, your shoes will never sweat in these socks. I like the no-show ones for when I'm wearing sneakers because one of my friends who's a big hiker recommended them to me — I'll even use them for spinning or running, and they'll stay on and dry the whole time.
My S'well bottle keeps drinks cold for an inordinate amount of time. When I travel and have to bring liquids on the plane, it'll keep milk cold, so it doesn't spoil. It's always with me because I use it every single day. I don't use it for hot drinks though. For that I like my Zojirushi, which is insane — you put hot tea in it at 6 a.m. and at 6 p.m. it's so hot, you'll burn your tongue.
Would you believe I'd never had coffee in my life until about two years ago? I somehow started enjoying the bitter flavor of it, so after a bit of experimenting, I found the Ciocattino, which is my absolute favorite now. There's a hint of chocolate in it that's so pleasant, so I'll have an espresso or double espresso in the morning with my Nespresso (which I'm obsessed with).
I call it Aqua-for-everything. You can put some on your face during the winter or on your chapped lips at any time. It's nice for a baby's bottom if you're a parent or on cuts and bruises to help heal. For glam, we use it in the makeup bag to help moisturize. I'd say the Aquaphor is more of a thick ointment where the Yu-Be is more of a lighter cream, so you can sort of decide which one to use when.