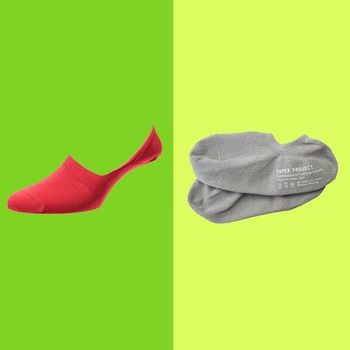 It's officially summertime, which means it's officially the return of no-show sock season, which means the tired debate about whether "real" men wear them or not is officially in full swing again. Based on what we heard from the ten stylish guys we spoke to for this story, owning no-show socks — even if you prefer the sockless look — is essential for the benefit of your shoes, your feet, and those around you. If you want to sport bare ankles, you should still wear some sort of no-show sock because "the moisture from sweat can damage shoes, so wearing socks is going to increase their longevity," according to Kapil Sehgal, the wholesale director at The Armoury Group, a consortium of brands that includes Drake's and The Armoury. Beyond saving shoes, no-show socks will also help to save your skin (Sehgal notes that going sockless can lead to friction and chafing) and help to prevent any unpleasant odors from developing inside your footwear (a "sweaty stank" is how Brian Sacawa, the founder and editor of He Spoke Style, describes the smell that can form after wearing shoes with no socks for hours on end).
But as anyone who's worn no-show socks knows, the wrong pair can cause more problems than it solves. In the words of Cory Ohlendorf, the editor of Valet, you need a pair that won't "slip down into your shoe or ride up so the back shows — or else it defeats the purpose." To find the most worthy pairs of no-show socks, we asked ten guys about the styles they rely on. Read on for their favorites, from no-show socks with grips in their heels, to pairs made with materials derived from hemp and spruce, to others crafted by a brand that's been perfecting its sock construction for 83 years.
Best overall no-show socks for men
Four of our guys say that Uniqlo — the brand that makes the best overall men's boxer briefs and crew socks, according to cool people — also makes the best no-show socks. While it has a few no-show styles to choose from (including a super-low-cut pair and another made from slightly thinner material), the Pile Low Cut socks are the ones that came recommended as the best to wear with sneakers and most dress shoes. One fan is Sehgal, who calls them "the tried and true no-shows" and says "they last long, grip the heel and foot well, and are well-designed enough that they're never peeking out the back of your shoe." Stylist Marcus Paul told us that he has been wearing the Pile Low Cut socks for five years, praising them as an "affordable, practical, reliable pair that will also stay on your feet." A third fan is stylist Dex Robinson, who told us he started wearing these no-shows about two years ago after experimenting with others he didn't like as much. Photographer Christopher Fenimore admits that they may "lose some elasticity after a summer of heavy wear," but maintains that these are "the best you can get at that price" (which is one reason why we do not follow this with a best less-expensive option, because in addition to being the most recommended pair, these are also among the cheapest on this list).
Best men's no-show socks for loafers
While the above no-shows will work with sneakers and most dress shoes, when Sehgal wants to wear something that shows off more of his feet, such as penny loafers or Belgians, he turns to these no-show socks from Japanese brand Tabio. Cut lower than the Uniqlo pair above, he says they stay hidden even when worn with shoes that have a more open construction. "They have a really interesting, three-dimensional knit that truly follows the shape of your foot, which makes them really comfortable — as does the fact there are no seams," adds Sehgal. Because the socks are so contoured to your feet, Sehgal promises that they "stay on and don't slip." For what it's worth, this writer recently picked up a pair of Tabio's no-show socks before hearing about them from Sehgal. After a few weeks of wear, I can confidently say that they are never visible under shoes and also light enough to make me forget I'm wearing socks, but sturdy enough to never slip and remind me that, indeed, I am.
Best less-expensive men's no-show socks for loafers
According to Ohlendorf, "every brand now offers no-show socks, but to do them well (like, really well), you have to put some research and engineering behind them." In his opinion, the design team at Nice Laundry is one that has put a lot of work into designing no-show socks. "I've told many friends and readers about their extra-low no-shows — I wear them with loafers and they're the only ones I've found that don't ever peek out of the top or require any tugging," he says, adding that "they're uniquely stretchy around the arch and grip the back of your heel to stay in place." What's more: They're sold in a set of three that costs less than two pairs of Tabio's no-show socks. And, according to Ohlendorf, they last. "I've had the same three pairs for more than four years and they're still going strong," he says.
Best ultra-thin no-show socks for men
"The best men's no-show socks in the world," says Sacawa, "are not actually no-show socks for men: They are, in fact, women's peds." Of the ultra-thin slip-ons that are typically worn beneath heels, he says: "Try them out before passing judgement, and then come back and tell me they're not amazing." Unlike the rest of the socks on this list, this style is 97 percent nylon, which gives the peds their stretch and ultra-thin consistency. But Sacawa assures that thinness doesn't make them more likely to slip, because the three percent Spandex that completes this pair's fabrication keeps them tight on the feet (and a rubber heel grip ensures no left-to-right slippage, either).
Best no-show socks with personality for men
Dan Snyder's contemporary American menswear brand Corridor is known for its colorful garments, so it shouldn't be a surprise to hear that Snyder himself prefers bolder garments when it comes to what he wears himself. He says that these color-blocked no-shows from Anonymous Ism are his "favorite socks," adding, "I've had them for a few years, they're interesting, and they work." After wearing other pairs that had "a slipping heel," another detail he loves about these is that they stay up all day. And Snyder isn't the only fan of the brand: Chris Black has called the label "Japan's sock gods," and Fenimore also recommends Anonymous Ism's socks, noting that "the variety of beautiful colors" they come in "is timeless."
Best sustainably made no-show socks for men
Paper Project is a new brand that Sehgal raved to us about. "They use hemp and spruce to make an odor-resistant, moisture-wicking sock that's just lovely," he says. "I've been testing a few pairs and they've been really great." Should anyone see enough of your Paper Project no-show socks to ask for more information about them, Sehgal told us that the brand has a great backstory, too. "It exists under the umbrella of this huge Japanese textile company, and makes its socks out of paper yarn, which is super environmentally friendly and sustainable." He adds that "the Japanese guy who started it is a really cool, handsome, nice surfer dude."
Best no-show socks that can double as house slippers
Fashion consultant Tim Khoo says he's tried no-show socks "from Hanes to Uniqlo." His problem with many pairs (including those) is "that they all feel fantastic on the first try," but less so after a wash or two. If that sounds like you, Khoo recommends these no-show socks made with a "blend of fabrics" that "gives them an extra luxe feel, but not so much that they can't stand the test of multiple washes." He swears that these are so plush, in fact, that he's even worn them as a "great sub for house slippers," adding that he's "bought three pairs every year for the past five years — I can't get enough."
Best dressy no-show socks for men
Even though the point of now-show socks is not to be seen, you might be looking for a pair that won't clash with a dressier outfit should you be required to leave your shoes at the door (everybody has those friends). For those situations, menswear enthusiast and model Mats Wallin says guys can't go wrong with a sleek pair of these Egyptian cotton no-shows from Pantherella, a brand that's been making its socks in England using classic techniques since 1937. "I did research and bought a selection of socks for a 2014 trip to London," Wallins says, noting that of all the pairs he packed, his Pantherellas are the ones that lasted. "They keep their shape" — and color and fit — "after each wash," he continues. While expensive for a single pair of socks, Wallins reminds us that "details matter, even though they may not be visible," and that other "cheaper socks can be flimsy, don't stick to the heel, and break."
Best men's no-show socks that show a little
Photo: Retailer
While the point of no-show socks is not to be seen, sometimes it may be inevitable that they peek out from whatever shoe they're hiding beneath. This pair, from Mr. Gray, embraces that reality and comes recommended by by former professional skateboarder (and Rone Footwear founder) Tony Ferguson, who told us he likes their "red heel tab, which pops out of the shoe for some color." Beyond the visual appeal, Ferguson says Mr. Gray's no-shows also "fit the best" of the many styles he's tried, adding that the opening for the foot "is much smaller, stays tight all day, and does not bag out like others do."