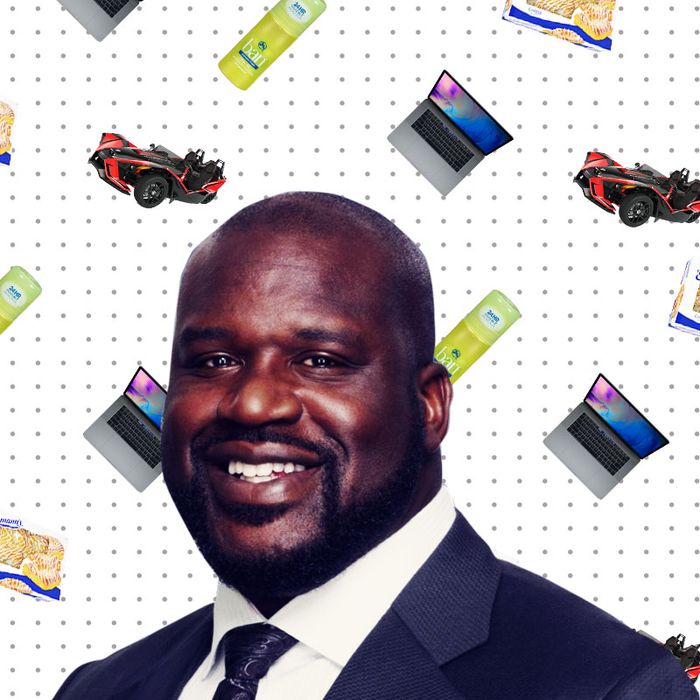 Photo: Courtesy of the retailers and Shaquille O'Neal.
If you're like us, you've probably wondered what famous people add to their carts. Not the JAR brooch and Louis XV chair, but the hand sanitizer and the electric toothbrush. We asked Shaquille O'Neal, whose music festival Shaq's Fun House (sponsored by JBL) starts today in Miami, about the (non-sponsor-made) home projectors, three-wheel motorcycles, and cheat-day candy bars he can't live without.
Whenever I'm on a diet and I can't really cheat, but I have to get a cheat-day taste, it's always a combination of York Peppermint Patties and 3 Musketeers.
It's the only thing that can block my musk. I've tried all the other ones, it didn't work. I can play an entire game and still be smelling fresh.
I like Tumi because they don't mind going crazy. I've got the gray and black camouflage, the green camouflage, the rustic silver. And they make big suitcases. With a regular suitcase, I can't even fit two pairs of shoes in it. With a Tumi, I can fit six, seven pairs of shoes, underwear, other things. I can go on a five-day trip with one suitcase.