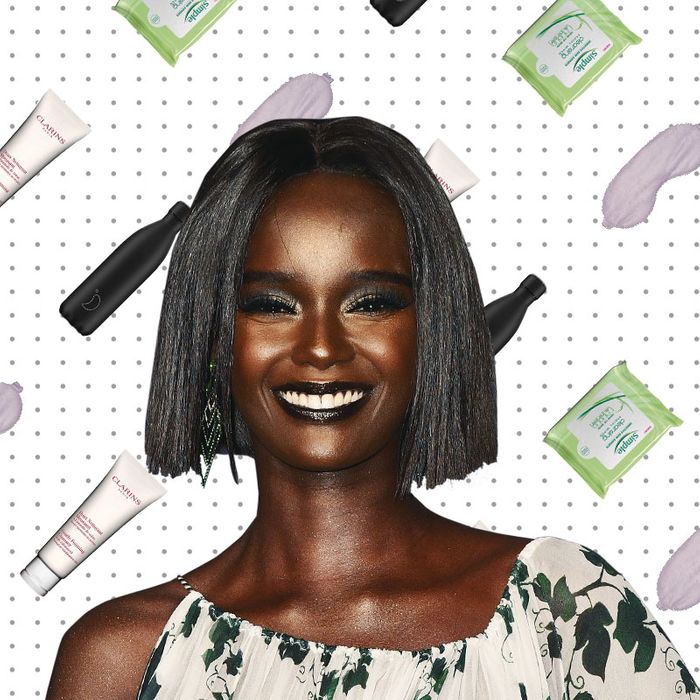 If you're like us, you've probably wondered what famous people add to their carts. Not the JAR brooch and Louis XV chair, but the hand sanitizer and the electric toothbrush. We asked model Duckie Thot about the makeup wipes, sleep masks, and Metamucil powder she can't live without.
I've always used Simple. They've been my favorite makeup wipes for the past five years. I love the fact that they're not heavy on the face; a lot of wipes overdo it with fragrance, or even the cloth itself can be a bit rough. I think makeup wipes should be clean and straight to it — that's why I love the Simple ones. I'll use one in the morning before I go to a shoot and later as night as well. I mean, obviously, washing your face is really important, but I like wipes for getting off all my makeup first.
Speaking of: This is my favorite cleanser right now. It's just so thick and creamy, and just a small pump gives you so much product. It's really gentle on my skin, though I'd say it's good for all skin types, honestly. It just makes your skin feel really great after you use it. I take it with me everywhere; I use it morning and night. I think skin care is really important, but cleanser is No. 1.
I'm still reading this right now. It was so crazy, I lost it the other day for a few days and I freaked out. But yeah, I am loving it. I never travel without a book, and this is what I have on me now. It's what I need right now, you know — I'm in Europe, I'm traveling, I'm figuring it all out, and I think The Alchemist is such a good book for that. I've heard about it a million and one times from other people, but people still get so excited seeing it my hand. I feel like it's inspired so many people. So I think it's a fab book. I'm going to recommend it to anyone — I can't wait to finish it.
I think I've bought, like, five pairs of AirPods. I lose them a lot, but they're so convenient. I actually have them in right now. I'm always using them. Sometimes you're out and about with people and you want to FaceTime somebody quickly and privately; you can just pop them in and you're in your own world. And you don't have this cord to annoy you. I use them when I run as well. I've had this pair for a good month and a half, so hopefully I can stick this one out.