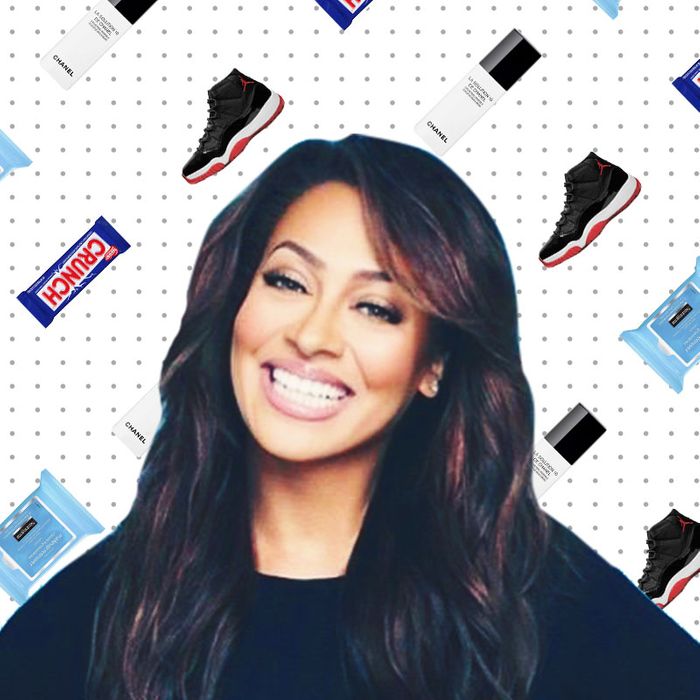 If you're like us, you've probably wondered what famous people add to their carts. Not the JAR brooch and Louis XV chair, but the hand sanitizer and the electric toothbrush. We asked actress, producer, and author La La Anthony about the chocolate, lip balm, and underwear she can't live without.
My favorite product ever. I don't go anywhere without them. They're in my purse; they're pretty much everywhere I go. I love them because I feel like there are so many makeup removers and makeup wipes, but these are the only ones that I know that actually take off all your makeup.
Always, since I was a teenager, I have had it. I hate chapped lips. I absolutely hate chapped lips. On myself, on my son. I probably drive him crazy all day with the Carmex. He's like, "Mom, I just put some on." I'm just anal about that. I hate chapped lips, so at any given time in my purse there's at least three or four different tubes of Carmex. In the house, I have a drawer that's just filled with Carmex. It's just my thing.
My dermatologist is Dr. Amy Wechsler and she's the dermatologist for Chanel, so she created this lotion. I've been going to her for many years, and she gives me a lot of Chanel products. I trust her and I think she made an amazing formula. I get really dry around the temple area and the forehead so this seems to really work but also not be too heavy.
I try to be consistently hydrated. There are so many high-end body lotions. I just stick to cocoa butter. It works, I like how it smells, my skin is really dry and it helps with that. It just really gets the job done. You don't have to go for high-end. I just love it and I've been using it for years.