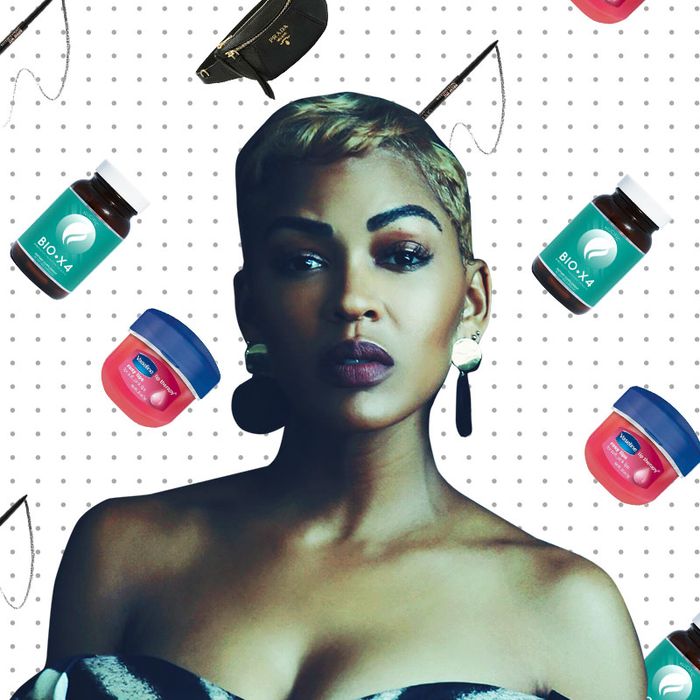 Photo: Courtesy of Cecile Boko
If you're like us, you've probably wondered what famous people add to their carts. Not the JAR brooch and Louis XV chair, but the hand sanitizer and the electric toothbrush. We asked actress Meagan Good, star of The Intruder, about the brow pencil, fanny pack, and mineral water she can't live without.
These are the best stretch pants. No matter how you're feeling, no matter what time of the season, it just holds everything together really tight and flat. You can wear them with tennis shoes, you can wear them at the airport, you can also wear them out to dinner with a crop top or a T-shirt and a leather jacket.
My brow journey started when I was really young, plucking my brows because in the 90s it was very popular to have very skinny brows. And by the time I was 19, they wouldn't really grow back properly. By the time I was 25 I started tattooing them and by the time I was 30 I was microblading them. And at a certain point, they started to look a little harsh to me. So I got an eyebrow transplant which is where they take hair from the back of your head and actually implant it into your brow. My brows are totally thick now, but I had to train my brows to lay in the form I wanted them to lay in. And most of the brow gels that I used weren't strong enough to give me the hold that I wanted. But this 24-hour brow gel is amazing. It's slightly buildable, lasts all day, and it doesn't move. It's just perfect for people who have really full, thick brows.
I gave up pretty much all juice and soda years ago. I probably have a soda maybe three or four times a year. So, for me, because I mostly drink water, Perrier is just a way to make it feel like a treat. It's not artificially sweetened, but it has just a little sweetness to it that's natural.
I'm a connoisseur of cleansers. This particular cleanser really helps my skin from breaking out. Tea tree oil is something I used to always use as a kid on my skin. You've got to find something that works for you depending on your skin type and this kind of works for everyone just because tea tree is antibacterial and really cleans your skin without stripping it.
[Editor's Note: While this Trader Joe's Face Wash is available to purchase online, you'll have an easier time finding a cheaper version in person.]