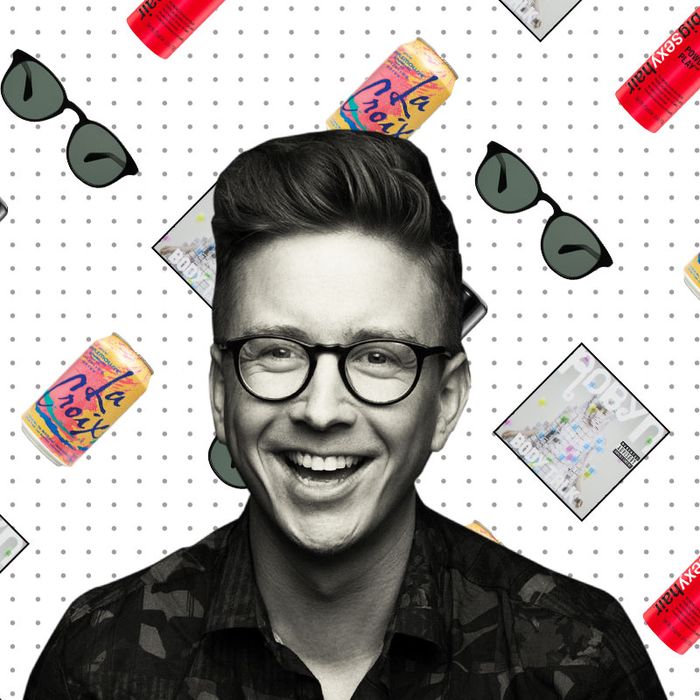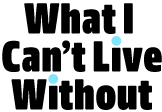 If you're like us, you've probably wondered what famous people add to their carts. Not the JAR brooch and Louis XV chair, but the hand sanitizer and the electric toothbrush. We asked Tyler Oakley, who's just celebrated ten years on YouTube, about his lip balm, iPhone case, and secret to big hair.
I have vivid memories of my dad and sister applying gratuitous amounts of Chap Stick to their lips, all day, every day — and being repulsed by the concept because of it. My dad knew it grossed me out, so he'd slather on the goop, and I'd gag witnessing his obnoxiously glistening lips. Fast-forward a couple decades, and now I can't get enough. Is this my version of daddy issues? Did I just uncover a new therapy topic? Either way, I love cherry Carmex.
My go-to shirt used to be the Hammer T-Shirt from American Apparel, medium, black. I loved it so much that I literally bought a few dozen. THEN! American Apparel went out of business. Fast-forward to this summer, I was on my way to St. Thomas, ready to enjoy a trip I won on The Amazing Race, and hopefully catch a Corsola on Pokémon Go, but they lost my luggage. All my black, medium, American Apparel Hammer tees that I packed were gone. With no patience to go shopping, I went straight to Kmart, ready to just buy a four-pack of WHATEVER, since nothing could replace these out-of-production treasures. But I've got news for you … this Hanes four-pack was better than having a six-pack (I say, having never known the joy of having a six-pack). They're cute, easy, fit perfectly, and come in bulk. And for a fraction of the price. I spent my week in St. Thomas strutting around in style, and when my luggage finally did show up, those vintage American Apparel tees were old news.
Food is my everything. I want to eat at all times of the day. Anyway, my go-to snack that I always have in my home are these gluten-free pretzel chips — they're delicious, salty, and apparently healthy, or something? I have no clue what the current discussion on gluten is all about, but these pretzels have NONE, and that makes me feel like I'm taking care of myself. Ignorance is bliss, and so are these chips. (Pro tip: Pair with hummus, do NOT pair with cherry Carmex.)
This is the most L.A. thing about me, I think. We're OVER water. It's all about sparkling water — or at least that's what the annual West Coast Gay People Newsletter™ said. Growing up, I thought sparkling water was one of the most extravagant things you could possibly order, because water is free. It just didn't compute for me. But then, I tried LaCroix. Maybe it's the hype, maybe it's the beautiful can, whatever it is, I'm hooked. And the pamplemousse flavor is like, No, I don't speak French, but I am as classy as the French.