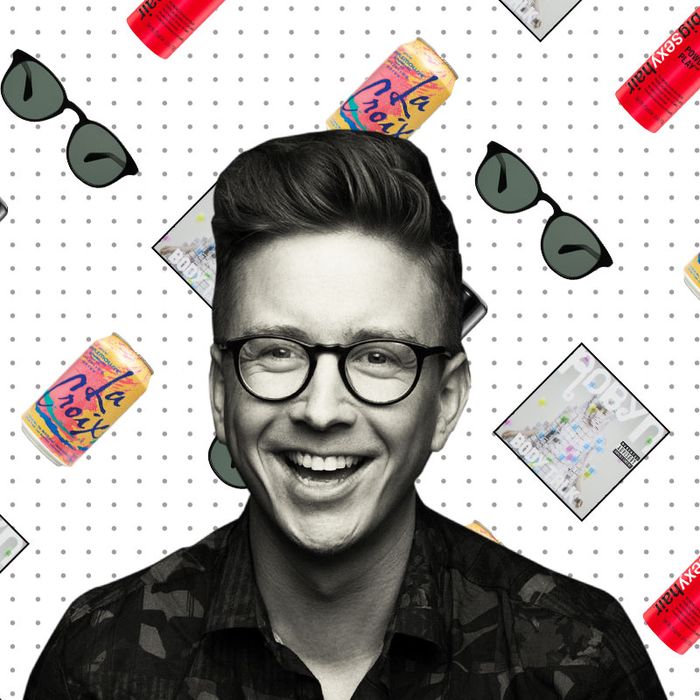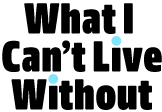 If you're like us, you've probably wondered what famous people add to their carts. Not the JAR brooch and Louis XV chair, but the hand sanitizer and the electric toothbrush. We asked Tyler Oakley, who's just celebrated ten years on YouTube, about his lip balm, iPhone case, and secret to big hair.
I have vivid memories of my dad and sister applying gratuitous amounts of Chap Stick to their lips, all day, every day — and being repulsed by the concept because of it. My dad knew it grossed me out, so he'd slather on the goop, and I'd gag witnessing his obnoxiously glistening lips. Fast-forward a couple decades, and now I can't get enough. Is this my version of daddy issues? Did I just uncover a new therapy topic? Either way, I love cherry Carmex.
My go-to shirt used to be the Hammer T-Shirt from American Apparel, medium, black. I loved it so much that I literally bought a few dozen. THEN! American Apparel went out of business. Fast-forward to this summer, I was on my way to St. Thomas, ready to enjoy a trip I won on The Amazing Race, and hopefully catch a Corsola on Pokémon Go, but they lost my luggage. All my black, medium, American Apparel Hammer tees that I packed were gone. With no patience to go shopping, I went straight to Kmart, ready to just buy a four-pack of WHATEVER, since nothing could replace these out-of-production treasures. But I've got news for you … this Hanes four-pack was better than having a six-pack (I say, having never known the joy of having a six-pack). They're cute, easy, fit perfectly, and come in bulk. And for a fraction of the price. I spent my week in St. Thomas strutting around in style, and when my luggage finally did show up, those vintage American Apparel tees were old news.
Food is my everything. I want to eat at all times of the day. Anyway, my go-to snack that I always have in my home are these gluten-free pretzel chips — they're delicious, salty, and apparently healthy, or something? I have no clue what the current discussion on gluten is all about, but these pretzels have NONE, and that makes me feel like I'm taking care of myself. Ignorance is bliss, and so are these chips. (Pro tip: Pair with hummus, do NOT pair with cherry Carmex.)
This is the most L.A. thing about me, I think. We're OVER water. It's all about sparkling water — or at least that's what the annual West Coast Gay People Newsletter™ said. Growing up, I thought sparkling water was one of the most extravagant things you could possibly order, because water is free. It just didn't compute for me. But then, I tried LaCroix. Maybe it's the hype, maybe it's the beautiful can, whatever it is, I'm hooked. And the pamplemousse flavor is like, No, I don't speak French, but I am as classy as the French.
This is lifesaving, game changing, etc. It's essentially 100 percent more battery for your iPhone. I have two of them, so while I'm using one case, my other phone case is charging, and when the one I'm using runs out of battery, I can switch it out for the fully charged one, so I'm always at 100 to 200 percent. Because my job is through my phone, if my phone dies, I die. I think that's how it works. Just right there, deceased.
Nothing says self-love like wearing your own products, and I'm the king of self-love. Bias aside, my line of Warby Parker frames is adorable, and exactly what I wanted as a glasses-wearer. Plus, super inexpensive! Every day, I wear the Stockton prescription frames, and for sunglasses, I opt for the Downing sunglasses in jet-black matte.
The two most important moments in a gay man's life: finding peace with your identity despite societal pressures, and discovering the hair product that works best for you. I have no clue how I'm supposed to be using this product, but here's what I do: When my hair is still a little damp, I sprinkle this on top, as if I'm a delectable cupcake in need of powdered sugar. [Editor's note: A competitive high-school cheerleader introduced us to this brand before.] I then blow-dry in the direction I want my quiff to go, and it adds VOLUME. I've got relatively fine, thin hair (that's thin, not thinning) that doesn't do much if dried naturally. With this stuff, it's fluffy, full, and whimsical. My only complaint: It comes in the tiniest bottle, and I go through them like hotcakes.
This 2010 album has stood the test of time. It's endless bops from the Swedish pop queen Robyn, who many only remember from the '90s, but she came BACK, with a track list appropriate for museums and history books. It's beautiful, it's sad, it's hopeful, it gets me moving, and it moves me. "Dancing on My Own" and "Call Your Girlfriend" are two of the best pop songs of this century. "Don't Fucking Tell Me What to Do" has the best and most relatable plot-twist retort to a day's worth of minor annoyances. This entire album is flawless and should retroactively earn a Grammy. Go, get it, enjoy it.
When they're new and clean, these Stan Smiths just look so fresh. And when they get gross and dirty, they're a fraction of the price of Common Projects' white sneakers, so just go indulge and get another pair. They go with literally everything, and I feel like I can wear them on a first date, a night out, or a fancy work event. Cute as heck!
The Strategist is designed to surface the most useful, expert recommendations for things to buy across the vast e-commerce landscape. Some of our latest conquests include the favorite shopping items of Lena Dunham, Olivia Wilde, Carole Radziwill, Plum Sykes, John Cameron Mitchell, Aubrey Plaza, and Linda Rodin. We update links when possible, but note that deals can expire and all prices are subject to change.
Every editorial product is independently selected. If you buy something through our links, New York may earn an affiliate commission.