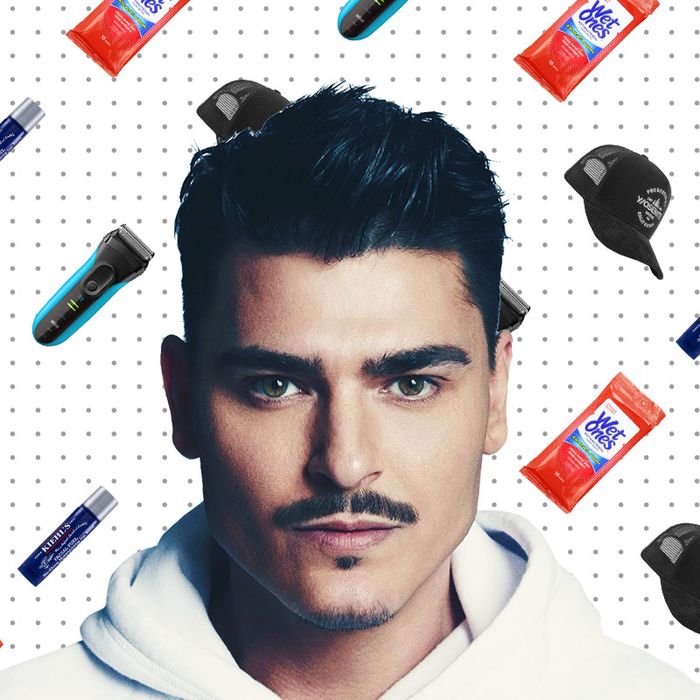 Photo: Courtesy of subject
If you're like us, you've probably wondered what famous people add to their carts. Not the JAR brooch and Louis XV chair, but the hand sanitizer and the electric toothbrush. We asked celebrity makeup artist Mario Dedivanovic — who works with our current cover star Kim Kardashian (he did her makeup for said cover) and has a partnership with OLLY vitamins — about the wet wipes, deodorant, and razor he can't live without.
My brother got me a Braun electric razor for Christmas two or three years ago. I didn't use it for a while because I was so used to my traditional razor — I have very sensitive skin, and I do break out from razors quite a bit. But when I started using it, I noticed how fast it gets rid of your facial hair. This is a new one I bought, which I've been using for travel, and love. There's absolutely no pain, no in-growns, no scraping. It has made my life a lot easier. I also love that I can flip this over, and on the other side there's a flat trimmer that I can use to clean up my mustache. I'm really anal — I have to trim my mustache every single day so it's clean and straight. A lot of people don't do that; I notice when people have hairs crawling into their mouth.
I wish that Wet Ones would just sponsor me — these wipes are probably my most heavily used product. I have them all over my house, my office, and about ten packs in my makeup kit at all times. Obviously, working with makeup all day, I'm constantly wiping my hands. I feel that the wipes themselves don't dry out my hands. There's also something about the smell that I really love, that's nostalgic to me. Most importantly, the wipes don't leave a residue. I hate residues, I hate oiliness, and these don't leave any of that. And ever since I can remember, I've used the actual package itself to dry the face: After I spray it [with setting spray], I grab a pack of Wet Ones and I use the whole thing as a fan.
Years ago, my friend Chris McMillan told me on set one day, "Oh, Jen Aniston loves this deodorant, it works amazing, it lasts forever." So I bought it on Amazon right there on the spot. I almost wish I hadn't, because it is pretty pricey for a deodorant and it sells out quickly and you can only really get it online. But when I put this on, I feel so secure that I will never have any type of sweating, or any type of smell — I'm crazy about smells. I don't know what is in it exactly (which is a little scary), but I love it. It has a powdery smell that's very subtle.
When it comes to business, I'm a geek. My friend sent me this book as a gift when I got my new office. I do a lot of research, and marketing is one of those areas that I'm very interested in. The book is quite old, but I agree with so many of the things in it.
I love all of Tom Ford's fragrances — except for the Fucking Fabulous one. That I'm not a big fan of, but all the other ones I like. I've collected fragrances since I was a teenager, so I have a ton — a ton — of them. But if I had to pick only one, it would be Tobacco Vanille. It's masculine and it's sexy. I like to spray it on my arm early in the morning, so by the time I get to work it has sort of faded. My arms are constantly in people's faces, so I just want to have something that smells pleasant and not feminine. I don't like feminine or soapy smells.
A great everyday cream. I love everything that Tatcha does, but I have an attachment to this particular product because Vicky Tsai, the founder of Tatcha, made it inspired by me, in the sense that she knows how I've always loved very emollient moisturizers. It works really nice with makeup, too.
A game-changer. I'm very upset at Apple for releasing these after the original AirPods; they should have released these originally. I work out a lot more now, and I had a big problem with the original AirPods falling out of my ears. But these really are good in the sense that they fit very snug.
I usually don't carry lip balms in my pocket, because they annoy me. But I've found myself putting this one in my pocket every single day for several months. As I've said, I hate to have anything on my skin that is oily. I get skeeved out by it. This does the job of moisturizing my lips without leaving that shiny, glossy feeling that I don't like. I also have very dry cuticles and I don't get manicures a lot because I don't have time, so I use this. It really softens them.
Kim bought me this for either my birthday or Christmas one year, and I'm just obsessed. I wish I could wear this jacket all year long; it's not heavy enough for the winter. But otherwise, it's just so light and so easy. It goes with anything. I feel super-comfortable in it. There is good pocket space. I don't enjoy the process of buying clothes, and I don't enjoy the process of choosing outfits. I wish I could have ten of the same exact thing and wear it every single day of my life, because I think that would just make things easier and less stressful.
I'm Albanian, from Eastern Europe, and we tend to have flatter heads in the back. Because of that, it's hard to find the right hat. This one gives volume to the top of the head and elongates the face. And it's black, so of course it goes with everything. It's very good quality, in terms of the thickness of the material. I don't like hats that are really soft and bendy. I like when they have firm fronts, and this one has a very firm front.
I've moved like nine or ten times in the past ten years. So I've gone through lots of different sheets, but I never spent a lot of money on them. When I bought my first home two or three years ago, my interior designer Ryan Corbin was like, "No, I need to get you your sheets," and he got them from Frette. Now, I could never go back to my Bed Bath & Beyond sheets. There's such a big difference in the quality and the way they feel. I'm addicted.
I saw these vitamins in my manager's office one day, tried them, and was obsessed with the taste. I thought, Oh my god this is a vitamin and it tastes this good. So she gave me some, and that's how I started using them. Then OLLY started to provide vitamins for the students at my Master Class. The class's gift bags have like 50 products in them, but the vitamins were always the thing people would talk about on Instagram or when I ran into them on the street. They would say, "Oh my God, I'm addicted to the OLLY vitamins, they're the best thing ever, blah blah blah." So I did the Makeup by Mario beauty kit with them. The Undeniable Beauty vitamin is my all-time favorite in terms of the taste. It tastes like grapefruit. I truly look forward to having one or two of them every day. I'm always kind of stressed or anxious about stuff, so I like to pop one of the Goodbye Stress when I know I'm going into a very hectic day. And then Bedtime Beauty is great to help you sleep. I fly a lot so I take them all the time.
The Strategist is designed to surface the most useful, expert recommendations for things to buy across the vast e-commerce landscape. Some of our latest conquests include the best acne treatments, rolling luggage, pillows for side sleepers, natural anxiety remedies, and bath towels. We update links when possible, but note that deals can expire and all prices are subject to change.