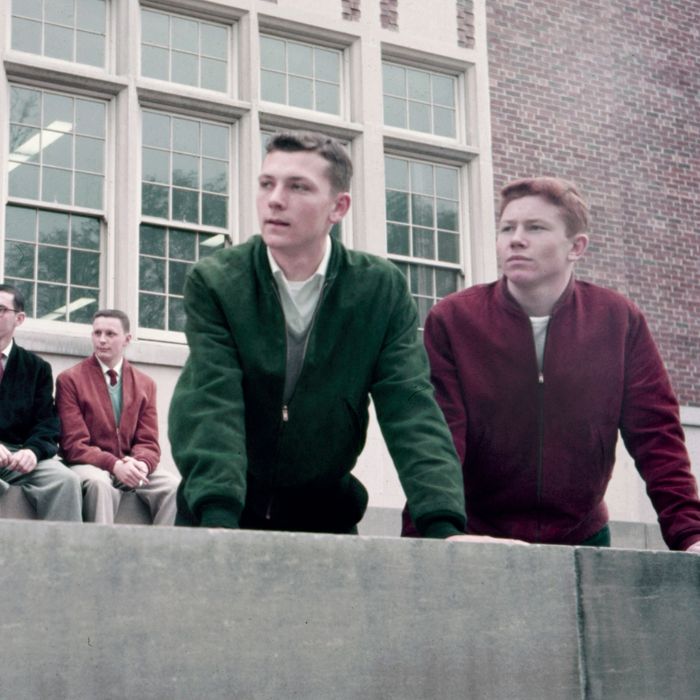 Photo: Nina Leen/Getty Images
In our advice column, Ask the Strategist, we take your most burning shopping questions and scour friends, call up experts, and draw from personal experience to answer them. As always, please comment with one of your own — we're here to help.
Question: So in winter, you wear a big ol' winter jacket, and in the summer, it's hot, so you wear no jacket, but I feel like the light to mid-weight spring jacket is a time for the non-fashion-forward man to assert some aesthetic. I think the problem I have is that so many light to mid-weight male jackets feel like masculine drag for people who live in cities. Like, I tweeted, "I've never been to Westworld, but I've shopped for a mid-weight jacket as a man." It's like barn jackets and army jackets and work jackets, but I prefer having a put-together aesthetic as opposed to an on-trend aesthetic. The other issue is that I have a very long torso. Bombers are cut short by nature, so they look very short on me. My fear with a long black jacket, as a tallish person, is that it will feel weirdly intimidating and/or trench-coaty. I started looking at leather jackets, but I feel like that is just going to be difficult. I am considering just wearing a black denim jacket. The answer appears to be to get a Harrington jacket, but we'll see. What do you think?
You've already put so much thought into this, so let's not waste any more time. On to the jackets.
Photo: Courtesy of the Vendor
Along with the question, this writer sent in some of the jackets he's already considering, so we'll include those here. He told us that he found "a nice one" at J.Crew, and we think it's probably this classic Harrington.
Photo: Courtesy of the Vendor
But I kind of like this one more, and without the elastic waist it's probably even better if you're nervous about the jacket being too short for your long torso.
Photo: Courtesy of the Vendor
And this one hits on that kind of techy rain-jacket look that I think is really nice, modern, and refreshing if you're open to something with a hood. It seems like something people in Copenhagen or Amsterdam would wear.
Photo: Courtesy of the Vendor
Our friend who sent in the question also wrote in that he was considering this on-sale Calvin Klein option.
Photo: Courtesy of the Vendor
He also thinks this Uniqlo U Harrington is cool. We agree and love that it comes in a few different colors.
Photo: Courtesy of the Vendor
I get your hesitation about the trench, but if you're open to a longer length, I think this Uniqlo option is a good bet, and the collar plus hood combination isn't so trench-y. There's something about a longer jacket that reads very professional and put-together and man about his business to me.
Photo: Courtesy of the Vendor
And, if you must, it comes in a shorter version that's really easy to pull off and pretty much goes with everything.
Photo: Courtesy of the Vendor
If we're talking basics, we must bring Everlane into the mix. But of course it has a Harrington. And of course it's a great price.
Photo: Courtesy of the Vendor
Another classic, and affordable, Harrington look from Topman that doesn't feel overly preppy. Or preppy at all, really.
I love Cos's version, too, although I'm nervous it might be a little short on the torso for you.
In that case, I'll throw in its slightly longer version that hits just below the tush.
Photo: Courtesy of the Vendor
For any man hesitant about the #menswear movement (which is pretty into workwear and chore coats at this point), but also wants to show a little "aesthetic," check out Todd Snyder, who always finds the balance of adding just a little something extra into the basics. Like with this Harrington jacket he made in collaboration with Champion.
Photo: Courtesy of the Vendor
Here's something similar, with lots of pockets.
Our deputy editor and menswear expert Jason Chen also weighed in with a couple of his favorites. The first is this blouson (lol, French) from A.P.C. Jason has it in khaki and says that "it's just great as a layering piece or even outfit completer over a white tee indoors." I've seen these A.P.C. jackets in person as well, and they're the perfect weight for a spring or fall jacket. Nothing quite projects "put together" like an unassuming French designer piece.
From Jason: "I am also a fan of AMI's wool bomber, which may be just this side of too warm."
Photo: Courtesy of the Vendor
Another style you didn't mention is the Coach Jacket, which are those snap-up nylon jackets that used to be more of a skater thing. But now they're making them in all kinds of I-work-in-an-office materials, which makes them look like a happy mix between a Harrington jacket and the ubiquitous chore coat. This one's 100 percent cotton.
Photo: Courtesy of the Vendor
I like this Bonobos one, if you're not afraid of a little color.
Photo: Courtesy of the Vendor
This one looks like more of a "shacket."
Photo: Courtesy of the Vendor
Moving on to bombers. This one from Bonobos looks longer on the torso for tall guys.
Photo: Courtesy of the Vendor
This mock-neck bomber by Barbour is expensive, but also looks great for longer torsos. Plus, the price is worth it if you consider it's a timeless piece that'll last you years.