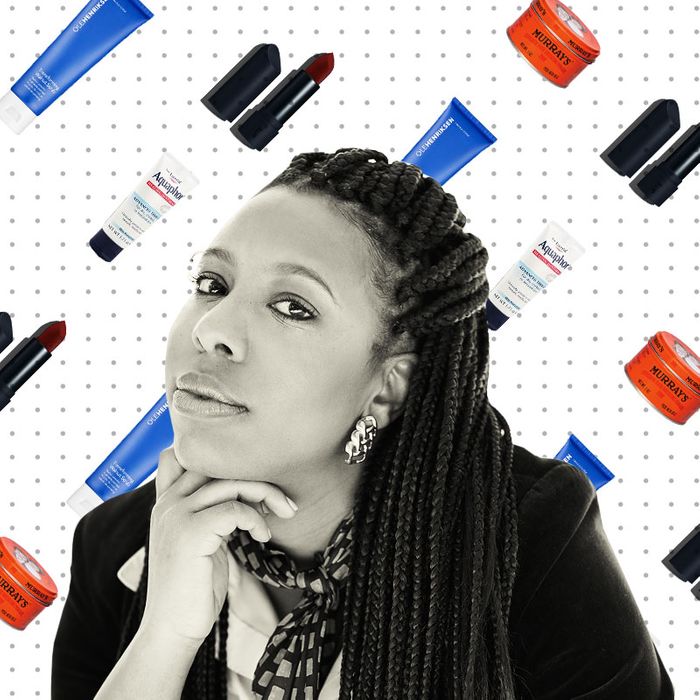 Photo: Courtesy of Morgan Parker
If you're like us, you've probably wondered what famous people add to their carts. Not the JAR brooch and Louis XV chair, but the hand sanitizer and the electric toothbrush. We've asked poet Morgan Parker, whose new book Magical Negro is out now, about the shoes, lipstick, and espresso machine she can't live without.
I literally had this same style in high school. I found them at a thrift store. They were a size too small, but I still squeezed into them because they were $7 and so cool. I got the exact same pair again and I wear them constantly. When I'm on tour, they're the best for airports. They're great in any weather. I can wear them with skirts, but also pants. Every time I wear them I feel a little bit punk and that helps me get through the day.
You can use Aquaphor for anything. I particularly love the little mini ones. I have one at my desk, one in my glove compartment, one in my bag. I am a person who gets impulse tattoos so it helps to always have a little bit of Aquaphor just in case. Out of 20 tattoos, maybe 7 were last minute. I've taken off a lot of tattoo bandages in bar bathrooms so, you know, to have the proper care on me at all times is very helpful.
I've tried a lot of scrubs and masks but I love this stuff. I use it a couple times a week, and every single time I'm like, is my skin supposed to be this smooth? Like, did I scrape something important off? It's so good. I just like to wash my face with it so I can then touch my face.
For me, this is really expensive for a serum, but I turned 30, so I guess I have to care about this stuff. When I got it I was not hoping for a ton, I just needed vitamin C. But when I put this on my face, I feel it working almost immediately.
This turns really frothy when you use it so it feels really luxurious. It's just a very, very good cleanser. It's tough on stuff like pollution and whatnot, but also very moisturizing. It preps your face for all the other things in a really good way.
Oh man, I have so many of these. I have one in a brown called Portobello that's a nude for me. I have a very dark shade called Black Cherry. I have several. I swear by a lot of lipsticks, but these are by far my favorite. They feel amazing going on, they smell good, and the matte is really creamy. It looks matte on, but it doesn't feel stiff. The colors are just really, really rich. I love lipstick, but it's always really embarrassing when I'm doing a gig or something, and by the end my lips are peeling or half the lipstick has rubbed off. But these stay on for a really long time, and they don't fuck up my lips.
Love these pencils. [Editor's note: We've written about these before.] After my last book came out, my editor bought these pencils for me. I didn't know the cult of these pencils, but now I've totally drunk the Kool-aid. I like writing by hand, I use pens and pencil, but I also like a fancy thing because it forces me to use it. Like, I'm not going to buy a $25 pack of pencils and not write with it. It kind of forces me to write by hand in a good way. I love having little journals. I'm someone who goes early to JFK to hit the Muji store, that's my thing. But these pencils — first of all, who isn't charmed by the fact that it was like, John Steinbeck's favorite pencil. That's enough for me. They're really just really smooth, and reliable. They're great for writing, but also drawing. Sometimes I doodle when I have writer's block — they're great for that. I feel like a real professional artist/writer when I use them. And I love the erasers, you can replace them. I have the silvery one, but I think I need to invest in the pearly all-white ones. They're really beautiful, that's next on my list.
I rent, so I can't put nails in my walls. But a couple years ago I was like, I can't just have posters on the wall anymore. It feels like college. I think one of the main ways to feel like a grown-up is to have your shit in frames. But it's hard to figure out how to do that, and to have it stay. Command strips are great. They hold different weights. I have them in all the sizes. I like having a bunch of shit up in my apartment; it's important to the aesthetics of my home. If I want to do a gallery wall with different size frames, they have different size Command Strips.