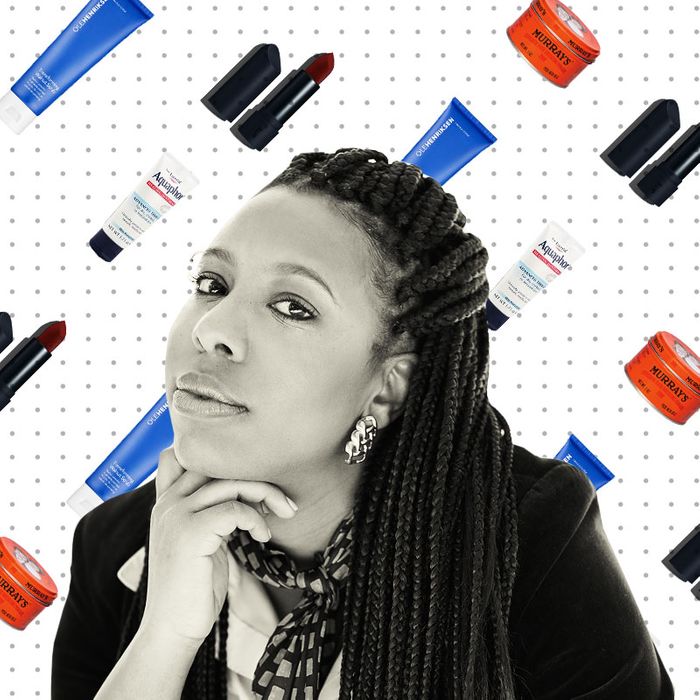 Photo: Courtesy of Morgan Parker
If you're like us, you've probably wondered what famous people add to their carts. Not the JAR brooch and Louis XV chair, but the hand sanitizer and the electric toothbrush. We've asked poet Morgan Parker, whose new book Magical Negro is out now, about the shoes, lipstick, and espresso machine she can't live without.
I literally had this same style in high school. I found them at a thrift store. They were a size too small, but I still squeezed into them because they were $7 and so cool. I got the exact same pair again and I wear them constantly. When I'm on tour, they're the best for airports. They're great in any weather. I can wear them with skirts, but also pants. Every time I wear them I feel a little bit punk and that helps me get through the day.
You can use Aquaphor for anything. I particularly love the little mini ones. I have one at my desk, one in my glove compartment, one in my bag. I am a person who gets impulse tattoos so it helps to always have a little bit of Aquaphor just in case. Out of 20 tattoos, maybe 7 were last minute. I've taken off a lot of tattoo bandages in bar bathrooms so, you know, to have the proper care on me at all times is very helpful.
I've tried a lot of scrubs and masks but I love this stuff. I use it a couple times a week, and every single time I'm like, is my skin supposed to be this smooth? Like, did I scrape something important off? It's so good. I just like to wash my face with it so I can then touch my face.
For me, this is really expensive for a serum, but I turned 30, so I guess I have to care about this stuff. When I got it I was not hoping for a ton, I just needed vitamin C. But when I put this on my face, I feel it working almost immediately.