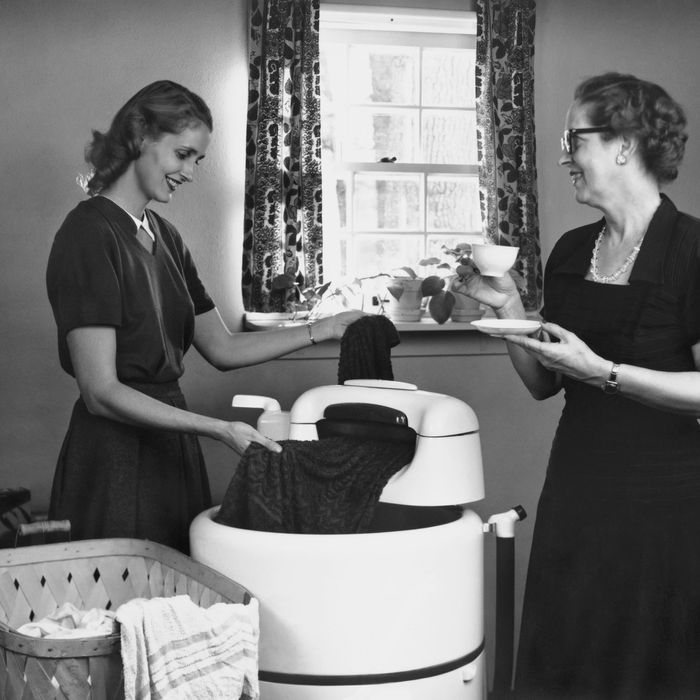 Photo: Sickles Photo Reporting/Getty Images
Here at the Strategist, we know that finding the "best" product really depends on exactly who you ask — which is why we've devoted a new series to squeezing in as many informed, trustworthy opinions as possible. And we've come up with dozens of ways to do this, among them: surfacing reader reviews from across the internet, taking quick polls (among our most insane friends and fellow shopping-obsessed Strategist editors), and partaking in some advanced internet snooping.
With that, we've rounded up the best portable washing machines, which have increased in popularity during the pandemic, with folks who are avoiding the laundromat or hitting the road in an RV. Our recommendations range from electric machines beloved by Amazon and Home Depot reviewers, to hand and foot-operated machines used by New Yorkers and van lifers alike.
Strategist Investigates: One writer's (deeply researched) portable washing machine recommendation
After lugging a bag of dirty laundry to the laundromat one too many times, Strategist contributor Dan Nosowitz read Amazon reviews and watched YouTube videos before deciding to buy a portable washer from Haier. Though his exact model is now discontinued, Nosowitz recommend this machine from Black & Decker, which like his own, is top-loading, and single-stream. It runs through an entire "wash-rinse-drain-spin-dry cycle" with just the click of a button, and is made of metal (in lieu of plastic) which Nosowitz says "is more durable and allows the machine to boast a more violent and effective spin-dry cycle."
People's Choice: Best-rated washing machine, according to Home Depot reviews
Whereas most of the portable washing machines at Home Depot have a dozen-or-so reviews, this Magic Chef machine has over 700, nearly 550 of which are five stars. "The washer is adorable and holds a surprisingly decent sized load," says one reviewer, who's been using the machine to wash her husband's clothes every day during the pandemic, since he's an essential worker. "The rapid cycle is efficient and gets the job done. And it is pretty quiet, I don't think our neighbors can detect it." Many other reviewers describe it as effective, including some who have had it for years, and one who even replaced her full-sized machine of 25 years with this Magic Chef. Also, it's easy to set up: "The fittings it came with attached easily to my kitchen sink," explains one reviewer, who does a load a day and has "had no leakage issues at all."
People's Choice: Best rated (least expensive) washing machine, according to Amazon reviews
New parents, medical workers, and RV-dwellers all say this washing machine is as effective as it is reasonably priced. One reviewer says it washed and spun dry clothes just like a full-sized machine, but at a fraction of the price: "It took six minutes to wash and three minutes to spin dry, and the draining process in this one is real fast." In addition to a low price tag compared to other portable washers, reviewers say this machine saved them money in the long run. One customer who doesn't have in-unit laundry says the cost of their wash was getting to be insane. "I saved a ton of money with this purchase and it works just as good, if not better, than a regular sized wash machine," she says. And, it is durable: One reviewer devoted nearly 2,000 words of praise to this machine, because it saved him from his "disgusting and expensive" apartment laundry room, and after nearly a year of use it still works great. After all, "The washer got my clothes very clean (no smelly pits)." And, although the machine isn't shipped by Amazon, many reviewers say that it arrived promptly and in tact. One pleased customer got theirs in two days, which they say was much better than the two month delivery window on some other sites: "So incredibly impressed. Arrived last night and I did a load of face towels. I was able to wash 40 at once. It's half the size I expected it to be yet still holds a ton of stuff inside."
Snooping: Best-rated washing machine according to a New Yorker (who rents a small walk-up apartment)
Like many New Yorkers, Molly Donahue rents her walk-up apartment with a roommate, and doesn't have laundry in-unit, so she knows that laundry "requires a lot more than simply strolling out the door." However, according to an article that she wrote for Apartment Therapy in March, all of that changed when she invested a little more than $100 in a "life changing" portable washing machine from Giantex. Though it doesn't hold as much as a standard machine, Donahue says "what it lacks in capacity, it makes up for in time and not-having-to-leave-your-house-ed-ness" since it still fits a week's worth of clothes, and runs an entire rinse and dry cycle in 28 minutes. It also is one of the best-reviewed portable laundry machines on Amazon, with over 3,000 five-star reviews.
Snooping: Best (affordable) portable washing machine, according to the Good Housekeeping Institute Cleaning Lab