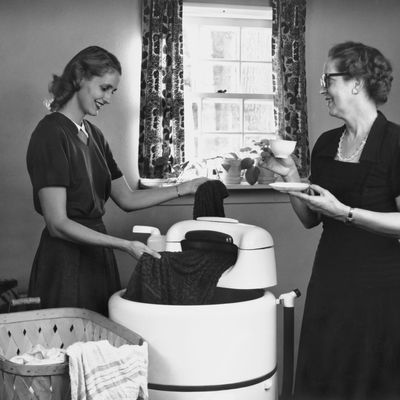 Photo: Sickles Photo Reporting/Getty Images
Here at the Strategist, we know that finding the "best" product really depends on exactly who you ask — which is why we've devoted a new series to squeezing in as many informed, trustworthy opinions as possible. And we've come up with dozens of ways to do this, among them: surfacing reader reviews from across the internet, taking quick polls (among our most insane friends and fellow shopping-obsessed Strategist editors), and partaking in some advanced internet snooping.
With that, we've rounded up the best portable washing machines, which have increased in popularity during the pandemic, with folks who are avoiding the laundromat or hitting the road in an RV. Our recommendations range from electric machines beloved by Amazon and Home Depot reviewers, to hand and foot-operated machines used by New Yorkers and van lifers alike.
Strategist Investigates: One writer's (deeply researched) portable washing machine recommendation
After lugging a bag of dirty laundry to the laundromat one too many times, Strategist contributor Dan Nosowitz read Amazon reviews and watched YouTube videos before deciding to buy a portable washer from Haier. Though his exact model is now discontinued, Nosowitz recommend this machine from Black & Decker, which like his own, is top-loading, and single-stream. It runs through an entire "wash-rinse-drain-spin-dry cycle" with just the click of a button, and is made of metal (in lieu of plastic) which Nosowitz says "is more durable and allows the machine to boast a more violent and effective spin-dry cycle."
People's Choice: Best-rated washing machine, according to Home Depot reviews
Whereas most of the portable washing machines at Home Depot have a dozen-or-so reviews, this Magic Chef machine has over 700, nearly 550 of which are five stars. "The washer is adorable and holds a surprisingly decent sized load," says one reviewer, who's been using the machine to wash her husband's clothes every day during the pandemic, since he's an essential worker. "The rapid cycle is efficient and gets the job done. And it is pretty quiet, I don't think our neighbors can detect it." Many other reviewers describe it as effective, including some who have had it for years, and one who even replaced her full-sized machine of 25 years with this Magic Chef. Also, it's easy to set up: "The fittings it came with attached easily to my kitchen sink," explains one reviewer, who does a load a day and has "had no leakage issues at all."
People's Choice: Best rated (least expensive) washing machine, according to Amazon reviews
New parents, medical workers, and RV-dwellers all say this washing machine is as effective as it is reasonably priced. One reviewer says it washed and spun dry clothes just like a full-sized machine, but at a fraction of the price: "It took six minutes to wash and three minutes to spin dry, and the draining process in this one is real fast." In addition to a low price tag compared to other portable washers, reviewers say this machine saved them money in the long run. One customer who doesn't have in-unit laundry says the cost of their wash was getting to be insane. "I saved a ton of money with this purchase and it works just as good, if not better, than a regular sized wash machine," she says. And, it is durable: One reviewer devoted nearly 2,000 words of praise to this machine, because it saved him from his "disgusting and expensive" apartment laundry room, and after nearly a year of use it still works great. After all, "The washer got my clothes very clean (no smelly pits)." And, although the machine isn't shipped by Amazon, many reviewers say that it arrived promptly and in tact. One pleased customer got theirs in two days, which they say was much better than the two month delivery window on some other sites: "So incredibly impressed. Arrived last night and I did a load of face towels. I was able to wash 40 at once. It's half the size I expected it to be yet still holds a ton of stuff inside."
Snooping: Best-rated washing machine according to a New Yorker (who rents a small walk-up apartment)
Like many New Yorkers, Molly Donahue rents her walk-up apartment with a roommate, and doesn't have laundry in-unit, so she knows that laundry "requires a lot more than simply strolling out the door." However, according to an article that she wrote for Apartment Therapy in March, all of that changed when she invested a little more than $100 in a "life changing" portable washing machine from Giantex. Though it doesn't hold as much as a standard machine, Donahue says "what it lacks in capacity, it makes up for in time and not-having-to-leave-your-house-ed-ness" since it still fits a week's worth of clothes, and runs an entire rinse and dry cycle in 28 minutes. It also is one of the best-reviewed portable laundry machines on Amazon, with over 3,000 five-star reviews.
Snooping: Best (affordable) portable washing machine, according to the Good Housekeeping Institute Cleaning Lab
At the Good Housekeeping Institute a team of engineers, scientists, analysts, and product experts rigorously test products, including washing machines. Based on brands that previously performed well in Cleaning Lab tests, the Institute compiled a list of well-designed portable-sized machines, including this compact, top-loading machine from Insignia, which is their cheapest electric pick by several hundred dollars. According to the Institute's home appliances and cleaning products lab director, Carolyn Forte, the machine has five cycles, including one that "wrings items for speedier drying," and offers functions like a delayed start and display lock.
Snooping: A tiny home builder's favorite portable washing machine
In 2009 Dan Louche built a tiny house for his mom, and since then he's started a tiny house building company and written a book about tiny house design and construction. On the Tiny Home Builders Blog he details all aspects of tiny house life, including laundry. To conserve energy, Louche's personal recommendation is the manual clothes washer from Lavario, which he says "is much sturdier and has a higher capacity than the other manual washing machines" and can double as a clothes hamper when not in use.
Ask a Cool Person: A recipe developer's pandemic-approved portable washing machine
In 2017, Rebecca Firsker, a professional recipe developer who (like many New Yorkers) isn't "blessed" with an in-unit washing machine (but has a self-described "particular" approach to doing her laundry) splurged on a foot-powered washing machine from Kickstarter: the Yirego Drumi. During the pandemic, the R2-D2-shaped machine has served as an alternative to the laundromat, which Firsker says is well worth the machine's $349 price tag. With each five-pound load requiring just about ten minutes of foot pedaling (unlike other portable washers the Drumi doesn't require electricity) Firsker says "it's an efficient way to keep my laundry pile low. My gym clothes are now constantly clean, and I can wash my cloth masks regularly."
People's Choice: Best rated hand-operated washing machine, according to Wayfair reviews
This hand-operated machine from Wonderwash has over 100 more favorable reviews than any other non-electric portable washer on Wayfair. "I don't mind the little arm workout to do a load of wash. This lil washer saves A LOT of water," says one reviewer, who lives in a tiny home without running water and uses this machine for all of her laundry. Although it's small, many customers point out that it fits more than expected, including one reviewer who used it to clean three pairs of jeans and three shirts at a time: "It's very light and easy to put together. It seems really sturdy and I expect it to last for years," she adds. Reviewers point out that you'll need to separately dry your clothes after use, but many "just hang my clothes to dry after, and it's pretty easy for a quick load," explains one, who uses it at home and while camping. The Wonderwash is also available (and well-reviewed) on Amazon.
Snooping: A van lifer's favorite non-electric portable washing machine
Recreational vehicles are all the rage now, but Brie Goumaz, and her partner Shawn, have lived on the road in their DIY sprinter conversion van for the past two years, and when it comes to manually doing laundry, Goumaz recommends this "affordable, easy to store, and lightweight" clothing wand. "This wand is super simple and you only need it and a bucket to do your laundry," she says, noting that all you have to do is fill a bucket (a clean trash can would suffice) with water and detergent, and move the wand up and down in order to activate its clothes-cleaning mechanism.
Curbed Editors' Choice: Best portable washing bag
The writers and editors at Curbed have also written an extensive list of everything you need to live on-the-road, including this Scrubba Wash Bag which has an internal washboard for portable laundry. All you have to do is add clothing, water, and cleaning liquid to the bag, and scrub your clothes clean. "The pocket-sized bag weighs less than 5 ounces, produces a machine-quality wash in three minutes, and is twice as effective as hand washing," explains Curbed news editor Megan Barber. Plus, the washing bag has over 500 five-star reviews on Amazon.
The Strategist is designed to surface the most useful, expert recommendations for things to buy across the vast e-commerce landscape. Some of our latest conquests include the best women's jeans, rolling luggage, pillows for side sleepers, ultra-flattering pants, and bath towels. We update links when possible, but note that deals can expire and all prices are subject to change.
Every editorial product is independently selected. If you buy something through our links, New York may earn an affiliate commission.