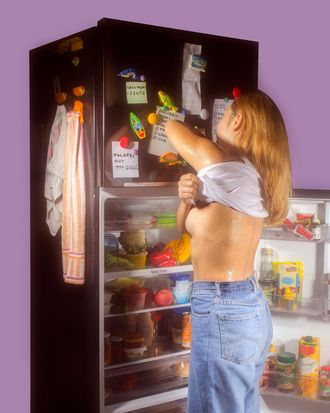 Photo-Illustration: Rob Frogoso for New York Magazine
While sweating anywhere on your body isn't exactly pleasant, underboob sweat can be particularly icky. It happens not because this area necessarily sweats more than the rest of the body — rather, moisture tends to get trapped where your breasts meet your torso. "The skin hangs and folds on itself, leaving less air to evaporate the sweat," explains dermatologist Dr. Rachel Nazarian. Wedge a bra band in between those folds of skin and it's not uncommon to wind up with chafing and irritation from the wet fabric rubbing up against you.
If you're not ready to (or can't) go braless, dermatologist Dr. Amanda Doyle of the Russak Dermatology Group says one way to prevent underboob sweat and any resulting discomfort is to "wear loose-fitting, breathable clothing and underwear made of cotton," which "reduces sweating and prevents sweat from being trapped under heavier garments." But even with the right bra (or without one), underboob sweat can still occur, which is why treating it with a combination of products can be a more effective solution, say our experts. Depending on how much you sweat, they suggest a multipronged approach: anti-perspirants to stop sweat, products to ease friction and prevent chafing, and other stuff to soak up any moisture that may seep through. Below, Nazarian, Doyle, and eight other dermatologists share the things they recommend for stopping underboob sweat and minimizing any discomfort it can cause. Although the heaviest sweaters among us may require a three-product solution, the dermatologists note that some people may just require something that stops chafing, say, or an item that absorbs excess moisture. To help you find what you're looking for, we've separated the products into categories based on what they do — stopping sweat, reducing chafing, and absorbing excess moisture — and, where applicable, we begin each section with anything we heard about the most.
Best anti-perspirants for stopping underboob sweat
As Nazarian explains, "topical anti-perspirants are fair game to use in this area." Although this means you could theoretically apply whatever anti-perspirant you use on your pits to the skin under your breasts, she says you should be mindful of "using one that's unlikely to irritate the delicate skin" there. Both Nazarian and dermatologist Dr. Heidi Waldorf say that Dove's alcohol-free anti-perspirants are gentle enough for the task, in part because they contain moisturizing ingredients that soothe skin while the product works to stop sweat. Anyone worried about using an anti-perspirant with aluminum near their breasts should not be, according to Waldorf. "Despite rumors that abound, anti-perspirant ingredients like aluminum chlorohydrate are safe and not carcinogenic," the doctor says.
For those who would prefer something to spray on instead of swipe on, Waldorf recommends this Dove anti-perspirant. The formula is similar to the Dove stick's but is delivered in the form of a lightweight spray.
Anyone interested in a heavier-duty anti-perspirant should consider these clinical-strength SweatBlock anti-perspirant wipes. They come recommended by dermatologist Dr. Morgan Rabach of LM Medical NYC, who explains that their "active ingredient is 14 percent aluminum chloride." Unlike traditional anti-perspirants, the wipes need to be applied only once a week at night to keep the area dry for up to seven days.
Best products for preventing (or soothing) underboob chafing


The experts say that people who experience friction caused by their bras may want to apply a chafe-reducing product to the area after any anti-perspirant has set in. Dermatologist Dr. Hadley King recommends the Body Glide stick, which she says "works well to create a barrier between your skin and workout clothing to reduce friction."
Folks looking to spend less may prefer this anti-chafing product recommended by dermatologist Dr. Michele Green, who calls it "a convenient way to help prevent excessive sweating while keeping skin moisturized" and preventing chafing. With ingredients like soothing aloe extract, the formula is gentle enough for sensitive underboob skin and, she says, has "a nongreasy finish to ensure comfort throughout the day."
If your underboob area is already chafed and raw, Jaber suggests applying Desitin "to heal and soothe the skin." Waldorf agrees, adding that the product is now "silky and invisible, rather than the traditional thick white paste" usually associated with zinc-oxide-infused rash creams.
King says Aquaphor is an equally soothing alternative to Destin when it comes to calming irritated underboob skin. It doesn't have zinc oxide and may be preferable if you're dealing with less severe chafing — or if you'd rather use a product you can also apply to chapped lips and dry skin elsewhere on the body.
Best products for absorbing underboob moisture


Even with an anti-perspirant on, sometimes there are situations when sweat seeps through, so having a moisture-absorbing product at the ready is a good idea for anyone who thinks an anti-perspirant may not be enough on its own. The dermatologists say these products can take various forms — from powders to lotions to liners you can stick inside your bra. They say all of them work well at absorbing moisture, so choosing one may simply be a matter of personal preference. When it comes to powders, this one from Zeasorb is a clear favorite among our experts, with four citing it as a go-to for absorbing underboob sweat and keeping skin dry. According to dermatologist Dr. Debra Jaliman, "it absorbs three times more moisture than regular baby powder." Dermatologist Dr. Samer Jaber of Washington Square Dermatology says the powder not only "works well to absorb sweat" but is "soothing and decreases chafing," too, making it a bit of a twofer. King adds that it has even more beneficial qualities, including "anti-yeast and anti-fungal properties," which, according to dermatologist Dr. Ainah Tan, help "prevent yeast infections of the skin that can cause frustrating and sometimes painful rashes."
MegaBabe's thigh-chafe product has been recommended to us by other experts, and Doyle says this "dust" from the brand is another effective option for absorbing underboob moisture. She says the nonaerosol powder "contains cornstarch, which is great for keeping the area dry and comfortable." Echoing what we've heard about the sensitivity of underboob skin, Doyle suggests testing this (or any product) on a small spot first to ensure it doesn't irritate.
On the topic of sensitive skin, this talc-free dusting powder from Burt's Bees Baby may be a better choice for anyone who already knows their underboob area is super-delicate. Nazarian says, "It is one of my favorites because it's mostly cornstarch with a lot of natural ingredients and can absorb excess moisture to keep this area cool and dry." The powder has another acolyte in writer Liz Carey, a self-proclaimed heavy sweater who says it's one of three things she relies on to absorb excess moisture from the "cheeks on my booty and face, my cleavage, my mustache, and even my hair."
If body powders are too messy for you, Jaliman and dermatologist Dr. Annie Chiu told us about this lotion from Carpe that serves a similar function. It contains a slew of sweat-absorbing ingredients like cornstarch, rice-bran extract, and silica microspheres, along with witch hazel for soothing the skin.
If you're averse to the idea of applying any topical product to absorb moisture on underboob skin, there are a couple of things the experts say you can stick inside your bra to sop up sweat. These liners, for instance, are made of moisture-wicking bamboo and come recommended by Rabach, who says they sit discreetly between your chest and your bra band to both absorb sweat and protect the skin.
For a more DIY option, Doyle says sticking a panty liner inside your bra can "help absorb sweat under the breasts" in a pinch. If you're interested in going this route, she recommends these "great lightweight cotton panty liners" from Rael. (Carey told us about using something similar in her armpits on particularly sweaty days.)
With additional reporting by Karen Iorio Adelson.
The Strategist is designed to surface the most useful, expert recommendations for things to buy across the vast e-commerce landscape. Some of our latest conquests include the best acne treatments, rolling luggage, pillows for side sleepers, natural anxiety remedies, and bath towels. We update links when possible, but note that deals can expire and all prices are subject to change.