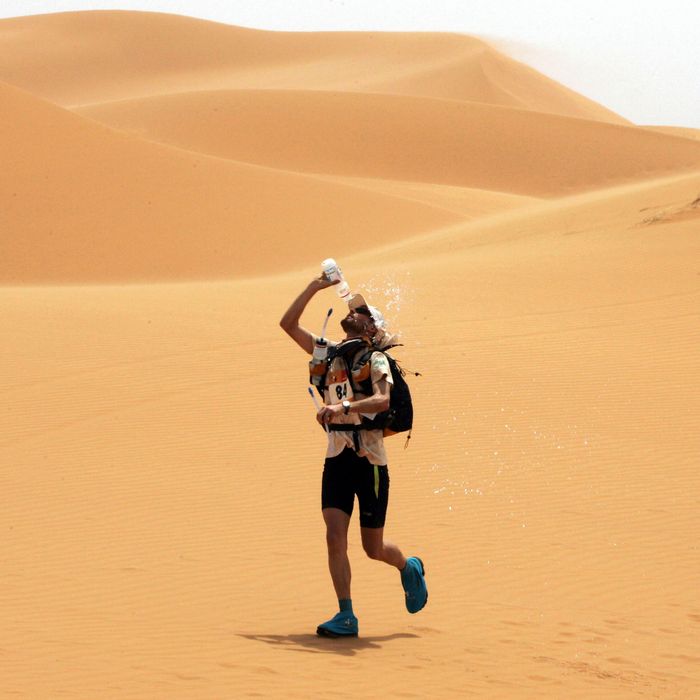 Photo: Pierre Verdy/AFP via Getty Images
Working out in the heat and humidity — whether you're running, cycling, roller-skating, or whatever else — isn't just uncomfortable, but it's actually more challenging. Frankie Ruiz, a Nike Run Club coach and co-founder of the Life Time Miami Marathon, explains that your heart rate increases in hot temperatures as the body works harder to stay cool, making exercise more difficult. When it gets hot out, you'll want to adjust your expectations for your performance. Don't be surprised if paces or efforts that normally feel easy are a lot tougher in the heat. "I typically encourage runners to start much slower than their normal training pace and carefully increase after the first 20 minutes. That way, the body has more time to acclimatize and you have a better sense of how you are feeling," says Ruiz. "Be flexible with your workouts by being open to moving your harder ones to a day where the weather is just a bit more mild."
It's not all bad news, though. Tina Muir, an elite marathoner and host of the Running for Real podcast, says training in the heat can mirror the challenges of altitude training and make you stronger in the long run. "Summer running builds our resilience and discipline," she says. "That will pay off big time in the fall, when the temperature drops and humidity lowers." Just be on the lookout for signs of heat exhaustion like fatigue, nausea, dizziness, headaches, tingly skin, and confusion. "If you start to notice any of these effects, consider cutting a run short and heading home or stopping to cool down and refuel if needed," says Muir.
There are steps you can take to make your summer workouts more bearable. "Run earlier in the morning, ideally before the sun comes up, or later in the evening, after the sun goes down, to avoid the hottest time of the day," advises Muir. As Ruiz says, "A few degrees makes a world of a difference," so even opting for a shady route will feel more pleasant. What you wear and bring on your run, ride, or hike can also have an impact. Below, Ruiz, Muir, and three more athletes share their favorite hot-weather gear.
Best clothing for exercising in the heat
Regardless of temperature, you should always wear moisture-wicking clothing when you're exercising to keep you dry and reduce chafing. That means synthetic blends or even lightweight wool, which naturally helps with temperature regulation. Because it holds on to moisture, cotton isn't a good choice and will leave you feeling soggier and sweatier than you already do on a hot day. Some runners opt for as little clothing as possible — just shorts for men or shorts and a sports bra for women — while others prefer throwing on a shirt for more coverage (whatever skin is exposed should be protected by sunscreen). As City Coach co-founder Jonathan Cane says, "Err on the side of wearing less" and opt for light colors that reflect sunlight instead of absorb it. These Tracksmith Session Shorts come recommended by both Muir and Jonathan Beverly, editor-in-chief of PodiumRunner. Beverly says the shorts are "Über-soft and breathable without being too thin," and Muir likes that they're "comfortable, dry quickly, and can be used as lifestyle shorts too."
On hot days, Muir likes this sports bra that doubles as a swimming top. "When I have the opportunity to jump in a pool or lake post-run — dumping water over my head works too — this is ideal," she says. Since lots of our experts recommend getting wet on hot days (Muir and Cane both like to run through sprinklers) for quick relief, it's smart to choose materials that will dry quickly to minimize chafing.
If you want some more coverage without overheating, Beverly says these perforated shirts from Rabbit are his "go-to when it is really hot and sticky," because, as he tells us, they're made from "an ultralight mesh that breathes and doesn't cling, no matter how soaked it gets."
Nearly all of our experts recommend a hat or a visor to keep the sun out of your eyes on hot days. Both have their advantages: A visor keeps your head cooler and allows for more air flow, but a hat can be filled with ice before heading out, so it can slowly melt, cooling you off as you go. It's an old trick that both Muir and Cane say works well. Here are two light-colored and lightweight options from runner-beloved brand Ciele.
Best water bottles for exercising in the heat
Since you're going to be sweating a lot in the heat, it's important to stay hydrated. There are lots of ways of carrying water — like belts, hydration packs, and handheld bottles — and it might take some trial and error to find out what works best for you. There aren't any hard-and-fast rules about how often or how much to drink, especially since this varies between people and will be affected by the weather and how hard you're working. Most experts say if you drink when you're thirsty, you should be taking in enough water, but Cane does caution that "under extreme conditions, your thirst may lag behind your needs." In those cases, he recommends drinking six to eight ounces of fluids every 15 to 20 minutes." To see if you're consuming enough, Muir says you can also try weighing yourself before and after exercising to see how much water weight you lose or pay attention to the color of your urine — pale yellow or clear means you're well hydrated. When she's doing longer runs, Muir brings this Ultimate Direction hydration vest that comes with two water bottles and fits a two-liter reservoir. Cane agrees that a hydration vest is "a great weapon in the hot-weather arsenal, in that it offers constant access to fluids and doesn't throw off your stride the way handheld bottles can."
Beverly says he's "a bit old school on carrying," and even though he has tried out lots of different hydration vests, he always comes back to a simple water-bottle belt, like this one from CamelBak. "It sits comfortably on my hips and is simple to drink out of, easy to refill anywhere I find water, and easy to clean," he says.