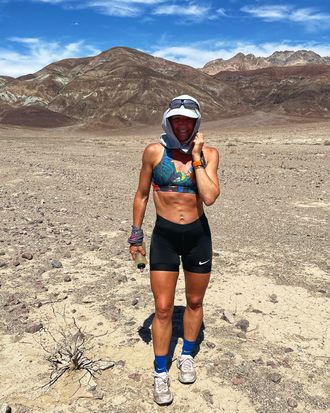 Welcome to On the Run, a Strategist column where we ask discerning runners to tell us everything they wore and brought on their most recent run, from shoes and socks to headphones and energy gels. Running-gear preferences are very personal and change depending on the season, so instead of declaring one pair of shorts or one sports bra the categorical best, we hope this series captures what works best for one particular runner on one particular run — and that maybe you can find something in it that works for you, too.
For this special Sweat Week edition, I spoke with pro mountain runner and coach Sally McRae, the winner of this year's Badwater ultramarathon. Known as "the world's toughest footrace," Badwater is a 135-mile race through Death Valley, where the daytime temperature can top 120 degrees. Here, she breaks down everything she wore and brought to get her through this very sweaty, 30-hour journey.
As a Nike-sponsored athlete, McRae wore two different shoes from the brand. Although she typically wears only one pair during a race of any length, for Badwater she decided to start out with the shoes she typically wears on shorter runs, the "ultraspringy" Vaporfly Next% (a favorite among elite marathoners). After 17 miles in those, she switched to the shoe she trained in, the ZoomX Invincible. "The ground never felt hard, and the shoe just had a good cushion in it that allowed my feet to feel comfortable for the entire race," she says. She also wore Nike's cushioned running socks, switching out pairs as they got wet — not so much from sweat as from continually pouring water over her head to try to stay cool. Even though the socks are moisture-wicking and would stay dry in less extreme situations, McRae says, "there did come a time after several hours when it was almost impossible not to get my feet or my socks wet." It's a strategy that panned out: She finished the race without any blisters or foot issues.
For running in such extreme temperatures, she had to consider how everything — even the color of her clothing — would affect her performance. "Excessive heat exposure for such a long time is going to affect you on so many levels, right down to your organs," she says, "so the fabrics that you choose are really important." After studying how Bedouin tribes dress for the extremes of desert weather, she opted for a mostly white outfit to reflect the sun's heat, with a few black pieces that actually help keep you cool when the wind picks up by absorbing the body's heat and emitting it. When the sun was at its strongest, she added a long-sleeved moisture-wicking top for more protection. McRae started the race in a pair of flowy white shorts before switching to black compression shorts. "I wanted the tighter fit," she says, "I didn't want any movement. The further you go in a race that long, the tiniest things can drive you crazy. And I didn't want any movement whatsoever." If you want to get a similar look, this white tank is lightweight, breathable, and features a reflective graphic for keeping you safe while running at night.
McRae found this hat on Amazon back in 2018 when she ran Badwater for the first time and needed a way to cover up the exposed skin on her face and shoulders. "It really took away the intensity of the heat," she says. "Obviously, I'm still feeling it, but not having that sun beat down on my face was key." She likes how the hat has a button to secure the flaps around her face. "It also comes with a fabric that can be secured across your mouth, which is really good especially when it's windy," she says. "Wind dehydrates you pretty quickly, and covering up your nose and your mouth stops you from getting dehydrated too fast." All the components of the hat (the actual cap, the face covering, and the side flaps) are actually separate pieces, so she was able to customize it as the weather changed.
Since it would be basically impossible for runners to carry all the fluids and nutrition they need to sustain themselves over such a long race, all Badwater participants are allowed a small crew of supporters who drive the course and meet them at certain spots to replenish supplies. In between these aid stations, McRae relied on these collapsible handheld bottles. "I like using these because as soon as I drink the water, they become lighter," she says. "Even if I had to carry it for a little bit before seeing my crew, it wasn't a big cumbersome bottle."
Runners know there are lots of ways to use a Buff. It adds a layer in cold weather, blocks the sun in hot weather, and can even be used as a makeshift mask in pandemic times. McRae, though, has found a new purpose: She uses them to secure her water bottles to her hands. She explains that when you're pushing hard while running, it's essential to maintain a relaxed upper body — including the wrists and hands — so even gripping a water bottle uses up precious energy. She says her Buff system is "a way to keep myself relaxed and able to very comfortably hold two bottles at a time without having to worry about dropping them or the weight of them."
Coros GPS watches are famous for their extra-long battery life, but it's still very impressive to hear that after over 30 hours of running, McRae's watch still had 24 percent battery remaining. Since most of her runs are on mountains, she likes that the Vertix model has special features like an altitude mode that monitors her blood oxygen as she climbs. "It's giving you that constant feedback that allows you to know when to push harder or when to hold the effort back a little bit and ease into a new height as you're getting higher up a mountain," she says.
McRae loves Spring energy gels because unlike other brands that use processed sugars for a quick hit of fuel, they're made of real food with recognizable ingredients, like the applesauce flavor. "It's so easy to digest," she says. "The further you go in these races, your body becomes more and more sensitive, and I knew that I couldn't really digest stuff that was fake." During the race, McRae consumed over 8,000 calories for fuel, with a good portion of that coming from Spring energy gels.
To supplement the calories from the gels, she also drank a mixture of water and this unflavored "superstarch" that was especially easy to stomach as the race went on. She says she used it "in the hours when I was just having a hard time getting anything in — anything with flavor or anything with taste."
Replacing electrolytes lost through sweat is incredibly important in a race like this, and McRae relied on Nuun (one of my personal favorites) for maintaining the right blend of these essential salts like sodium, potassium, and magnesium. She also drank a lot of coconut water, which is very rich in potassium, in the later miles of the race, when the mild flavor was easy on her stomach.
Race participants are required to wear a reflective vest for safety at night, which makes sense considering McRae says it was "pitch-black" out in the desert when the sun went down. She prefers this simple, lightweight style since it's essentially "just straps" and is easy to take on and off and tighten up so it's not bouncing around. "It's not like a hydration vest or a big bulky vest," she says, "but it definitely allows you to be seen."
The Strategist is designed to surface the most useful, expert recommendations for things to buy across the vast e-commerce landscape. Some of our latest conquests include the best acne treatments, rolling luggage, pillows for side sleepers, natural anxiety remedies, and bath towels. We update links when possible, but note that deals can expire and all prices are subject to change.