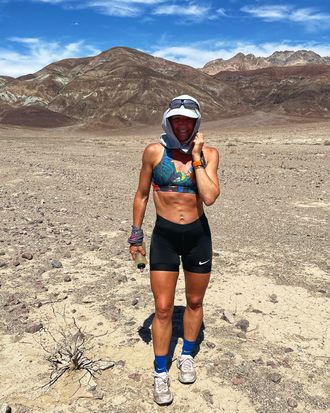 Welcome to On the Run, a Strategist column where we ask discerning runners to tell us everything they wore and brought on their most recent run, from shoes and socks to headphones and energy gels. Running-gear preferences are very personal and change depending on the season, so instead of declaring one pair of shorts or one sports bra the categorical best, we hope this series captures what works best for one particular runner on one particular run — and that maybe you can find something in it that works for you, too.
For this special Sweat Week edition, I spoke with pro mountain runner and coach Sally McRae, the winner of this year's Badwater ultramarathon. Known as "the world's toughest footrace," Badwater is a 135-mile race through Death Valley, where the daytime temperature can top 120 degrees. Here, she breaks down everything she wore and brought to get her through this very sweaty, 30-hour journey.
As a Nike-sponsored athlete, McRae wore two different shoes from the brand. Although she typically wears only one pair during a race of any length, for Badwater she decided to start out with the shoes she typically wears on shorter runs, the "ultraspringy" Vaporfly Next% (a favorite among elite marathoners). After 17 miles in those, she switched to the shoe she trained in, the ZoomX Invincible. "The ground never felt hard, and the shoe just had a good cushion in it that allowed my feet to feel comfortable for the entire race," she says. She also wore Nike's cushioned running socks, switching out pairs as they got wet — not so much from sweat as from continually pouring water over her head to try to stay cool. Even though the socks are moisture-wicking and would stay dry in less extreme situations, McRae says, "there did come a time after several hours when it was almost impossible not to get my feet or my socks wet." It's a strategy that panned out: She finished the race without any blisters or foot issues.
For running in such extreme temperatures, she had to consider how everything — even the color of her clothing — would affect her performance. "Excessive heat exposure for such a long time is going to affect you on so many levels, right down to your organs," she says, "so the fabrics that you choose are really important." After studying how Bedouin tribes dress for the extremes of desert weather, she opted for a mostly white outfit to reflect the sun's heat, with a few black pieces that actually help keep you cool when the wind picks up by absorbing the body's heat and emitting it. When the sun was at its strongest, she added a long-sleeved moisture-wicking top for more protection. McRae started the race in a pair of flowy white shorts before switching to black compression shorts. "I wanted the tighter fit," she says, "I didn't want any movement. The further you go in a race that long, the tiniest things can drive you crazy. And I didn't want any movement whatsoever." If you want to get a similar look, this white tank is lightweight, breathable, and features a reflective graphic for keeping you safe while running at night.