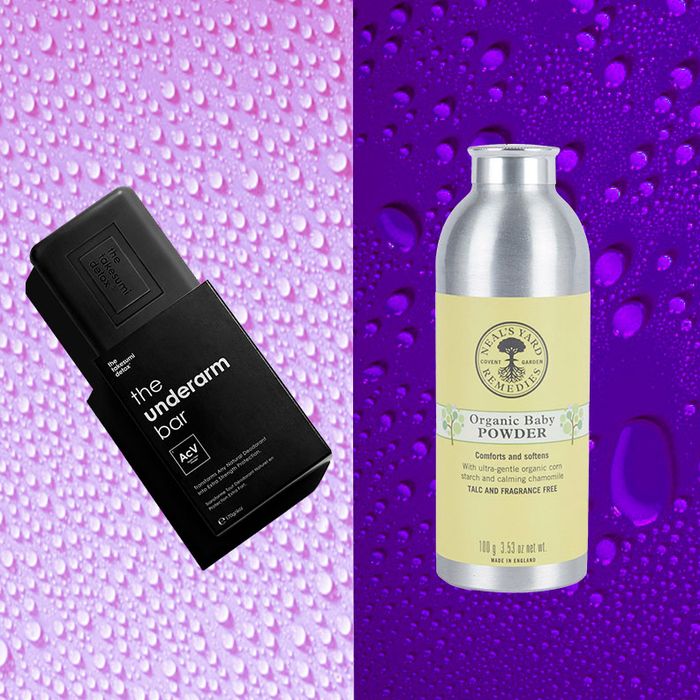 Sweating is a natural, healthy bodily process, but that doesn't mean it's always a welcome one. Nobody likes showing up to work drenched after a particularly sweaty commute or sitting across from a date with pit stains (and God forbid that date can smell you). An antiperspirant can obviously help with excessive sweating, thanks often to pore-clogging aluminum, but if you prefer a natural deodorant, you have to adjust your expectations — and get creative. "The job of deodorant is not to prevent you from sweating, it is to prevent you from smelling," says Mary Futher, a natural product developer and the founder of Kaia Naturals, who is known as Madame Sweat to her 40,000 TikTok followers. As she explains it, your sweat doesn't actually smell. What smells is the bacteria that forms when the protein in your sweat sits on your skin for very long. Natural deodorants are usually packed with antibacterial ingredients to avoid the smell, but to stay dry, you're going to need some help. You're going to need Madame Sweat. Here are the tips, tricks, and products she recommends for keeping sweat and odor at a minimum, the natural way.
For anyone using a natural deodorant, "you have to contend with those wet, maybe moist underarms," Futher says. "As Madame Sweat, I don't like having moist underarms, and yet I don't want antiperspirant either." Although natural deodorant already has some powder or starch to help with this, she says for major sweaters it won't be enough. To keep her underarms dry, "I first put my deodorant on in the morning and then supplement with baby powder cornstarch overtop," she says, explaining that the concept is similar to setting your makeup or powdering your nose when it gets shiny. "That extra layer helps a lot, and it makes me feel a lot more comfortable during the day."
Photo: retailer
Just like at the beginning of the pandemic when Dr. Fauci told us we weren't washing our hands correctly, Futher says we aren't washing our underarms properly either. "If you just wipe over your underarms once or twice with a bar soap, I can assure you have not gotten rid of all the bacteria, even from yesterday, which means you're gonna have a problem today, especially if you're sweating a lot," she says. She recommends going over it 20 times. "Honestly, when I'm in the shower I count." It also matters what you're washing with. "You need something that has more ingredients than just a lot of fragrances and sulfate," she says. The Underarm Bar her company created has essential ingredients like apple cider vinegar, charcoal, and sodium. It's the sodium that's most important, she says: "If you ate raw pork you'd be sicker than a dog, but if you eat prosciutto, which is preserved with salt, because salt kills the bacteria, you'll be in much better shape." You can also use it in high sweat areas like around your breasts and feet to keep odor at bay.
Futher is a big fan of her brand's natural deodorant , of course, but says there is a limit to the amount of powder she can put into her stick formula before it crumbles. That means it may not be enough for anyone who sweats a lot. "People who are super, super sweaty and want to use a natural deodorant sometimes have better luck with creams because they can [contain more] powder" she says. Not only will the additional starch in creams soak up sweat, a cream can be piled on thicker to help combat moisture. The biggest downside is that they can be messy to work with. Although she personally prefers a stick deodorant, if you're looking for a cream, she is a fan of this vegetable-powder-based one.
If your main concern is odor, Futher recommends a natural deodorant spray. "The thing about sprays is there is no powder at all, but some people have had luck with ones that contain sodium that can control the odor," she says. She doesn't use sprays because she is too heavy of a sweater, but says she knows people who swear by Dr. Mist.