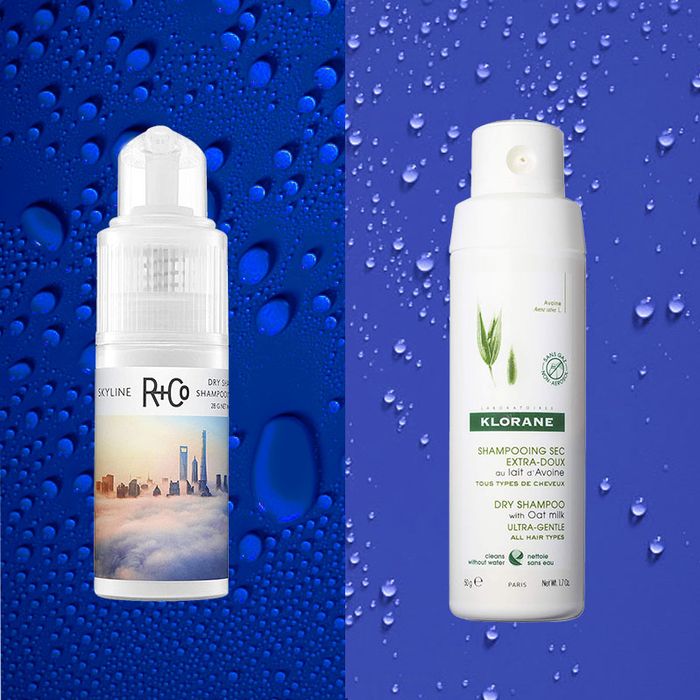 Photo-Illustration: retailers
After an intense workout or a day under the hot sun, you might find your scalp (and hair) looking rather oily and greasy from the sweat pooling around your roots. Because there's no real way to stop a scalp from sweating — unless you want to shell out the money for regular Botox injections — a quick solution to making it look less sweaty is dry shampoo. Typically formulated with moisture-absorbing corn or rice starch, a dry shampoo will sop up excess oil while removing any impurities, like dirt, from your hair. Some even have the power to soothe inflamed or flaky scalps with ingredients like oat milk, aloe vera, and niacinamide.
To find the best dry shampoos, we consulted eight hairstylists about the ones they recommend. Their 12 favorites run the gamut, from dry shampoos for curly hair, to products that work better with darker hues, to options that offer a little volume, too.
Best overall dry shampoo
Four of the hairstylists we spoke with cited this product from Klorane as their go-to for an all-around good dry shampoo. Celebrity hairstylist Anthony Campbell, the owner of Campbell & Campbell salon, told us it is "lightweight and great for all hair types." Hairstylist Benjamin Talbott agrees that this dry shampoo works for a variety of hair types and for people with "seriously greasy scalps." As he explains, "the oat milk in this formula works as an astringent to dry up excess oil while also adding a softness to hair." This dry shampoo is a bit better for the environment because it's released as a powder, not an aerosol spray. Talbott notes that this means you should "go easy with this" when applying to prevent any product buildup. Hairstylists Henry de la Paz and Aviva Jansen Perea also recommended this dry shampoo, with Perea adding that Klorane's oil-control dry shampoo would be worth considering if you find your scalp gets super-oily after a "particularly sweaty workout or during the hot summer months." (It contains all the same ingredients plus nettle extract, which helps regulate oil production.)
Best drugstore dry shampoo
"This is the dry shampoo I reach for time after time, year after year," says Perea. "It works 100 percent of the time on all different types of hair." It is also by far the cheapest dry shampoo on the list. The formula "soaks up oil and dirt without being too powdery or depositing too white of a cast," adds Perea, who says a few quick sprays are all you need to freshen up your hair.
Best dry shampoo for darker-colored hair
Because many dry shampoos leave a white cast on darker-toned hair, the hairstylists say dark-haired folks should seek out one specifically formulated for their hair color, like this dry shampoo recommended by Talbott. The spray is formulated with ultrafine rice starch that immediately dissolves as it's massaged into the scalp, preventing any dandrufflike residue from showing on roots. Talbott adds that it's "infused with argan oil and UV filters, which help moisturize and prevent sun damage." In addition to being great for dark-colored hair, he adds it's also "an ideal choice for natural kinky, coily, or textured hair, as it won't cause shrinkage." Hairstylist Sahar Hissami, the owner of Maeve in June salon, also recommends this product, telling us it has an appealing "fresh smell."
Best (less-expensive) dry shampoo for darker-colored hair
For dark-haired people looking for something less expensive, Perea recommends this dry shampoo from Kristin Ess that she uses on clients before they step in front of a camera. "This product lets me breathe easy knowing that when the cameras flash, they won't pick up any of the white powder," she says. Unlike the Moroccanoil spray, which comes out white, this actually has a neutral brown tint to help it blend into darker hair colors. De la Paz also told us about this dry shampoo, noting it lacks sulfates and parabens and contains vitamins that he says help nourish hair that has been damaged from years of dyeing or being styled with heat.
Best scented dry shampoo