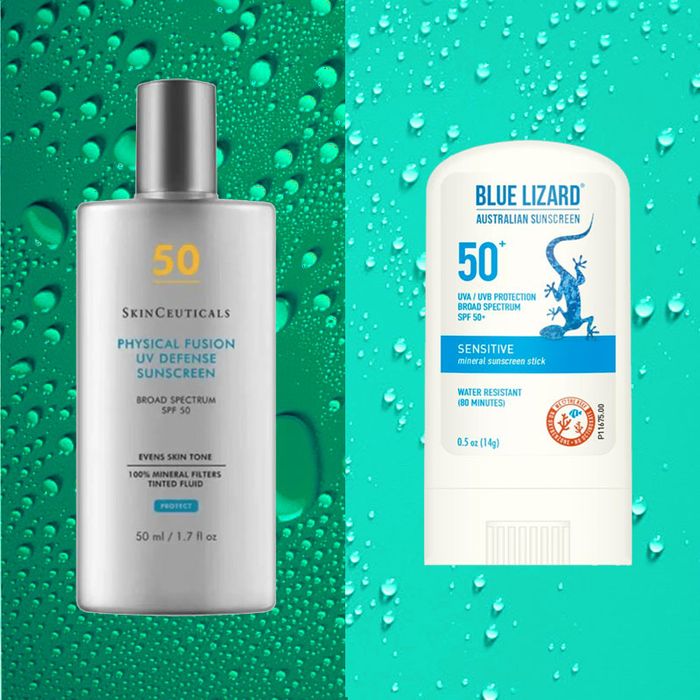 Photo-Illustration: The Strategist. Photos: Courtesy of the Retailer
The golden rule of sunscreen is that you should reapply at least every two hours. But that doesn't account for profuse sweating or using a towel to wipe that sweat away. Just like they wash away when you swim and towel off, most conventional sunscreens melt away little by little as you sweat, making them less effective at protecting your skin from harmful UV rays. But they can also melt right into — and sting — your eyes. To try and solve these problems, sunscreen makers put a lot of time into creating new and better formulations made to deal with sweat. "Sweatproof sunscreens tend to have ingredients with adhesive behavior — sticking to the skin and preventing water and sweat from wiping them off," says Dr. Anna Chacon, a board-certified dermatologist. But which of these sweatproof sunscreens work best? There is no official label to look for that proves whether a sunscreen is sweatproof or not, but Chacon says you can look for ingredients like perlite and silica that give sunscreen more sticking power. To save you time, we talked to dermatologists and athletes who spend a lot of time working out in the sun about the sweatproof sunscreens they use and love.
By far the most popular kind of sweatproof sunscreens we heard about were stick sunblocks like this one from Blue Lizard, which comes recommended by two dermatologists: Dr. Hadley King and Dr. Orit Markowitz. King says that mineral sunscreens in stick form work better because they tend to go on thicker, meaning they "provide good coverage and don't come off easily with sweat." She likes that this one is water resistant for 80 minutes, rubs in clear and contains aloe vera, shea butter, sunflower-seed oil, and vitamin E to nourish the skin. Plus it's non-comedogenic and doesn't contain parabens or fragrances.
Both Chacon and professional beach volleyball player, Traci Callahan, recommend this mineral sunscreen from Skinceuticals. Chacon says it stands up well to sweat and is great for athletes, and Callahan agrees. "I wear sunscreen everyday when I am outside on the sand. I apply it 15 minutes before I arrive at practice, which lasts around two hours. This sunscreen is my favorite because it's easy to apply, goes on smooth, doesn't run into my eyes, and I never get a sunburn," she says.
Trail runner, surfer, snowboarder, and mountain biker Chris Schierholtz uses Sun Bum sunscreen on his face and body whenever he's out in the sun. Similar to the Blue Lizard stick (but chemical rather than mineral, meaning it filters the sun's rays rather than blocks them), this compact version of his favorite face sunscreen is what he brings with him on long bike rides. He says it's easy to apply and is small enough to carry in a cycling jersey pocket. "It allows my face to breathe, while some of the other sweatproof sunscreens I have tried clogged my pores and were uncomfortable," he says.
When Precision Run founder David Siik told us about his must-have gear for desert runs this was his sunscreen of choice. He is fair-skinned so finding something that would last was super important. After trying a bunch that would run down his face or sting and burn his eyes during runs, he heard about this La Roche-Posay sunscreen from a dermatologist friend. "Once it's there, I don't notice it anymore," he says. "It really disappears, and I've never been sunburned while using it."
Photo: retailer
We heard about this sweat-proof chemical sunscreen from Strategist contributor and avid backpacker Maggie Slepian. She says that it's the brand's proprietary "breathable matrix formula" that allows her to sweat freely without losing protection. According to her experience, the formula lets sweat pass through without breaking the sunscreen's protective layer. "It never blocks me from sweating, an issue I've run into with other sunscreens. This is important, especially during activities like backpacking in high temperatures and humidity, because releasing sweat helps the body cool," she says.