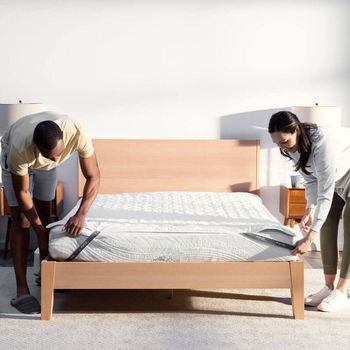 I'm a very hot sleeper. Sharing a bed with me has been compared to cuddling a furnace. Even laying on top of the sheets, if my room isn't kept at a balmy 61 degrees, I'll most likely wake up panicked, soaked in my own sweat with nothing left to do but take a 3 a.m. cold shower. To combat this issue, I've taken many measures: I've bought breathable linen sheets, tried a temperature-regulating duvet made of eucalyptus fibers, and given more of my paychecks to AC-spiked electricity bills than I'd like to admit. I've also been known to throw my bedroom windows open in January when a roommate cranked the heat up.
In our years of reporting on mattresses, the Strategist has written about — and tested — many with purported cooling abilities due to their construction or proprietary materials. While some of them, according to our staff, perceptibly helped regulate temperature, only one (so far) has had a quantifiable ability to do that: Eight Sleep's the Pod Mattress, a queen-size of which goes for $2,600. As our senior editor Peter Martin writes, the mattress includes a cooling layer and external hub you fill with water; once set up, you can use the hub to set precise temperatures on either side of the mattress: "When it was in the 50s and 60s at night, my side of the bed could be set to cool while my wife's side automatically warmed up before bedtime, letting me use the covers all night and keeping me from waking up hot and annoyed and trying to kick my way free," he says.
Chilisleep's Cube Sleep System, which I first read about last year, functions similarly but can go over any existing mattress you may own. The compact nine-by-nine-inch external Cube, when plugged into a wall, circulates cooled water through a hose that connects to a mattress pad you strap to your bed under your fitted sheet. While it also isn't cheap, it's a lot more customizable because you can buy half-size mattress pads if you don't share a bed; a half-queen, for instance, comes with one Cube and costs $699 — almost $2,000 less than a queen-size Eight Sleep Pod Mattress. (Chilisleep's full-size queen sleep system comes with two Cubes and goes for $1,300.) Given the similarities in design but differences in price, I decided to call in a Cube Sleep System to test earlier this year, ahead of an incoming heat wave.
As you have probably gleaned, there's a bit of setup involved. The brand instructs you to keep 18 inches of space around each side of the Cube, so you do need to be willing to cede some real estate on your bedroom floor for optimal results. The hose is a bit of an eyesore, but depending on your bed frame and the location of your outlets, you can probably hide part of it away. Once the Cube is plugged in and turned on, you need to fill it with 36 ounces of distilled water until full. Like the Eight Sleep Pod system, the Cube can pump either cold or hot water into the pad — you can set it to between 55 and 115 degrees either via a panel on the machine or with an included remote control. The mattress pad consists of four layers: One external side is made of breathable mesh, the other of soft cotton. (Hot sleepers like me may prefer the mesh, but either side adjusts in feel based on what temperature you set the system to.) Between them are a layer of polyester padding and the vein-like channels that the Cube pumps water through.
After two weeks of sleeping on a mattress hooked up to the system, I have some thoughts. I'll admit I went into it with a few reservations: Would the unit run out of water before I woke up? Would the water coursing through the channels make my mattress feel like a water bed? The answer to both is no. I ran the unit for 12 to 15 hours each night and never needed to add more water in that time. And the water channels are so thin that I could barely feel them. Even with the addition of the pad, my bed felt as comfortable as ever. The Cube does emit a low hum when powered on, but it's significantly quieter than my window AC. In fact, it's quieter than most fans.
Because I am a hot sleeper and was testing this during a heat wave, I kept it set to the lowest possible temperature of 55 degrees. From the very first night, I never had to toss and turn to find the cool side of my mattress — the system really did keep my bed feeling cool all night long. I could even keep my comforter on, something the brand actually recommends in order to trap in the cool air and effectively turn your bed into a blissful fridge. The one catch is that the system is impacted by ambient air temperature and humidity. On one steamy night, I tried it without turning on my AC — my room was easily 85 degrees and the Cube couldn't get all the way down to 55. Still, I was more comfortable than I would have been sleeping in an 85-degree room without the Cube or AC. While I'd say the system works best when supplemented with light AC, it's cooling ability is perceptible even without it. I imagine it would go a long way to cool me come winter when my roommates try to crank up the heat. Since just the idea of turning my bed into a giant hot-water bottle makes me break into a cold sweat, I didn't test it on warmer settings. But I could see it being effective if you're a hot sleeper who shares a bed with someone who sleeps cold.
The Strategist is designed to surface the most useful, expert recommendations for things to buy across the vast e-commerce landscape. Some of our latest conquests include the best acne treatments, rolling luggage, pillows for side sleepers, natural anxiety remedies, and bath towels. We update links when possible, but note that deals can expire and all prices are subject to change.