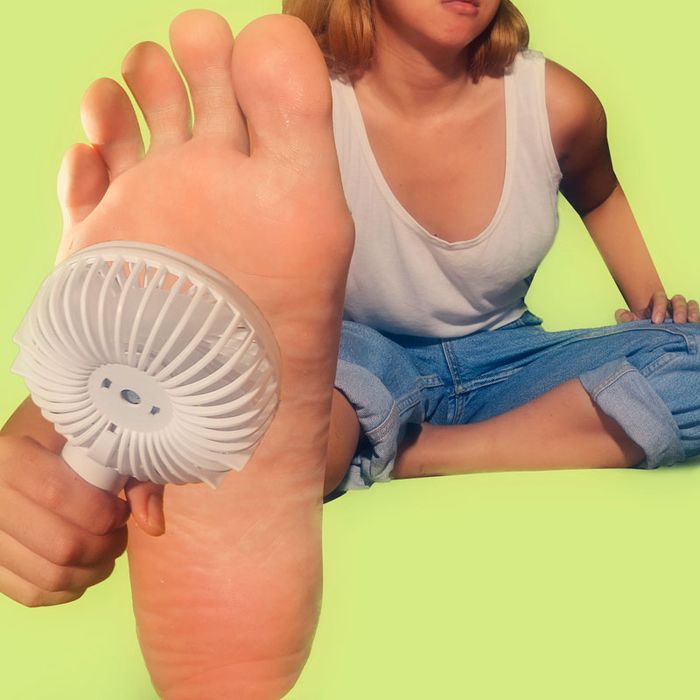 Photo-Illustration: Rob Frogoso for New York Magazine
Whether it's an occasional nuisance on a hot afternoon or a problem we wrestle with each day, we've all experienced sweaty feet. The feeling is not pleasant: slipping around in sandals or peeling off wet socks after an intense workout. Angela Ballard, a registered nurse and advocate with the International Hyperhidrosis Society, explains that the feet have the highest concentration of sweat glands (roughly 125,000 on the sole of each foot) of any body part. That's even more than in your armpits. She says that your feet can produce around a half-pint of perspiration daily, and much more if you suffer from hyperhidrosis, or excessive sweating.
Foot sweating isn't just uncomfortable. It can cause more serious problems, like fungus and bacterial infections that thrive in the warm, moist environment of a sweaty shoe. In extreme cases, there are medical treatments like Botox injections that can stop sweat at the source. If you're dealing with a less serious problem, however, there are steps you can take at home to prevent and treat the issue. Read on for more advice from Ballard, three podiatrists, and a dermatologist.
Washing your feet daily with soap and water should be your first step in both preventing and treating sweat. "For people who have hyperhidrosis, I recommend they wash their feet at least twice a day and completely dry them with paper towels before putting on socks," says podiatrist Isaac Tabari. He says anti-bacterial soaps are especially effective at killing the odor-causing bacteria that often goes hand in hand with excessive perspiration.
Just as you apply antiperspirant to your armpits to stop sweat, Ballard and all of the doctors we spoke with say you can use the same products on your feet. Podiatrist Alex Kor recommends looking for ones with aluminum chloride, which plugs up sweat glands. Certain Dri is one of the most powerful antiperspirants available over the counter (it's often recommended for heavy sweaters) and features the highest percentage of aluminum chloride you can get without a prescription. Twice a week, wash and dry your feet and apply the antiperspirant on your soles.
As an alternative to a roll-on antiperspirant, dermatologist Amy Wechsler likes these antiperspirant wipes that also contain aluminum chloride and are easy to use on your feet. "It's marketed for underarms, but they can be used anywhere on the body," she says. "You apply it at night before you go to bed, and then it helps the next day."
Powder is frequently recommended to cut down on foot sweat, but it's important to choose the right kind. According to Ballard and Tabari, some powders like talc can combine with sweat to form a kind of "gunk" or "mud" that isn't very comfortable to walk around in. Instead, Kor and Wechsler suggest the anti-fungal powder Zeasorb to actually reduce moisture and treat any fungus that might also be present. "Yeast and fungus love to grow [in] a warm, moist environment," says Wechsler, "so the powder absorbs the sweat and then there's anti-fungal medicine in it to prevent athlete's foot."
Both Tabari and Jackie Sutera, a podiatrist at City Podiatry and consultant for Vionic shoes, recommend soaking your feet in black tea to help reduce sweating. Sutera explains that the tannic acid found in tea has astringent properties that draw out moisture and dry out your feet. She recommends brewing two tea bags in one quart of water and soaking your feet for ten minutes nightly for a week. Afterwards, you can repeat the process once a week to keep reaping the benefits.
If you are dealing with foot fungus as well as sweat, Tabari suggests adding a bit of white vinegar, which is an anti-fungal, to your tea soak.
The right socks can make a big difference when it comes to keeping feet dry. Avoid cotton, which Ballard says can get "very soggy" as it soaks up perspiration. Unsurprisingly, the same materials that are found in athletic socks — like moisture-wicking polyester blends and wool — are good choices for daily wear if you have sweaty feet. Tabari likes merino wool socks that keep you dry in both cold and warm weather, as well as sports socks from Under Armour that are designed to wick away moisture. If even the best moisture-wicking socks aren't keeping up with your perspiration, you can try changing your socks midday.
Socks aren't exactly practical when you're wearing sandals or flats. In those instances, consider Summer Soles, sweat-absorbing inserts that come highly recommended by Maria Thomas, founder of the blog My Life As a Puddle and a spokeswoman for the International Hyperhidrosis Society. "My feet still sweat, but the Summer Soles absorb the sweat and prevent that 'slip and slide' feeling," she says. Thomas tells us they're durable enough to last a whole season.
To prevent bacteria and fungus from growing in your shoes in between wears, Sutera recommends using a UV sanitizer. It's an investment, but if you're really struggling with sweat issues, it's a good way to quickly and easily kill germs and sanitize your shoes.
The Strategist is designed to surface the most useful, expert recommendations for things to buy across the vast e-commerce landscape. Some of our latest conquests include the best acne treatments, rolling luggage, pillows for side sleepers, natural anxiety remedies, and bath towels. We update links when possible, but note that deals can expire and all prices are subject to change.