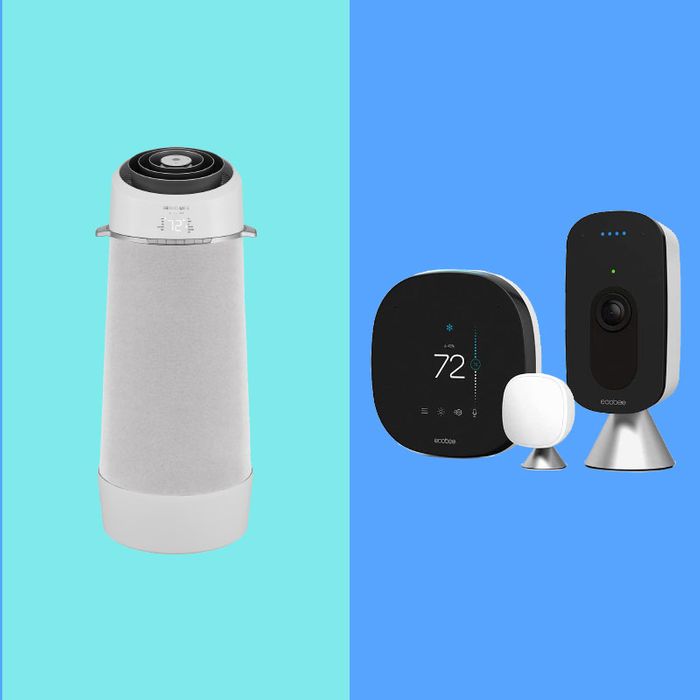 Photo: Courtesy of the retailer
Smart air conditioners — like a lot of other smart products including thermostats, kitchen appliances, and workout equipment — are essentially ACs that can connect to your home Wi-Fi system and be controlled via an app. Like many of their "intelligent" cousins, smart ACs might seem a little gimmicky at first, but some experts say there's nothing quite like getting cool air flowing through your home before you set foot in the door after a full day at work or a long trip. "It's a matter of convenience," according to Allen Schuster, general manager of Manhattan appliance specialist Gringer & Sons. "This way, you're walking into an environment that's comfortable, you don't have to sit there and wait three hours for it to cool down."
Chris Koehner, owner of Nashville-based HVAC service and repair company Halo Heating & Cooling, seconded that sentiment, saying that smart ACs and smart thermostats, which can be used with older units, "give you the power to control your home's temperature from anywhere, anytime," which can be helpful whenever you're working late and traveling with auto-away options. For pet owners, that can be a huge plus when your dog or cat is alone at home on a hot day. Whereas a window fan or portable AC might take much more of a while to warm up, a smart AC offers energy efficiency. "Your clothes dryer, stove, water heater, and air conditioner are the biggest energy users in your home, but only your air conditioner is likely to be on 24/7," Koehner says. That can take up a big block of your monthly energy bill — and that's also where the addition of a smart thermostat can help "to control the most expensive appliance in your house," Koehner explains.
While the market might have been relatively new a few years ago, as experts explained to us before, there's much more out there to choose from now. Still, they generally recommend going with smart models from time-tested manufacturers Friedrich and Frigidaire (two brands that also topped our more general list of expert-recommended ACs). The market is a-changing as well — broadly, the hottest trend when it comes to ACs is making them "as noiseless as possible," and being able to connect to smart-home devices is really starting to pick up more recently, says Justin Edwards, an HVAC contractor with Contractor Advisorly. Read on for our experts' favorite smart air conditioners, including a handful of window units, a portable one, and a products they say you can use to make most "dumb" ACs smart.
Best overall smart air conditioner
Three out of our four experts recommended the Friedrich Kühl series by name when it came to the best smart ACs you can buy. Like with regular ACs, you'll need a smart one with more BTUs — or British thermal units — to cool a larger room; this chart can help you find the right size for your space. Schuster actually thinks the Kühl is the best window unit, whether or not you get it for its "smart" features (two other home-cooling experts suggested a slightly larger Kühl model as the best AC for a studio apartment). "If someone comes in and they want the best, we sell them the Friedrich, so they get the Wi-Fi regardless." Vladmir Galashev, the owner of AC installation and maintenance service Air Conditioner NY, agrees, highlighting the line's design and quiet operation. But he notes that it's best to have these ACs professionally installed as they're on the "heavier" side.
Once you get everything up and running, the Friedrich app and the air conditioner itself are both "very user-friendly," according to Jamie Kaltner, head of HVAC at contracting company NYC Brownstone, who says he has installed a bunch of them. Aside from using the app to turn the air conditioner on remotely, you can also use it to set a schedule for your AC usage. It's admittedly an expensive unit, but Schuster says you're paying for quality. The Kühl, unlike other similar styles, is "built to last with high-quality materials and components," he says.
[Editor's note: ACs are particularly difficult to find right now because of all the supply-chain issues happening. This model is only available on Amazon through third-party sellers, so you might be better off buying from a reputable appliance dealer like AJ Madison, which is offering the same price you'll find on Amazon.]
Best less-expensive smart air conditioners
In the past, Schuster says he couldn't keep the Frigidaire Gallery Cool Connect AC in stock during the summer rush. "Every day, I get someone calling for one of these," he says, pointing to the "low-profile design" and good price as reasons for its popularity (especially among city dwellers in smaller apartments). Unlike a lot of other units, "it's not a bulky thing in the window," Schuster explains. Still, he and our other experts admit that choosing between this and the Kühl is tough; the two offer "very similar functionality" as far as smart features, and both get consistently positive feedback from customers. It often comes down to a question of budget and design preference — a lot of Schuster's customers prefer the look of this model, which he says is more "streamlined" than the Kühl.
While the Kühl line is Friedrich's premier offering, the brand also offers two more budget-friendly options: Chill Premier, its mid-tier range, and Chill, the most affordable of the three. This model offers a lot of the same smart features as the higher-end Kühl, but features a lower price because some of its mechanical components might not last as long, according to Schuster. But in terms of functionality, he says it's comparable to the Cool Connect unit just above. Joe Lakin, the manager of Brooklyn's Best Air Conditioning, previously pointed out this AC in our list of the expert-recommended window ACs. If you have a few Wi-Fi-enabled Friedrich units, you can connect them through the brand's app for a central-air-like experience, Lakin suggested. 
[Editor's note: While you can find this model on Amazon, it's available only in limited quantities and through a third-party seller. While it's slightly pricier at P.C. Richard & Son and AJ Madison, they are more established retailers than third-party sellers.]
Edwards points out its ability to connect to Alexa, Google Assistant, and Apple HomeKit. He also mentions how this AC is Energy Star–certifi