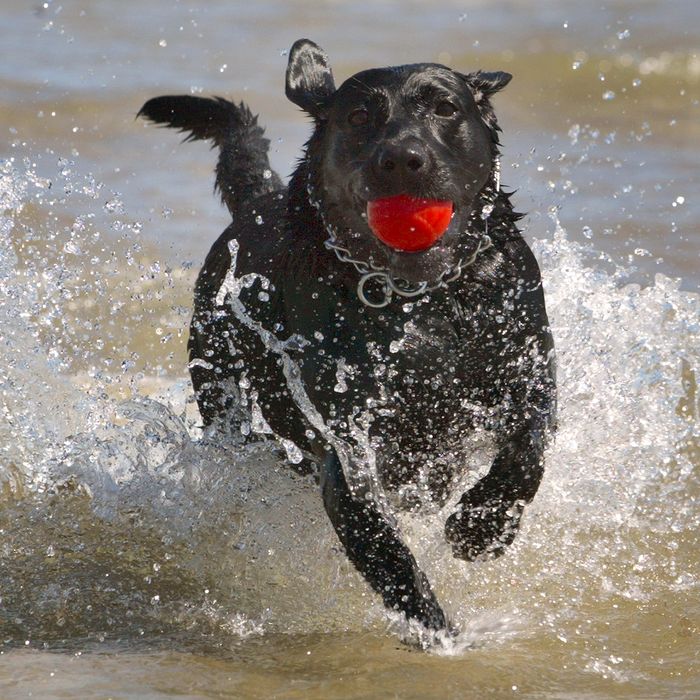 Photo: getty/Getty Images
As summer gets into full swing (and record heat waves sweep through the nation), finding ways to keep yourself and your family cool is a top priority. Of course, that includes our beloved dogs, who may need a little extra help beating the heat this time of year. Because dogs don't sweat, they "can be very sensitive to high temperatures and high humidity," explains Pure Paws Veterinary Care owner Dr. Stephanie Liff, especially for more at-risk groups like short-nosed breeds, obese pets, elderly dogs, and puppies. "When dogs become overheated, they are at risk for heatstroke, which can result in vomiting, diarrhea, difficulty breathing, and, in severe cases, clotting disorders, seizures, and even death," adds veterinarian Dr. Tory Waxman, the founder of Sundays dog food. "Products designed to cool your pet are one of the ways you can help prevent heatstroke and keep your pet comfortable when the thermometer spikes," says Rover trends expert Kate Jaffe. To find out which products are the best, we asked Liff, Waxman, Jaffe, and seven other experts, including veterinarians, trend trackers, and Strategist dog parents about the cooling clothing, collapsible dog bowls, and dog beds they use to keep their pups cool.
Bowls
The experts we spoke to were in agreement that the most important thing is to keep your pet hydrated by providing constant access to cool water for them to drink. "Always carry fresh, clean water and a collapsible bowl, especially when going on a hike or traveling," says Waxman. Liff agrees, calling collapsible water bowls a "great" idea. Dr. Sara Ochoa, a veterinary consultant for DogLab.com, adds that if your dog will be outside for a long time, "you can even freeze part of their water so it stays cold as the block of ice melts." Waxman calls the Ruffwear Trail Runner packable dog bowl "a great lightweight option for providing hydration on the go." Strategist editor Maxine Builder uses a Ruffwear Quencher dog bowl when she's out and about with her dog, Harmony.
Both Strategist writer Chloe Anello and Strategist contributor Ashlea Halpern use these collapsible dog bowls for their pets. "We tuck them into our carry-on bags and keep one in the glove compartment of our car," says Halpern. "The durable silicone is lightweight and easy to clean, and it won't tip over in a moving vehicle." Anello always keeps one in her backpack for her dog, Rudy.
New York Magazine newsletter editor Kelsi Trinidad loves the clever design of this hybrid water bottle and dog bowl, which she says she "brings everywhere," for her dog, Lupita. The water bottle has a built-in filter and comes in two sizes.
Clothing
"For dogs who love (or will tolerate) wearing apparel or accessories, Canada Pooch makes some fashionable and functional cooling items," says Jaffe. Trinidad bought one of these vests for Lupita that she says "really works on our long walks and hikes." The instructions are easy to follow: "Simply soak the vest with cool water and then fit it to your pet to bring their core temperature down as the water evaporates," explains Jaffe. The vests come in multiple sizes to fit a range of breeds and in three different colors, including blue, rainbow, and tie-dyed.
Another cooling vest option is this one from Ruffwear, which Erin Askeland, an animal health and behavior consultant at Camp Bow Wow, calls "a favorite." She says, "It's ideal for longer days outdoors when you're on the go, and it acts as a sun protectant as well."
Along with the vest, Trinidad uses this (frankly adorable) Canada Pooch cooling hat for Lupita; it comes in sizes small to extra large. The brand's site offers two handy size charts (one by measurement and one by breed type) to make it easy to find the right fit for your pup.