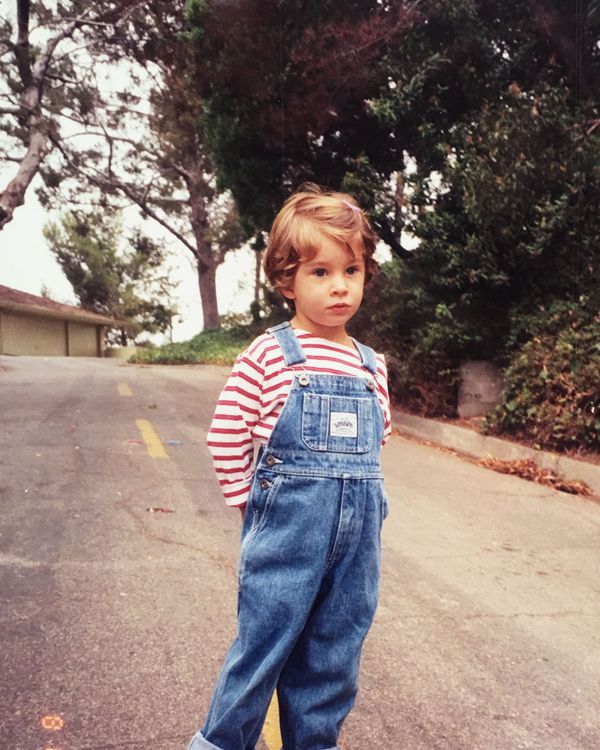 The author, age 3, in a Breton shirt and overalls.
Photo: Courtesy Chloe Malle
Breton shirts began as a mandated uniform for the French army in the 1850s, the 21 blue and white stripes (one for each of Napoleon's victories) easier to spot on seamen cast overboard. Now, though, they're a favorite of civilians, an off-duty uniform for Sunday brunchers and morning school drop-offs.
I've collected variations of the classic marinière shirt since high school (and as old photos prove, even earlier), a not-so-subtle nod to my French heritage. A teenage dream to look like casual Coco Chanel morphed into a collegiate desire to mimic gamine Jean Seberg, and now at 32 they just make me feel like me. I don't buy plain T-shirts, just striped ones. I can't help it. I just keep buying them. Even after the duchess of Cambridge integrated them into her wardrobe rotation and they lost a bit of their Rebel Without a Cause insouciance, I persisted. I like them all — both the classics from Saint James or Armor-Lux and the new brands like La Ligne and Kule that have spun entire lines around the idea of the striped shirt. I'm a traditionalist, though, when it comes to shape: I like a classic boatneck collar with long sleeves. These are the ones I love and own (plus a few I'm eyeing).
The Breton-striped shirts I own
The classic. You can't get more authentic than the historic, Bretagne brand. I personally prefer the soft cotton of this style but they also have many in the thicker cotton.
The softest cotton and perfect slouchy shape. I actually already had this in classic blue and red but couldn't resist this new sherbet colorway.
A hip update on the classic silhouette and color combo. I wear this one in the fall with a satchel bag and blazer and pretend I'm in Love Story.
Another classic French brand, Armox-Lux makes a striped shirt with a slimmer cut and neutral dusty rose that I like for layering under sweaters.
In a darker grey and black, this Everlane option is a great winter workhorse. I wear it at home when it's inhospitable out or layered under cardigans and coats once I venture outside.