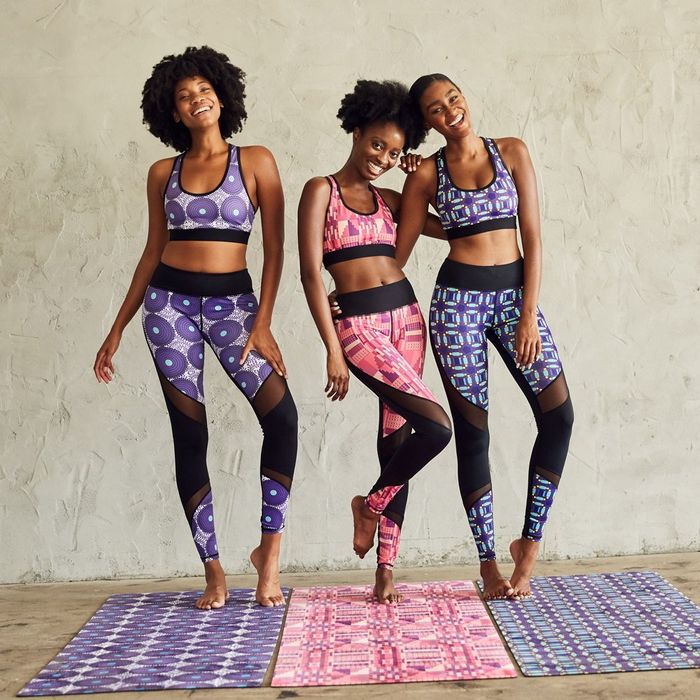 Our ever-expanding list of Black-owned businesses has no shortage of fashion and fitness brands — but expertly combining fashion with fitness are these standout 15 Black-owned brands making some of the coolest activewear on the market. So whether you're looking for bike shorts to wear on your Peloton (or Peloton dupe), running shorts for your next 5K, or a sweat-wicking T-shirt for hitting the gym (may we suggest these 14 Black-owned fitness studios, while we're at it?), these companies have you covered.
Solely Fit
Photo: O'Shea Tometi/O'Shea Tometi
Photo: O'Shea Tometi/O'Shea Tometi
After years as a reporter, Stefania Okolie took her storytelling skills and interest in design to create Solely Fit, an activewear brand designed to give women functional athleticwear that's stylish, too. Her current collection features bodysuits, leggings, bike shorts, and sports bras that are all made in the U.S.
Zoezi Sport
Kenyan-born Yvonne Bulimo couldn't find any athleticwear brands she connected with while living in Kenya — so she started her own. Zoezi Sport, which means exercise in Swahili, honors her Kenyan heritage. The line is meant to withstand workouts, but it looks really lounge-worthy, too.
Farever Art
Artist and barre instructor Faren Collins combined two of her interests by putting her artwork onto athleticwear. She also sells "museum-quality" posters of the designs that are blown up onto her leggings, jackets, and sports bras — so, in other words, you can buy prints for your wall to match your wardrobe.
Lukafit
Lukafit's founder Mbali Ndlovu started the brand to give women of color in all sizes — her clothes go up to 3x in leggings and 2x in sports bras — athleticwear that's designed for them. Her leggings have bright colors with cheeky prints and are made from "squat-proof" material, so they're not sheer and stay in place no matter what moves you do
CultureFit
CultureFit sells mix and match workout sets in three different West African prints. You pick your leggings first, then choose whether you want a matching top or sports bra. And if you want to go the extra mile, you can throw in a matching yoga mat.
Glamourina
A lack of representation in other brands inspired Kia Phillips and Nekol Gaskins to start athleisure label Glamourina. Their next exceedingly colorful collection of leggings, sports bras, and reversible warm-up jackets — all of which go up to size 3x — is available for preorder now.
Unilove by Chloe and Maud
Professional tap dancers Chloe and Maud Arnold created functional yet stylish pieces for dancing and working out (though many of the separates look comfy enough to relax in, too). This dance-appropriate unitard comes in blue, pink, and neon green, and while it's one-size-fits-most, it appears to be made from extremely stretchy material. Get it while it lasts, because the shorts version — dubbed a biketard — is all sold out.
Pru Apparel
Founded in 2014, Pru Apparel — which stands for power, representation, and unity — promises squat-proof, moisture-wicking workout sets in fun patterns and bright colors. You can either buy matching sets together or separately for mixing and matching.
Damihow
U.K.-based Damihow designs modern and minimalist performancewear. For women, there are sleek bike shorts, leggings, sports bras, tops, and warm-up jackets in half a dozen colors. The men's offerings are a bit more limited — there's popular joggers, quarter-zip pullovers, and moisture-wicking T-shirts — but the brand says an expanded men's collection is coming soon.
Queen Malkia
Queen Malkia features bold, African prints on sports bra and legging sets made from four-way stretch, anti-bacterial fabric with sublimated prints, so the print won't crack or fade. And each sports bra has different strap details to add a unique element to your set.
Tranzfit Apparel