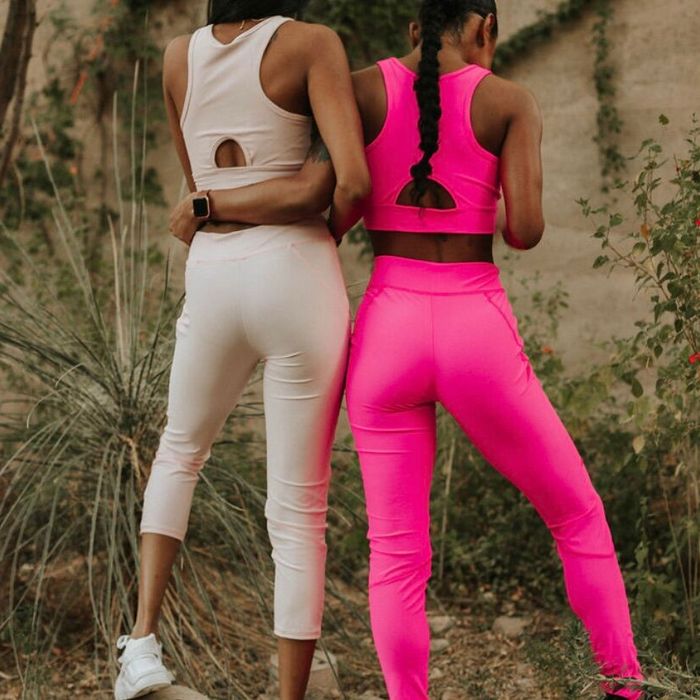 Our ever-expanding list of Black-owned businesses has no shortage of fashion and fitness brands — but these standout 24 Black-owned brands are expertly combining fashion with fitness, making some of the coolest activewear on the market. So whether you're looking for bike shorts to wear on your Peloton (or Peloton dupe), running shorts for your next 5K, or a sweat-wicking T-shirt for hitting the gym (may we suggest these 14 Black-owned fitness studios, while we're at it?), these companies have you covered.
Ruby Love
After helping her daughter navigate her first period, Crystal Etienne was inspired to find better alternatives to tampons and pads, and thus Ruby Love was born. The company makes leakproof underwear, swimwear, and even activewear, all of which have a built-in liner so you don't need to wear a tampon, menstrual cup, or pad. The line currently features bodysuits you could wear to a dance class and leggings for all types of movement.
Full Court Sport
Marguerite Wade launched Full Court Sport in 2014 as an alternative to some of the dull options available in women's tennis gear. In addition to moisture-wicking leggings and bike shorts, complete with a back pocket for tennis balls, there are tennis skirts, dresses, and brightly colored windbreakers to buy directly from Full Court Sport and from its exclusive collection with Net-a-Porter.
PYNRS
As an extension of his running club, Pioneers Run Crew, Sid Baptista launched PYNRS, a streetwear-inspired technical-running-apparel line designed to support diverse body types. The shorts, leggings, and joggers are all cut for thicker thighs and curvier hips. They make men's and women's clothing in addition to a few unisex offerings, like this sweatshirt with a built-in pocket for your phone or fuel.
Arrow + Phoenix
Arrow + Phoenix is known for its swim collection, but it also has a small activewear line with two different leggings and a sports bra. The Sweat line still aligns with the brand's ethos of being sustainable and inclusive: The leggings are made from recycled material, and everything is available in sizes XS to 3XL. They also come in six different colors, including classic black and a vibrant hot pink.
Kemetic Knowledge
Kemetic Knowledge aims to honor the ancient civilization Kemet (modern-day Egypt) through its clothing — mainly sports bras, leggings, long-sleeved crop tops, and shorts made from quick-drying durable fabric. The metallic gold "Goddess" print down the leg of the pants in this set stands out against the black nylon-spandex blend.
Vertical Activewear
Vertical Activewear founder Tia Robinson describes her brand as "slow fashion." Each piece is made sustainably and ethically and produced on-demand to prevent excess stock ending up in landfills. It might mean your order will take a little longer to arrive (depending on the product, delivery estimates are between one and three weeks), but the brand's moisture-wicking and supportive leggings, sports bras, and one-pieces are worth the wait.
Melt Fit