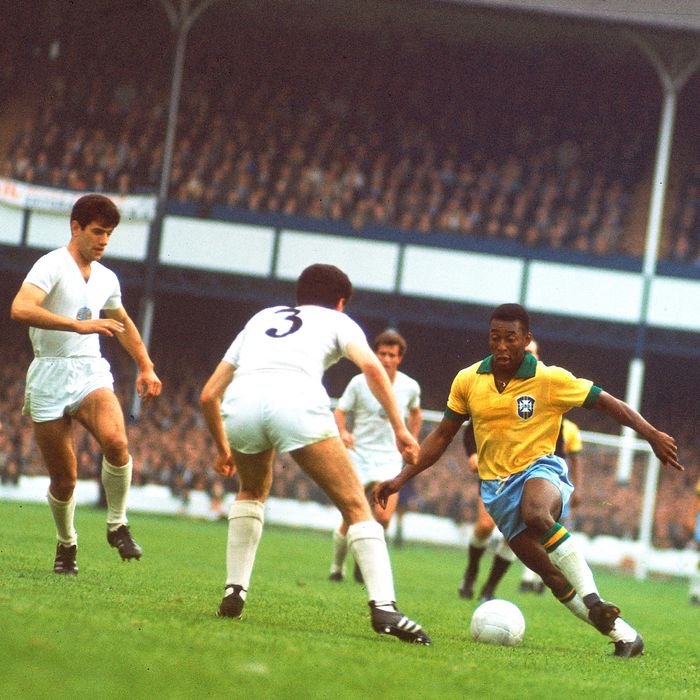 Photo: Art Rickerby/The LIFE Picture Collection via Getty Images
Whether you play soccer in a formal league or use backpacks to mark the goals for a pick-up game in the park, appropriate footwear can improve your play and help limit injuries. Determining which shoe is right for you will depend on many factors, but the primary factor is the surface you play on. As Halle Bissen, assistant coach of the University of California San Francisco's women's soccer team, explains, "there are firm-ground shoes with hard plastic cleats for your run-of-the-mill grass field and soft-ground shoes with metal stud cleats to prevent slips on soggy grass fields and mud. Multi-ground shoes, which are good for turf or firm ground, are somewhere in the middle, with cleats that aren't super-short or as tall as they would be with firm-ground shoes. And then there are indoor shoes that have flat bottoms with a little bit of tread and stick, almost like basketball shoes."
Once you know what surface you'll be playing on, the rest is up to personal preference, says Scott Caldwell, a professional midfielder for the New England Revolution. "Some people are looking for lightweight shoes, some people like the quality of material, and some people prioritize the fit," he says. "For me, I find that the material and the fit are most important. If a pair of cleats adhere well to my feet, they'll be comfortable and give me confidence in my control of the ball." Alex Ivanov, a former semi-pro soccer player in the Empire State league and decathlete, and the current head coach of Nitehawks Sport Club in Massachusetts, says he "wants a cleat to feel like a part of my foot. I always look for a soft durable leather that feels like a second skin, so if I curl my toes or angle my foot," the shoe moves with him.
Synthetic shoes are typically lighter than leather, but they don't last quite as long or mold quite as well to an individual's foot. Ivanov says when he used to play, he would "blow through cleats by wearing out the top of toes by dragging them." Compared to synthetics, he says, "good leather will hold up for a longer period of time, so when I finally get a boot that feels like part of my foot, I don't blow through and have to break in another pair." Stefan Markovic, a coach at West Loop Soccer Club in Chicago, agrees. "I will always advise everyone to try leather shoes," he says. "They are going to last three, four, or five years, depending on how well you take care of them, whereas synthetic shoes will only last one or two seasons." His one warning: "If you play outside on a wet field, leather gets heavier than synthetics."
To help you find the right soccer shoes for you, we spoke with five professional coaches and players from around the country. Here are their recommendations.
Best overall soccer cleats
The Adidas Copa Mundial is a classic shoe that is a consistent favorite among experts. James Bede, the owner of James Bede Soccer Club in Newton, Massachusetts, has worn the Copa for years and says, "it moves with and molds to my foot. When you hit the ball, you feel like you are playing barefoot." He describes the kangaroo leather as "smooth, like velvet" and says, "it feels like when you wear sandals and your toes are comfortable, exposed to the air." Caldwell says, "the leather material provides a really good fit to my foot — and for a long period of time if you keep up protecting the leather. It's a classic shoe that I like the look of. The comfort level and my confidence when wearing it are just higher than with other boots." Markovic also considers these to be his favorite shoes. "I got mine in 2014, and I still have them and still use them today," he says. And Ivanov says they're the perfect shoe for new players, because the stiffness provides the extra support they need to prevent injuries.
Best outdoor synthetic soccer cleats