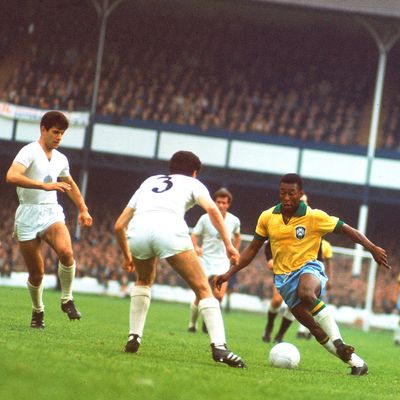 Photo: Art Rickerby/The LIFE Picture Collection via Getty Images
Whether you play soccer in a formal league or use backpacks to mark the goals for a pick-up game in the park, appropriate footwear can improve your play and help limit injuries. Determining which shoe is right for you will depend on many factors, but the primary factor is the surface you play on. As Halle Bissen, assistant coach of the University of California San Francisco's women's soccer team, explains, "there are firm-ground shoes with hard plastic cleats for your run-of-the-mill grass field and soft-ground shoes with metal stud cleats to prevent slips on soggy grass fields and mud. Multi-ground shoes, which are good for turf or firm ground, are somewhere in the middle, with cleats that aren't super-short or as tall as they would be with firm-ground shoes. And then there are indoor shoes that have flat bottoms with a little bit of tread and stick, almost like basketball shoes."
Once you know what surface you'll be playing on, the rest is up to personal preference, says Scott Caldwell, a professional midfielder for the New England Revolution. "Some people are looking for lightweight shoes, some people like the quality of material, and some people prioritize the fit," he says. "For me, I find that the material and the fit are most important. If a pair of cleats adhere well to my feet, they'll be comfortable and give me confidence in my control of the ball." Alex Ivanov, a former semi-pro soccer player in the Empire State league and decathlete, and the current head coach of Nitehawks Sport Club in Massachusetts, says he "wants a cleat to feel like a part of my foot. I always look for a soft durable leather that feels like a second skin, so if I curl my toes or angle my foot," the shoe moves with him.
Synthetic shoes are typically lighter than leather, but they don't last quite as long or mold quite as well to an individual's foot. Ivanov says when he used to play, he would "blow through cleats by wearing out the top of toes by dragging them." Compared to synthetics, he says, "good leather will hold up for a longer period of time, so when I finally get a boot that feels like part of my foot, I don't blow through and have to break in another pair." Stefan Markovic, a coach at West Loop Soccer Club in Chicago, agrees. "I will always advise everyone to try leather shoes," he says. "They are going to last three, four, or five years, depending on how well you take care of them, whereas synthetic shoes will only last one or two seasons." His one warning: "If you play outside on a wet field, leather gets heavier than synthetics."
To help you find the right soccer shoes for you, we spoke with five professional coaches and players from around the country. Here are their recommendations.
Best overall soccer cleats
The Adidas Copa Mundial is a classic shoe that is a consistent favorite among experts. James Bede, the owner of James Bede Soccer Club in Newton, Massachusetts, has worn the Copa for years and says, "it moves with and molds to my foot. When you hit the ball, you feel like you are playing barefoot." He describes the kangaroo leather as "smooth, like velvet" and says, "it feels like when you wear sandals and your toes are comfortable, exposed to the air." Caldwell says, "the leather material provides a really good fit to my foot — and for a long period of time if you keep up protecting the leather. It's a classic shoe that I like the look of. The comfort level and my confidence when wearing it are just higher than with other boots." Markovic also considers these to be his favorite shoes. "I got mine in 2014, and I still have them and still use them today," he says. And Ivanov says they're the perfect shoe for new players, because the stiffness provides the extra support they need to prevent injuries.
Best outdoor synthetic soccer cleats
If you can find these laceless cleats in your size, they're one of Bissen's favorites (and worn by players on the UCSF women's team, she says). She loves how tight they feel around her foot: "They are like a slipper. The shoe secures your foot just a little bit tighter [than normal] and feels like it's molding to your foot," she says. Because of that tightness, she cautions that these shoes take time to break in. "For the first month, I had to struggle to get them on. Now I put them on, no problem," she says. "Once they are in, my feet feel like they're in a sock boot. I feel very secure in it. My foot isn't moving around a lot." Ivanov is also a fan of laceless cleats and recommends them for players who "like to hit knuckleballs, where you want the ball coming off your foot with no spin."
Note: While there are more sizes available at Amazon, most are through third-party sellers and also charge a shipping fee.
Ivanov says that, although he has tried other brands, "he keeps going back to Adidas." Most of his players wear Adidas, too. These shoes are his current synthetic favorites, and although they are expensive, "you get what you pay for," he says. "At this higher end, it's like you aren't wearing it. If I'm out on the field for hours, I want my feet to be comfortable." He recommends them for any JV or varsity high-school athlete, or for college athletes. Although he personally prefers leather cleats, Bede says you can't go wrong with any Adidas. "I'm loyal. I don't wear any other brand's cleats."
Note: Sizing is quite limited at both retailers, below. So if you see your size in stock, you might want to be quick to grab it.
Bissen also likes these Nikes, which she says are "definitely lighter" than most other options, and "tighter on my foot." Markovic is also a fan.
Best synthetic soccer cleats for narrow feet
Bede says that Nikes are known to provide the best fit for narrow feet, while Bissen says synthetic shoes as a category tend to run a little more narrow. She recommends these two narrower options, which are worn by some UCSF players.
Best leather soccer cleats
Markovic describes the Premier as a dependable shoe with consistent quality, even as it ages. But, he says, as with any leather shoe, you have to take care of it. When leather shoes get wet, he recommends first letting them dry out, then using a shoe polish or cream to help restore the leather.
Note: Sizes are limited at Amazon and appear to be only available through third-party retailers, typically without free shipping. The link below is to a seller with high ratings, but with only smaller shoes available. Nike appears to have a full range of sizes and free shipping.
Markovic also likes the Puma Kings, a classic leather option with a foldover tongue, which provides a more consistent strike zone than the variable surface of laces.
Although many UCSF players wear synthetics, the only leather shoe they wear is this one, Bissen says. "I used to always play with Tiempos when I played in college." She appreciates that "the real leather opens up a lot more than the synthetic leather." Makovic also recommends this shoe as a durable option for people with wider feet. Bissen agrees and points out that leather, in general, will be better for wider feet because of its ability to stretch.
Markovic says "Mizuno are very good shoes" and notes that they were a popular shoe "with the guys I was playing with in youth soccer in Europe." Plus, he says, a lot of professionals buy them. Although they are at a higher price point, Markovic says the expense is worth it. "The fit is great. It helps you to be 100 percent yourself because it's all made from leather. If you take good care of it, the softness of the leather really helps you control the ball well." Bissen also likes Mizuno and points out that they are made of "kangaroo leather, which is the ultimate because of the stretch, durability and comfort."
Best indoor soccer shoes
Ivanov thinks all Adidas shoes are great, but he "lives in Sambas." Bissen also loves to wear them and appreciates that "they have a little grip to them, while still being totally flat, with no cleat on the bottom." Although he describes the Sambas as "more of an indoor shoe," Ivanov also says they're good for turf. "I liked to glide so if I wanted to slide into a tackle without going down or drag a toe it made a big difference for me," he says. He likes them for coaching, for playing, and for just walking around.
Both Markovic and Bede recommend the Mundial Goal Shoes. Bede uses them to play Futsal, a type of indoor soccer on a hard court, where he says he really "needs to be able to feel the ball," and Markovic says the smooth bottom makes them ideal for hard indoor surfaces. If you are playing on artificial turf, Markovic suggests using the Copa Turf Shoe with small cleats for better traction.
The Strategist is designed to surface the most useful, expert recommendations for things to buy across the vast e-commerce landscape. Some of our latest conquests include the best acne treatments, rolling luggage, pillows for side sleepers, natural anxiety remedies, and bath towels. We update links when possible, but note that deals can expire and all prices are subject to change.