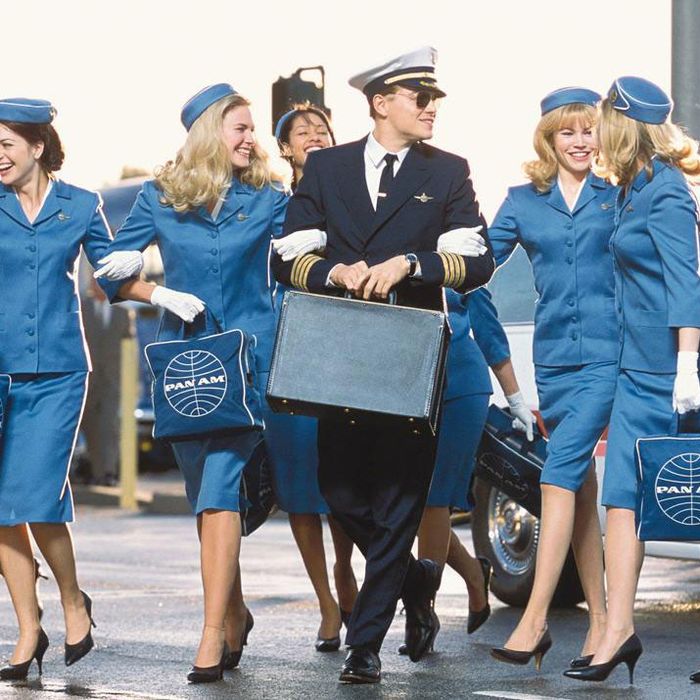 Photo: Courtesy of DreamWorks
Whether you're hitting the slopes in Aspen in the winter or escaping to a faraway beach in the summer (or winter), getting out of town requires the right gear. That of course includes the stuff you'll need when you get wherever you're going, but just as important are the things you'll use in transit — because everyone knows that getting there is half the battle. In our ongoing search for the best travel gear (see what our editors can't get on an airplane without, and our roundup of the best rolling luggage), one item that's always top of mind is a good pair of shoes to travel in — as in, ones that can withstand both airplanes and cobblestones, and are nice-looking enough to wear straight from the plane, or a day on the streets, to dinner. So we asked some people who get around a lot — including travel writers, photographers, tour guides, globetrotters, and other frequent fliers — about their favorites. Read on for their 28 picks, which include sandals, flats, sneakers, and boots. Quick shopping note: A lot of these shoes come in both men's and women's, or in unisex, sizes.
Best sneakers for travel
Travel blogger Annette Richmond calls these Adidas Cloudfoam Racers her "go-tos" because they are "super lightweight and breathable," which makes them perfect to wear on a flight or walking around a new city, she says. "I pair them with leggings or shorts for an athleisure look that's perfect for hiking, sightseeing, or a travel day."
For another lightweight, easy-to-put-on pair of sneakers, Grant Nyquist, the director of adventure at the Outbound Collective, recommends "Allbirds, hands down." Wearing these makes airport security a breeze, he promises, and like the Adidas pair above, the Allbirds can be worn with most anything — including slacks. Plus, you can even wear them sockless because the wool wicks away any unwanted moisture. "For the price, the quality, and the style, nothing comes close," Nyquist says.
Strategist columnist and cool person Chris Black wears a pair of crisp, gray New Balance 990 v4s to complete his "respectable but still comfortable" airport ensemble. His advice: "Honestly, just keep your toes covered and you already look better than half of the airport population."
If you are the sort of person who needs to fit in a workout while on vacation and would prefer not to pack two pairs of shoes, this Adidas pair works equally well on the streets or a treadmill, according to Ben Pundole, the editor-in-chief of travel magazine A Hotel Life. Their super-lightweight mesh upper allows feet to breathe during speed training, while still looking cool enough to pass for streetwear. Plus, they're a part of Adidas's Parley collection, which means they're made using recycled plastic found in the ocean.
Matt Smith, a co-founder of bespoke luxury travel company Black Tomato, told us he prides himself on being a highly efficient traveler who very rarely checks a bag. That's why he loves No Bull trainers, which he says are "like four pairs of shoes" in one. (No Bull trainers took the runner-up spot on our lists of status gym sneakers for both men and women.) Like Pundole's favorite Adidas pair, Smith says these are comfortable enough to fly in, durable enough to work out in, and have a design that's sleek enough to bridge the gap between going out to dinner with clients or taking meetings at the office.
For a slightly less sporty sneaker, Tom Marchant — another co-founder of Black Tomato — suggests this handsome leather pair from Cole Haan, which he says are always a safe bet for travel since they're designed for comfort and flexibility. "They're incredibly breathable," he explains, adding "they're ideal for exploring a bustling metropolis by foot or gearing up for a long haul flight."
"The Filling Pieces shoes are the most comfortable I've ever encountered and incredibly durable," according to David Prior, the founder of travel club PRIOR. The keys to a good traveling shoe, he says, are being able to get it on and off quickly, and for it to still feel comfortable when your feet inevitably swell while in the air. "They also need to be presentable enough when you're getting off the plane and need to go straight into something," Prior adds, noting that his favorite pair from Filling Pieces meets his criteria for ease of use and comfort, but still look super stylish with their fun colors and chunkier sole.