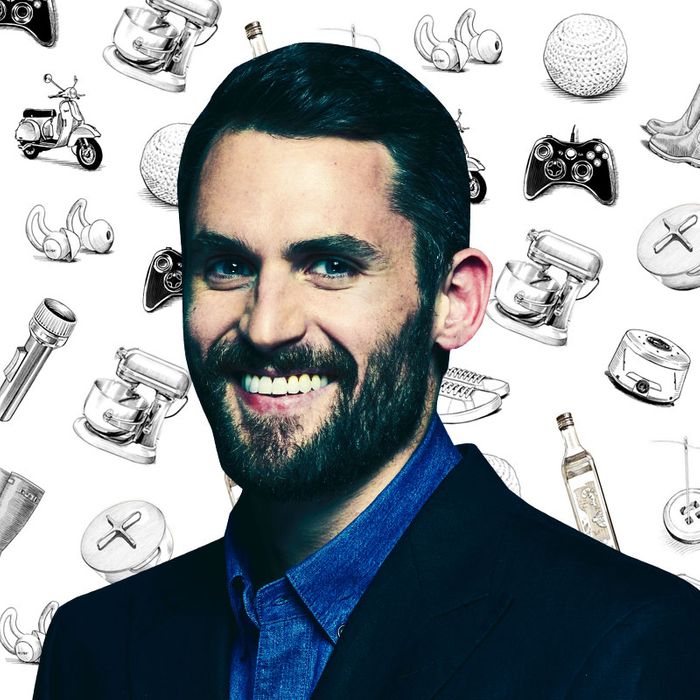 Photo-Illustration: Courtesy/Derek Kettela
If you're like us, you've probably wondered what famous people add to their carts. Not the JAR brooch and Louis XV chair but the hairspray and the electric toothbrush. We asked Cleveland Cavaliers player Kevin Love — who is also the founder of the Kevin Love Fund and has partnered with pod-based-blender-maker Vejo — about the vinyl records, natural deodorant, and coffee he can't live without.
Photo: retailer
I still have cards that my grandma used to make. She would cut out things and glue them on, and her handwriting was so bubbly and amazing, like the handwriting a popular girl in school would have. So that's where my appreciation for handwritten letters comes from. I like to send postcards when I travel; I remember mailing a postcard home while on a trip to Rio de Janeiro. To me, these Pendleton note cards are like a tip of the hat to the American Southwest. They look great, and sending a handwritten letter is so much more personal than sending a text. Sitting down, writing something, and taking the time to put it in an envelope and send it is a lost art. It feels like it's from the past, but it's still something that's just really, really nice.
I did not get the musical gene, but I come from a very musical family that is also a very athletic family. My dad played in the NBA, and my aunt on my mom's side won the 1982 Ironman Triathlon in Kona, and I think everybody outside of her and my dad plays an instrument. My uncle Mike Love and my cousins the Wilsons were the Beach Boys. Brian Wilson was ahead of his time with Pet Sounds; I love to listen to the vinyl record. You can listen all the way through many, many times and never get tired of it. I don't have an original from 1966, but I really wish I did.
I just finished season three of Ozark. I used to watch Jason Bateman in Arrested Development, which he is incredible in too. I really like his stuff. He's incredibly talented and believable and just seems like a likable guy. I'm also watching Tiger King, like everyone else. It's a phenomenon. If I had to throw in a show that nobody really knows about that I think is pretty good, I would pick Broadchurch. It is very underrated, and I really enjoyed it. I heard that streaming is up about 40 percent since quarantine began. I'm definitely contributing to that.
At 11 years old, I had a size 15 foot. I was always very jealous of my brother because he had a size 13 foot, so he was able to get all the rare Jordans or Nike collabs that I could never fit in. Thankfully, Air Force 1s come in up to a size 17 or 18, which I wear now. They're such a classic shoe for me because I can throw them on with anything. Sometimes I dress them up, sometimes I dress them down. But I only wear the low-tops, because when your foot is as big as mine, the high-tops can look kind of clunky, especially with tapered jeans or pants. I try to keep mine as clean as possible; when they're super-worn-down, I'll move onto a new pair. Right now, I probably own about 50 pairs of Air Force 1s. I might sound like an asshole because I have so many pairs of shoes, but let me tell you, when shoes sell out in a size 17 or 18, they will never be back in stock anymore. So when it comes to shoes, I plan in advance.
My girlfriend, Kate, and I actually share a lot of products. She introduced me to this body cream. My skin can get really dry when it's colder, and my hands get really rough from playing basketball and lifting weights almost year-round. I'll apply this, sometimes a couple times a day, to make sure my skin stays supersoft — I'm pretty sure Kate would not let me touch her if my hands are all scabbed up or peeling. There's nothing wrong with a man taking care of himself — it's ridiculous that some people see using a high-quality body cream as girly. I have no problem with being labeled that when it comes to self-care and skin care, because they're so important.
The quality of the photos from this is almost better than seeing things in the flesh. It literally looks like you're there. The camera is also Bluetooth-compatible, so you can upload photos elsewhere immediately. I'm challenging myself to find new ways to be creative in quarantine, which has also given me the opportunity to really learn how to use the camera. I grew up with a dad who had a camera everywhere we went. He took pictures almost as a form of therapy. A while back, I was looking through all these photos and videos of us together and as kids, and I thought, "I need to continue my family legacy and take all the photos that I can." So I started getting into photography. Even taking pictures of my girlfriend, Kate, in the kitchen holding our puppy feels important. I learned the true value of keeping memories like this when Kobe Bryant passed — back in 2012, I took all of these photos and videos with him when I was at the Olympics, and when he died, I looked through them all.
Photo: retailer
I'm a coffee snob. My parents drank a lot of coffee — I can still remember the specific smell of it brewing at home in the morning — so I think I got my love of coffee from them. But I never really drank it myself until my early twenties. Channing Frye, a former teammate of mine, introduced me to the Proud Mary brand, and specifically its Honduras blend. Proud Mary is actually from Portland, and because I'm from the Pacific Northwest, I'm kind of biased: I think any coffee that comes from there is the best coffee. Because it's an everyday thing for me, I always invest in good tasting coffee — and a good machine. I broke the bank and got a Jura coffee maker and high-end frother. I brew Proud Mary in the Jura, froth up some unsweetened oat milk, and make a really nice little coffee out of it to start the day right.
I love hats, and I love to support local New York brands, so I own a few from Saturdays. When I wake up and don't want to deal with my hair, even if I shower in the morning, I just throw a hat on. It's incredibly efficient. I probably own close to 40 or 50 hats in total.
My friends who own and run the company that makes this told me that your scalp ages much quicker than the rest of your body, so it's important to take care of it. So that convinced me to try this out, and I actually really, really love it. My hair is superthick and curly, and I don't want it to run away from my forehead. I don't know if that would actually happen to me, but I'm trying to prevent it regardless. I do think this product really helps keep it under control.
Pet Sounds has sentimental value to me, but the Rolling Stones' Sticky Fingers on vinyl is another album I can't live without. The entire cover shows that pair of jeans they used for the album art, and you have to pull down the zipper in order to take the album out. It's so smart, you're literally unzipping it. Every time I go to listen, I think "Wow, this is amazing." Yes, you can listen to this on Apple Music or whatever, but that experience of opening up the vinyl record and pulling down the zipper just makes it that much more special.
I use a lot of Jack Henry's products, but their deodorant is my favorite. All of their stuff has very few ingredients, and their deodorant really does the trick. For a natural deodorant, it stays on for so long. A lot of natural deodorants don't stay on so, over time, you have to reapply, reapply, reapply. But this really works in that way — I use it for practices and games, too.
I used to take so many supplements in pill form, but this is a much better way to do it. It's the first pod-based blender, so you blend everything right in the bottle — there's no pouring or mess. It has become a part of my everyday life. I signed up for their plus program, too, which is a highly personalized plan: Vejo will take a blood sample to learn about your nutrition and diet and then customize a program for you. They review something like 300 markers in your blood with you and then set you up with a nutritionist and doctor to put you on a special plan. Every few months, they take your blood again so you can see your progress and results. It's been a really great way to keep track of my health. And in quarantine, having my AM and PM Vejo blends has helped me stick to a routine, which I feel like is helpful for mental health right now.
The Strategist is designed to surface the most useful, expert recommendations for things to buy across the vast e-commerce landscape. Some of our latest conquests include the best acne treatments, rolling luggage, pillows for side sleepers, natural anxiety remedies, and bath towels. We update links when possible, but note that deals can expire and all prices are subject to change.