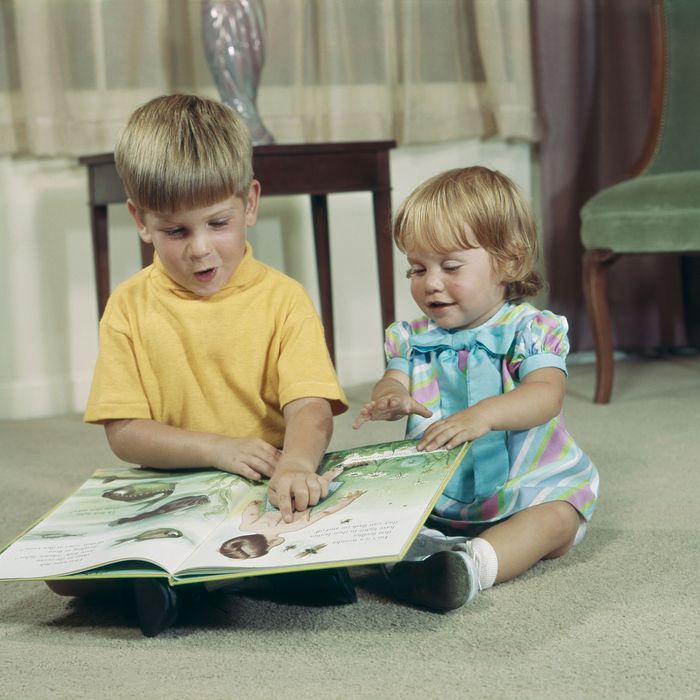 Photo: Lambert/Getty Images
They might be too young to be reading on their own, but plenty of 5-year-olds are starting to crack open books. And even if they don't know what words are on the page, those burgeoning bookworms can be picky about which titles they like and which they don't. So to help you find books that 5-year-olds will actually enjoy — and that are appropriate for children of that age, because as an adult, it can sometimes be tough to know what kids think is actually cool, not boring — we talked to parents of young children, between the ages of 5 and 10, about the books their kid liked best when they were 5.
"When my son was almost 5, he turned to me at bedtime and asked, 'So, how did I get in your belly?' These are the big questions! Luckily, I had this charming book at the ready. The Baby Tree features a little boy wondering where babies come from. He asks his babysitter, teacher, mail carrier, grandpa, and finally his parents, until he finds the right answer. It's funny, clear, and age-appropriate, and I love that the final page addresses more in-depth questions about adoption, same-sex parents, and more." —Joanna Goddard, Cup of Jo
"This is a classic that pulls at my heart every single time we read it. It's the perfect book — about the bond between mother and child — to read snuggled up before bed when we talk about our feelings, and when Hunter might have lots of questions about the world and life. Thanks to The Kissing Hand, we, too, have our own secret 'kissing hand.'" —Raina Seitel, Emmy Award-winning journalist, NBC New York
"We both love this book. It's a rather recent addition to her library. I purchased it when my wife, Ilaria, and daughter Apollonia came to visit for a week before moving to New York City full-time this spring to open Una Pizza Napoletana. My first thought in giving the book to Apollonia was because of her big move from San Francisco to New York, to show her the adventure of travel and how you can see things in your own way and create — that things aren't always what they seem and beauty is often hidden just around a corner. Apollonia loves this book now. Her favorite page is the volcano; maybe it also makes her think of Napoli and Vesuvio, where Ilaria is from and her nonna lives." —Anthony Mangieri, chef and owner, Una Pizza Napoletana
"Our son has always been pretty shy. Even though he'd been in preschool and early child care, changes and new experiences can sometimes be really stressful for him. We've worked hard on building his confidence and social skills, and we hadn't found a book that he was interested in until we found Pete the Cat, Rocking in My School Shoes.
From the start it was great for him because it had two of his favorite subjects: rock and roll and Chuck Taylor high-tops. The cat in the book is nervous about going to school alone, but when he gets nervous he focuses on his 'school shoes,' and they get him through. In the library he sings about reading in his school shoes; in the lunch room, he's eating in his school shoes. Since our son is still too young to read on his own, reading the book was something we did as a family. Afterward, he was able to work the song into his routine when he was nervous. Also, we liked the idea that he had something he could bring from home to help him overcome his anxiety and see that Pete the cat (who he thought was pretty cool) had similar feelings." —Justin Chearno, wine director and partner, The Four Horsemen, and Stacy Fisher, artist
"Maddi's Fridge is a book about two friends. One friend doesn't have as much money and is going hungry, so the other friend and her family helps her. The story teaches kids to realize that not everyone may be as fortunate as them and to think about and care for other people." —Neel Premkumar, founder and CEO, Forto Coffee, and twin daughters, 6