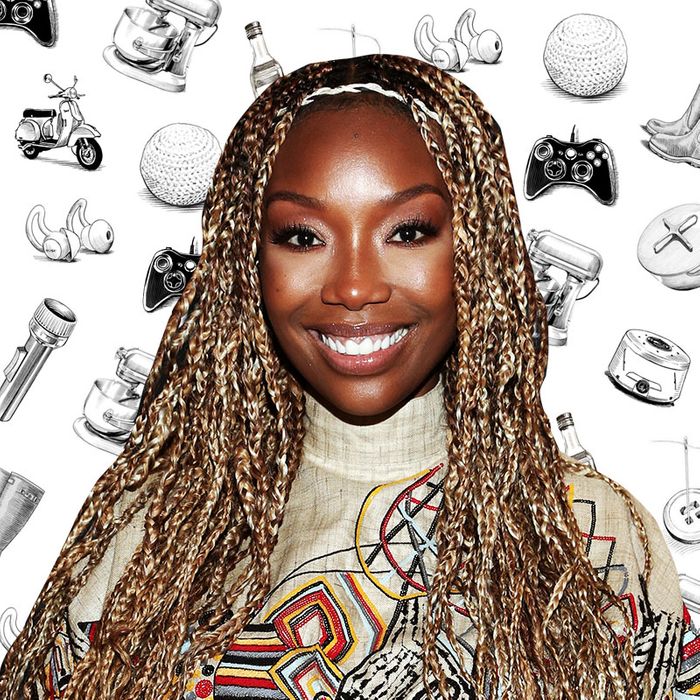 Photo-Illustration: Getty
If you're like us, you've probably wondered what famous people add to their carts. Not the JAR brooch and Louis XV chair but the hair spray and the electric toothbrush. We asked Brandy — who recently partnered with NYX Cosmetics for its latest 2000s-inspired makeup collection and will be starring in a new TV show Queens, on ABC this month — about the hand sanitizer, Bohemian-style scarves, and three types of beverages she can't live without.
It smells almost too good to be hand sanitizer. I have bottles on bottles on bottles of it. I keep it everywhere. Seriously. In every purse, bag, backpack — everywhere I can put one, I do. I just love the way it smells, but it also leaves my hands feeling like I just washed them with soap and water. It isn't sticky. It's used by a lot of makeup artists in the industry, which is how I heard about it. It's been many years, but we have a great relationship, me and this hand sanitizer. And I put a lot of people onto this hand sanitizer, too. People have even stolen my bottles before. On the set of Queens, which is a show I'm working on right now, one of my co-stars took out a bottle from her bag, then asked me if I wanted a spritz of it. I was like, "First of all, girl, that's mine! You took it from me. But yeah, I'll have a spritz."
Free People is my favorite store ever. I love the whole Bohemian-chic vibe. I buy my scarves from there because they have so many different varieties of prints and colors and textures. I pick and choose based on my outfit — I own a lot of scarves from them — but one of my favorites is the one made from this really thick cotton that I use to wrap around my entire head when I don't want to wear my hair out. The fabric has to be thick for me to work with it and hold everything together. And it has to be large enough to be able to wrap around my whole head, too. I learned on YouTube how to do it, and when I get it right, it looks so regal, like I'm a queen.
I found these when I was doing Broadway five or six years ago. I played Roxie Hart in Chicago, which was my first time ever doing Broadway. I was really concerned about potentially ruining my voice, and I always had to be on point. Every night was a different audience, so I made sure every performance was just as good as the last. But it's very strenuous. I asked around for what works to protect my voice, and I was introduced to this tea. It really helped me through every performance. I was able to give it my all because I was consistent with drinking this tea. It doesn't come in tea bags. It's little crystals that you drop in water, and it turns into tea that way. It feels so good when it goes down. I feel like my voice is being taken care of and coated. After I started drinking it for a while, I could hit notes that I normally wouldn't have been able to hit without it. Right now, I'm working on a show where I'm singing, rapping, and acting all day, so it's been really important for me now, too. I have a huge thermos, and I drop about ten packs into there, shake it up, then drink it throughout the day.
Journaling is my way of connecting to my higher self. I freehand every morning, and that's my devotion to myself and my spirituality every single day. I write whatever is on my mind. My mind becomes very still, almost like I'm meditating, and it helps me work through all those thoughts and feelings clouding my mind. Keeping a dialogue with myself has been very important to staying happy and positive. I feel off if I don't journal one day. These aren't like school notebooks or small journals. They're big, which I love. I can really get all of my thoughts out without filling all the pages in one sitting. I have heard that people really hate on spiral notebooks, but I love them. I like that I can turn the page all the way over, and I can fold it to write. These also have amazing sayings on the front and on the inside pages, like "I did my best," or "Your face is like sunshine." I love the "I am very busy" one, too. It's kind of like an affirmation. My affirmations are the real work I'm doing once all the garbage is out of my head from my freehand journaling, and I love that this notebook supports that in a way.
I swear: This is straight from God or something, because nothing will ever compare to how good this tastes. It is the smoothest water. It feels and tastes different from any water. And I've tried a lot of different water in my life. I don't know how to explain it. But it is so pure and smooth, once you drink it, it spoils you for other water. It works well for my voice. Once I find what works, I don't really want to go outside of that. I drink one of the big, tall bottles a day, and I buy it in bulk, so I can have one a day.
Nothing quenches my thirst the way that Ocean Spray cranberry juice does. It's my second water. I drink it every day. I've always loved cranberry juice — I don't remember a time when I didn't love it — and it has always been a staple in my life. I can't really explain why. But out of all the juices out there, cranberry juice is the best juice. And specifically Ocean Spray. I am very loyal to Ocean Spray. I have cheated on it and tried other brands, but nothing will ever compare to Ocean Spray. They just know how to make really good cranberry juice.
I love the smell of gardenias; that's one of my all-time favorite scents. You know how sometimes you smell an unlit candle and it smells good, but when you light it, you can't really smell it at all? This isn't like that at all. You really smell this candle. I love all the designs this brand has for the candle jars. This one has this really beautiful decorative glass that sort of looks illuminated when the candle is lit. I put them all over my home. And they're not that expensive, either.
Lip gloss is that one girly thing for me. I love when my lips have that shine and look like they're popping. I prefer natural-looking lips, which is why I wear the Sugar High color the most — it's a subtle nude on me. I've always been into makeup and lipstick and do bolder colors sometimes, but when I'm not working, I like to keep it simple and go for a fresh face. It's good to have something natural to reach for. This lip gloss is not like any regular gloss out there. It doesn't feel dry or sticky on — it feels like lip balm but with a little bit more shine. It's very moisturizing and leaves my lips feeling so soft. It smells like butter mixed with brown sugar.
The Strategist is designed to surface the most useful, expert recommendations for things to buy across the vast e-commerce landscape. Some of our latest conquests include the best acne treatments, rolling luggage, pillows for side sleepers, natural anxiety remedies, and bath towels. We update links when possible, but note that deals can expire and all prices are subject to change.