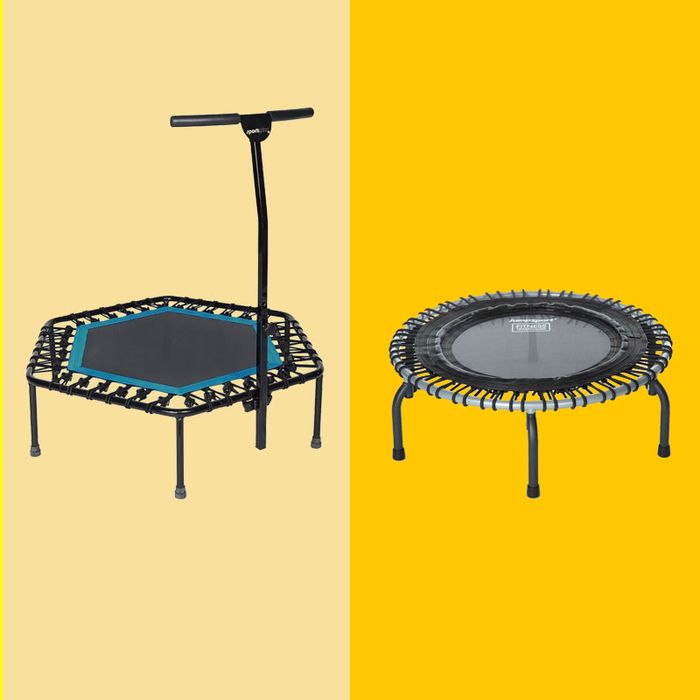 Photo-Illustration: The Strategist
Whether you want to try a new workout or just want to have more at-home fitness options, an exercise trampoline, or rebounder, is a great piece of equipment to invest in. Fitness trampolines are compact, portable, and relatively quiet, depending on the one you buy, making them versatile for exercisers of all types. And for those with sensitive joints, rebounding is a great low-impact cardio workout.
"Some people think rebounding is about jumping, but it's not," says Claire Lo Russo, founder of Carve It Fitness and Wellness. "It's about pressing down and then controlling your body and posture as it's thrust back up in the air. So the importance is that thrusting down and being able to control your body on this unstable surface." According to Louis Coraggio, health coach and founder of TrampoLEAN, most fitness-trampoline workouts should be low to the ground. "You're constantly pushing your feet down into the mat and then recoiling, preventing yourself from jumping back up. The whole premise is to rebound the energy that you're giving it."
While fitness trampolines might seem like a small category, there are a lot of options out there. To make it easier for you to find the right one, we rounded up the best rebounders for each type of user.
Bungee cords were the first criteria Lo Russo and Coraggio noted when we asked what to look for in a good fitness trampoline. "Bungees allow the body to sink down sort of slowly, rather than it being like a jarring motion," Lo Russo says. Compared to springs or resistance bands, bungee cords offer the most ideal transfer of energy. "When you're purchasing a trampoline, you really want to have the impact to be as smooth and as efficient as possible," says Coraggio. He notes that not a lot of other aerobic activities involve this much upward and downward motion. "You really want to invest in something that's going to absorb the impact of your landing efficiently," he says.
Springs are the most durable (and often these models are less expensive), but also usually the loudest. Plus, springs can be a safety hazard. "You don't want to get your pinky toes stuck in a metal spring," Lo Russo says. Like bungees, resistance bands are quieter and offer similar stretch, but tend to be thinner and not as durable.
Only models with bungee cords can be tightened or loosened for a more slack or more taut jumping surface. "The lighter the resistance of the bungee, the more challenging the workout is going to be, because your body is working harder to stabilize itself," Lo Russo explains. Other models are also compatible with different sets of bungees, which come in different strengths. But Lo Russo recommends stronger cords: "Bouncing on soft bungees is sort of like running in sand or mud. It makes it an Über-challenging experience. So I tend to stick with strong bungees. That's what I recommend the most to my clients."
A trampoline is no good if it can't support you. You want a trampoline with a higher capacity than your body weight, but the higher the better. We've listed each trampoline's max weight capacity below.
When picking a trampoline size, pay attention to two measurements: the frame size and the trampoline's jumping surface."For a person that's on the taller side, above five-foot-seven or five-foot-eight, they're going to want to have at least a 36-inch-diameter jumping surface," Coraggio explains. "You need some room to open your legs, jump in and out, do scissor jumps, shuffles, or bring your legs front to back. If you don't have that width on the mat, then the things you can do on the trampoline become limited."
If you're in a small apartment, you may want a trampoline frame on the smaller end, under 40 inches. If you have more space or plan to do higher-intensity workouts with more movement, you can look at trampolines in the 48-inch category. And if you want to be able to slide it under the bed or tuck it into a closet when it's not in use, you'll want one that's foldable.
Best overall fitness trampoline
Tension type: Bungee | Adjustability: Interchangeable cords | Max weight: 440 pounds (with ultrastrong bungees) | Size: 44-inch frame with 32-inch jumping surface
Lo Russo's top recommendation is this rebounder from Bellicon. It's the primary trampoline that she and her students use for her Carve It fitness classes. "We like to use it with extra-strong or strong bungees, which allow you to do all sorts of movements. We do boxing movements, full jumping jacks, and we can move comfortably." She also praised her Bellicon's durability: "Once, I strapped my rebounder to the top of my car. And it flew off the top, and it survived. There was a teeny scratch on it. So these things are built to last." Every once in a while, Lo Russo will switch out the bungees on her Bellicon, and it will feel like it's "brand new."
Coraggio also recommends his Bellicon trampoline. He likes it for its smooth energy return. "The cords take all the impact from the landing," he says. "It pauses for a moment, and then it recoils it back to the muscle. The more that can happen, the better, because your muscles have to work a little harder." For extra support, he uses the brand's T-bar support handle, which attaches to the outside of the trampoline and can be purchased separately.
The Bellicon's foldable legs, which you can purchase as an add-on (the standard Bellicon model comes with screw-on legs) are another feature that Coraggio and Lo Russo both love. "If you're in an apartment or your space is an issue, you could fold down the legs very quickly, and you could slide it under a bed or behind a door," Coraggio says.
Best (less expensive) overall fitness trampoline
Tension type: Bungee | Adjustability: Adjustable cords | Max weight: 450 pounds | Size: 40-inch frame with 32-inch jumping surface
Lo Russo says she frequently gets asked for her recommendations on less expensive rebounders. "I have clients that can't cough up $400 for a rebounder. I always steer them in the way of brands like BCAN and Stamina and they've been happy," she says. Lo Russo says Amazon brands like BCAN used to only have spring-based technology that lacked the "smooth and gentle feel" of bungee cords. But now, the same brands make rebounders — like this one — with bungees, which are easier on the knees and feel less jarring than spring-based trampolines. Lo Russo likes the size of this model, noting that its 40-inch frame gives you a lot of surface to work on: "Brands like Bellicon make great rebounders, but the only real difference is that they have more bells and whistles, such as foldable legs, different mats that go underneath, and more durable materials." Otherwise, a trampoline like this one from BCAN offers the same technology as pricier bungee models, which is why this model is our best less expensive pick.
Best fitness trampoline for beginners
Tension type: Bungee | Adjustability: Adjustable cords | Max weight: 275 pounds | Size: 39-inch frame with 32.5-inch jumping surface
JumpSport is a brand that comes recommended by both Lo Russo and Coraggio, and when we asked them for a slightly less expensive model they'd recommend, but still an overall good investment, they pointed us to the 350. This is the rebounder Coraggio would have his students use while instructing TrampoLEAN classes. "The JumpSport is a good trampoline for someone that's just starting out," he says. He also likes the 350's adjustable cords. "That way you could adjust the tension. Maybe you'd want it a little looser for one workout, and then you could make it tighter." The 350 is also very quiet; nearly as silent as the Ness, our pick (below) for the least loud rebounder.
Best quiet fitness trampoline
Photo: Courtesy of the Vendor
Tension type: Bungee | Adjustability: Adjustable cords | Max weight: 275 pounds | Size: 39-inch frame with 32.5-inch jumping surface
If a quiet trampoline is your most important criteria, then consider this model from the Ness, which is a fitness company that offers online and in-person trampoline workout classes that pair with its rebounder. It comes recommended by Strategist writer Dominique Pariso, who praised it for its ease of assembly and how "unbelievably quiet" it is after four months of testing. "I'm generally really terrible at putting things together, and the Ness was a breeze," she says. Pariso was worried about disturbing her downstairs neighbor by jumping on the Ness for workouts, but because it hardly makes a noise, she says it hasn't been an issue, nor has it scuffed her hardwood floors. If the Ness trampoline looks and feels similar to the JumpSport 350 above, that's because the Ness built its trampoline in collaboration with JumpSport. The Ness and the 350 have identical specs (except the color differences— Pariso likes its "sleek" bronze legs), but the Ness comes with a free hour-long online private training session, plus a free six months to the Ness subscription. It was also one of our favorite Christmas gifts over $200.
Best (less expensive) quiet fitness trampoline
Tension type: Bungee | Adjustability: Adjustable handrail | Max weight: 286 pounds | Size: 43-inch frame with 37.4-inch jumping surface
If you want a quiet rebounding workout on a trampoline with lots of room to exercise, this model from Sportplus fits the bill. Its rubber bungee cords offer a quiet experience on its 37.4-inch jumping surface — the largest of the models in this list. Its taut cords don't squeak like springs might, and the brand notes the cords are so strong, you may need two people to assemble the trampoline, as the cords can be difficult to tighten. While it's not foldable, it does come with an adjustable front handle for more stability during workouts. That added support plus its larger surface area (and $100 price) make it one of the top-selling trampolines on the Strategist. (Readers have bought it 1,809 times since 2019.)
Best fitness trampoline with handle
Tension type: Springs | Adjustability: Adjustable handle | Max weight: 330 pounds | Size: 40-inch and 48-inch frame
The big, supportive handle on this foldable model from BCAN is great if you want more guidance and stability while you exercise. It has four levels of adjustments, from 32 inches to 40 inches, so you can easily set it to fit your height and activity type. The adjustable knob makes it easy to move, and the padded foam top makes it even safer for kids and adults alike. Our readers bought it nearly 3,000 times since 2019, making it our second-most-sold item on this list, behind the Stamina model below. Its high-strength springs are made with 3-mm.-thick stainless steel, so it's built to last, too.
Best budget fitness trampoline
Tension type: Resistance bands | Adjustability: Nonadjustable | Max weight: 250 pounds.| Size: 36-inch frame
Spa owner Anna Zahn picked this rebounder from Stamina as an affordable alternative to a Bellicon (Zahn says jumping on a rebounder is not only good cardio but helps with lymphatic drainage), and with over 5,600 trampolines purchased since 2019, the Stamina is our most-sold fitness trampoline by a long shot. (The brand, which Lo Russo recommends, too, also makes our best overall under-desk elliptical.) The Stamina's affordability is certainly one reason for its popularity: It's the least expensive trampoline on this list. But it's still durable, compact, and easy to use, making it a good all-around starter trampoline. "If you want to do an at-home workout while watching some Netflix, you can get away with a smaller trampoline like the Stamina," Lo Russo says. "You don't have to be so concerned with the bungee-cord models." It has a sturdy steel frame, a heavy-duty rebounding surface that can support up to 250 pounds, and 30 resistance bands for a strong, supportive bounce — and a quieter workout than you'd get with metal springs. Beginners and apartment dwellers will appreciate that, at 36 inches, it doesn't take up much floor space, folds down so you can store it almost anywhere when you're not using it, and only weighs 14 pounds, so it's easy to move.
Some more at-home exercise equipment we've written about
The Strategist is designed to surface the most useful, expert recommendations for things to buy across the vast e-commerce landscape. Some of our latest conquests include the best acne treatments, rolling luggage, pillows for side sleepers, natural anxiety remedies, and bath towels. We update links when possible, but note that deals can expire and all prices are subject to change.
Every editorial product is independently selected. If you buy something through our links, New York may earn an affiliate commission.