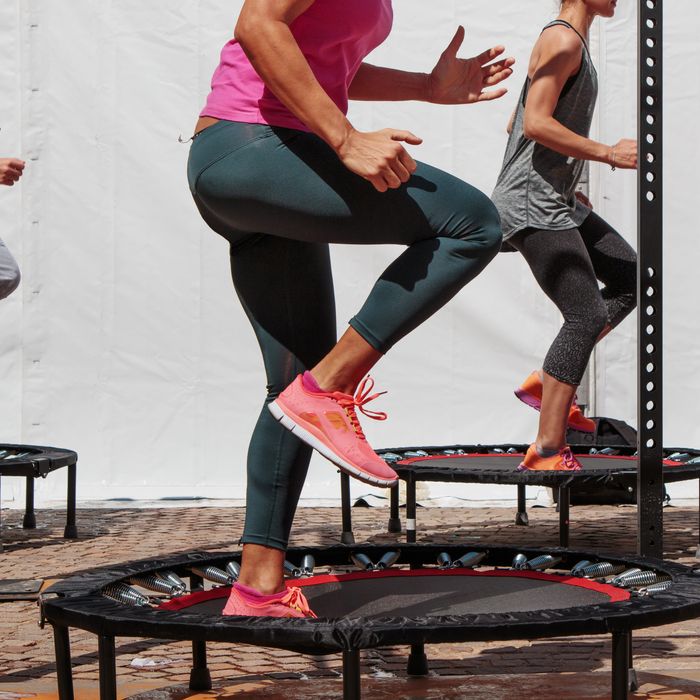 Photo: Giorgio Rossi/Getty Images
Here at the Strategist, we like to think of ourselves as crazy (in the good way) about the stuff we buy, but as much as we'd like to, we can't try everything. Which is why we have People's Choice, in which we find the best-reviewed products and single out the most convincing ones. (You can learn more about our rating system and how we pick each item here.)
And while we've written about lots of gym equipment before — including the best weight machines, treadmills, and home-gym essentials — here we've rounded up the best fitness trampolines, as praised by the most enthusiastic reviewers on Amazon.
Best-rated fitness trampoline
More than 1,500 reviewers give this trampoline five stars and love the workout it gives them. "I can actually say this is the first time in years I've really enjoyed exercising," one says. "I can do it any time I want. Instead of sitting, I do exercises instead. Instead of taking a nap, I do some runs instead." Another says that after just using it for six to seven minutes, "I'm SWEATING!!! (Rolling down my face type sweating)," and another says it helped them lose ten pounds. One thing reviewers really appreciate is that this rebounder doesn't have springs, which means "it is DEAD SILENT — which is more than I can say for other brands we've purchased that squeak like crazy. Many other brands use springs instead of bands like this one." One reviewer even says, "I could see it lasting several years if you take care of it (not jumping as high as you can, jumping in the middle of the trampoline, not letting kids use it)." And while reviewers are mixed about how easy it is to put together, they recommend not doing it alone: "Does require either a strong person or two people to get the unit opened up at first."
Best-rated (less expensive) fitness trampoline
"This thing is AWESOME," says one reviewer of this sturdy rebounder. "If anyone is looking for exercise options that are helpful for your joints, check into rebounding. Just ten minutes on this thing feels like the equivalent of running a mile." A dozen reviewers also appreciate the low-impact workout they get on this rebounder, like one who explains, "I like that I can get my heart rate up to the same level as I would by running, without any real stress on my knees." And even though it's the least expensive rebounder on this list, it comes with a few extras, including resistance bands and a fitness tracker. "It was very easy to assemble, and I love the hand bands to intensify my workout," one reviewer writes, adding, "also having the monitor is an excellent feature to track your progress." A handful of users say it's quiet, too. One notes that, after some wear, it did start to squeak, "but not too bad and definitely nowhere near as loud as my $500 rebounder used to be."
Best compact fitness trampoline
"I can't stay off this thing!" exclaims one reviewer. "I had gotten in a rut where all I wanted to do for the last couple of years was lay on the couch and watch TV. Now I tell Google to play disco music, and the fun begins. It's so sturdy, I imagine it'll last many years." Many other jumpers agree that this rebounder seems durable, including one who says, "The bounce is just firm enough, the frame is very solid, it's quiet, and I love the fact that the legs easily fold for storage. Definitely worth the money." And dozens of reviewers use the word fun to describe this rebounder. One reviewer, for instance, rejoices that it makes her feel like a kid again: "Bouncing is fun. Just as much fun as it was when I was a kid jumping on the bed." She adds, "I keep it in my living room so it's easy to use throughout the day. The legs break down quickly and easily for times that I'm having friends over and don't want my living room to look like a gym; I can slide it behind a piece of furniture then to hide it." (That's also a nice
Best fitness trampoline with handle
"The safety bar is my salvation, or else I wouldn't use one," writes one reviewer, and about 10 percent of five-star reviewers agree that it's a favorite feature, especially for safety. "The handle is great for when I am using it because sometimes I get dizzy." The handle also makes it kid friendly, according to about 20 percent of reviewers. "Bought this for my kindergartner who needs to burn off some energy BEFORE school," one customer explains, adding, "he uses this every morning and LOVES it. I love the bar for him to hold on to … I feel comfortable with my child on this and don't worry about it tipping or him getting caught up on this." And even though it's good for kids, larger adults also feel safe using it. "I have to admit, when I first got on it, I expected to fall right through it — after all, it supports up to 250 pounds, and I weigh every bit of 220 pounds — and yet I can jump up and down on it and feel completely safe," one says.
Best (less expensive) fitness trampoline with a handle
Lots of reviewers appreciate the adjustable handle on this fitness rebounder, including one who says it "gives the user a bit of support, which is important from a safety perspective." Another likes to have to handle "in case my balance is off or if I try something new." And many also report that this fitness trampoline is completely silent, including one experienced jumper who writes, "Spring-free is the only way to go. My previous exercise trampoline lasted one year of very noisy daily use when the metal-on-metal super-loud springs started snapping. This awesome spring-free trampoline is silent." Another reviewer came to this trampoline via her trendy French friend, who "said that everyone in Europe does fitness jumping." Now, after using this rebounder, she admittedly "just cannot stop jumping" and concludes, "After step-up, I began jumping, like, literally two seconds after setup. I really enjoy the silent bungee design. My friend told me to stay away from the metal springs as they can be dangerous and loud."
Best oval-shaped fitness trampoline
According to the description, the oval shape of this trampoline is supposed to provide greater stability and increase versatility, which reviewers say it does. "Since it is oval, it easily accommodates the wide spacing of my feet to help me keep balance," explains one reviewer, while another notes that "you can stand shoulder width or do jumping jacks … makes a difference." Not only is the rebounder designed to handle a more complex workout, it holds up to excessive use in general. "I've had this for like three years now. The fabric stuff around is kinda breaking now, but trampoline still works like new," one user says. "I love it. Easy to assemble (did myself and I'm a small, pretty weak person). Love this thing. Perfect size, endless fun." Or, as one reviewer puts it, "I'm jumping for joy over my new mini-tramp."
Best durable fitness trampoline
This rebounder is the most expensive on our list, but reviewers say it's worth it. "Once you feel the JumpSport, it is literally a night and day difference from any of those other inexpensive models," one writes. "My joints, my feet, my knees, and my lower back all sing the praises of this new tramp." Another reviewer says they "used to go through a trampoline every month, month and a half, until I discovered JumpSport." They report, "It felt expensive when I first ordered it but was worth every penny." And nearly a quarter of reviewers also notice the little details that make this a high-quality trampoline. "This system is genius in that they use bungee instead of springs," one explains. "The design for replacing them is also incredibly simple. Highly recommend paying a little extra for this level of quality." Another says "Very high quality, shipped fast, easy to attach the legs, and it is nice that the bands have a protective cover to keep us from slipping through while bouncing." And reviewers say you wont be replacing it for a while. One reviewer who bought it for their grandkids says, "They still jump on this CONSTANTLY. It is still in perfect condition almost four years after I bought it."