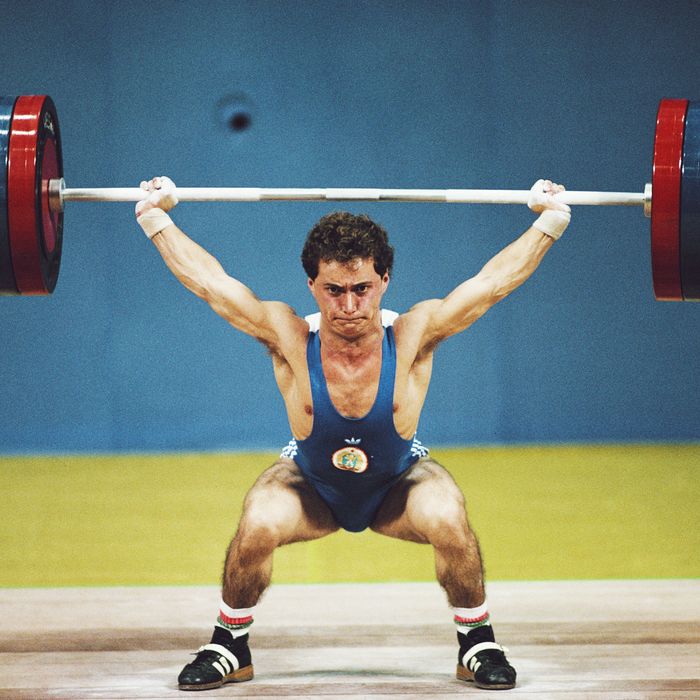 Photo: Mike Powell/Getty/Getty Images
With gyms around the country finally reopening, even at a limited capacity, a lot of people are looking forward to getting back under a barbell for the first time in months. This is also a great opportunity to reassess your footwear situation and make sure you're training in shoes that are right for you.
According to Dan Casey, head coach at the New York Weightlifting Academy in Thornwood, New York, if you're new to weight lifting, you can wear any shoe. In fact, Noah Abbott, the founder of Lumos Fitness Collective in Austin, Texas, says lifting in normal shoes will help build ankle flexibility and stability, instead of relying on a shoe to provide it for you. Once you get serious about training, then you can supplement your body's stability with specialized shoes.
While top-tier weight-lifting shoes retail for around $200, Abbott says that "some models for around $80 will do 90 percent of what the $200 model will do." Casey recommends sticking with high-end shoes. "If you take care of them, they'll last you your entire weight-lifting career. They're much better in terms of ankle and foot support, heel positioning, and overall quality," he says.
We asked Casey, Abbott, and two other experts to recommend the best weight-lifting shoes for any type of person. Here are their picks.
The best weight-lifting shoes for beginners
"Something cheap and easy is a great start," Abbott says. "There are a number of companies that make training shoes with weight lifting in mind — a shoe that is a sneaker but resembles a weight-lifting shoe." Casey agrees, recommending shoes like Converse All Stars or Vans slip-ons. Just don't use traditional running shoes, which have too much cushioning to provide any sort of stability.
Nike Metcons are also great for beginners, says Julia Falamas, a national-level weight lifter and coach who runs SPOT Barbell Club on the Upper West Side. "They give support without being so specific that you can't use them for other workouts," she says.
The best weight-lifting shoes for competitive lifters
To focus on lifting heavy weights, you need a shoe with a hard heel and solid construction, Dewar says. The raised heels of dedicated weight-lifting shoes allow for "better ankle flexibility to squat to full depth," Falamas says. When you complete a fuller squat, your torso stays upright, which is safer when you're holding heavy weights over your head. Falamas recommends Nike Romaleos, which she calls the "top standard for weight-lifting shoes." They are designed to provide maximum strength and stability, and feature wide, flat outsoles for support.
The best weight-lifting shoes for competitive lifters (with wide feet)
With their wider toe box, Do-Wins are known to be accommodating of wider feet. Casey says you can also try to find an older pair of Romaleos, either first or second generation.
The best weight-lifting shoes for (taller) competitive lifters
If you're taller, Falamas suggests the Reebok Legacy, which has a slightly higher heel to compensate for longer legs. Taller athletes often have longer shins and femurs, so a taller heel is necessary to keep your torso upright for increased stability and safety.