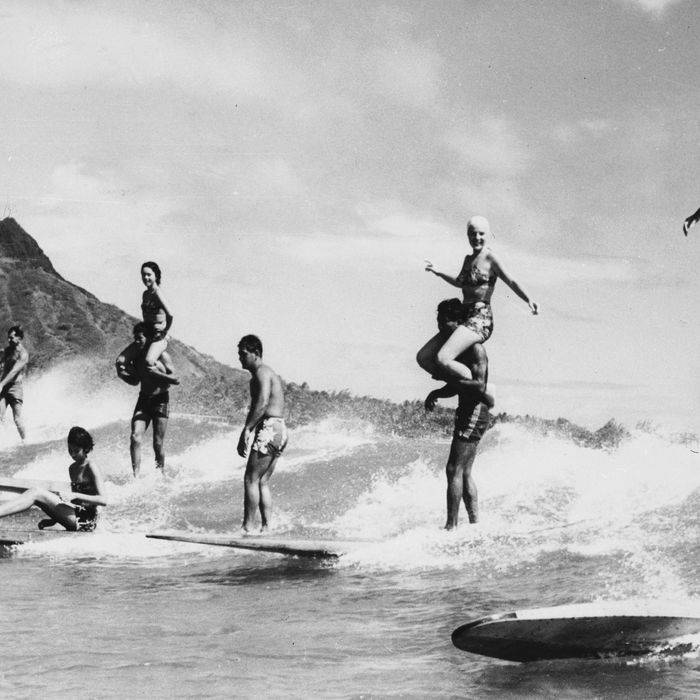 Photo: Keystone/Getty Images
Surfing may call to mind images of tan and shirtless men, but in reality, a lot of requisite surf gear has to do with covering skin. In cooler climates — even in the summer — you'll likely want a full-length neoprene wet suit. If you're lucky enough to surf in tropical climates, you'll have more flexibility but still need a rash guard (short- or long-sleeved stretch tops) or spring suit (one-piece suits with short sleeves and legs) to protect your chest and arms from rough boards. And no matter where you surf, you'll need sun protection beyond sunscreen. Luckily, most surf apparel is UPF (protection for fabric) 50.
"Wet-suit companies are always looking into being more flexible, more comfortable, more long-lasting," says Corey Senese, instructor at CoreysWave in Montauk. But the single most critical factor is the thickness of a suit's neoprene material. That ranges from one millimeter thick for hot weather up to a bulky six millimeter for close-to-freezing temperatures. Beyond that, go with what seasoned surfers and instructors like — they're the ones in the water. We asked a handful for what they recommend, starting with warm-water gear and ending on a chillier note.
In warmer weather, Senese wears a short-sleeved two mm Xcel spring suit with a full leg (pictured is a long-sleeved suit, obviously, but it's also two mm). "They keep you warm enough and they keep your shoulders covered, but you're not suffocating in the hotter temperature," he says. "It's not a summer suit that you'd wear in the tropics, but for summer in New York, it's great."
Kristin Senese, who runs CoreysWave with her husband, also likes surf leggings, a newer option that goes over a swimsuit or with a rash guard and offers more coverage for warm but not hot temperatures. "They're either wet-suit material — neoprene — or Lycra, and they do have UV protection in them, which is a big deal," she says. "I like not having to worry about having every inch of me sunscreen-ed."
"When it's 75 degrees in the water, I don't put a wet suit on. It's not necessary," says surf instructor Nancy Emerson, who operates eponymous surf schools in Hawaii and Australia. "But if it starts to get cold, I'll put on either a short john" — a sleeveless spring suit — "and a rash guard under it, or a spring suit, which is above the knee and above the elbow."
The equivalent for men would be this Rip Curl "short john."
Photo: ©COPYRIGHT 2016 Polara Studio
Dakine rash guards are "really flexible and they give me good sun protection," says California surfer Liv Stokes. "That's all a rash guard is, really. Some rash guards, when you get them wet, kind of cling to you, and I find Dakine don't do that — they wick away."
Emerson seconds the recommendation for Dakine, one of her sponsors, but she also likes Patagonia's surf gear, which is made using recycled materials: "There's too much plastic being used and all this unfortunate stuff going into our oceans."
A nice short-sleeved — and eco-friendly! — men's rashguard.
Senese says he's loyal to established brand Xcel, which conducts "serious R&D on a level that you might not expect"; the company also manufactures pro-quality suits aimed at military personnel and rescue divers. For beginner surfers, they suggest the more moderately priced Axis line. "We get all Axis suits for our students because they're super toasty, they're flexible, and they last," he says. "It's a challenge to put on a wet suit if you're a new surfer. A back zip is a lot easier to get into."
Hawaii-based surf instructor Mike Eubanks says O'Neill suits have a technical edge, and he credits the brand with pioneering durable, watertight welded wet-suit seams. "The welding technique they use is standard now," he says, but "to truly appreciate an O'Neill Psycho-Freak, you have to physically touch the wet suit. The material feels dynamic, futuristic, high-tech, light, quick-drying, and flexible."
For colder water on the East Coast or in Northern California, look for a 4/3 suit — that's four mm of neoprene in the torso and three mm in the limbs — that will keep you warmer than a 3/2. Emerson says her go-to recommendation is Rip Curl's signature Flashbomb model, so named for its fast-drying "Flash Lining" interior material. It's warm enough that she used to wear her Rip Curl wet suits "back in the day when I went skiing in Lake Tahoe," she says. "I wore a full-length wet suit. I'm an island girl."