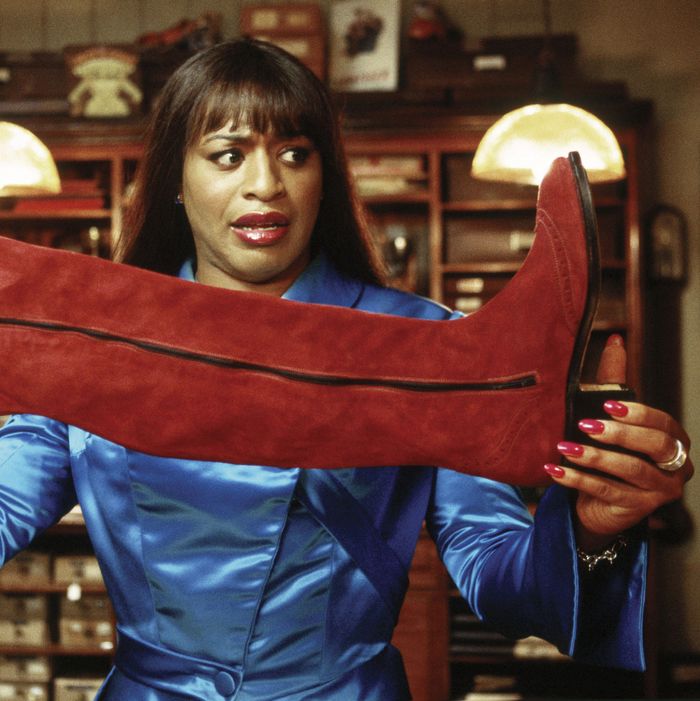 Photo: Touchstone/Buena Vista Pictures/Shutterstock
For plus-size women, finding the right pair of boots can be just as tough as finding the perfect pair of jeans or work pants. "Finding the right boots proves to be a challenge because, once you go past mid-calf, it is about a 50/50 chance on whether or not they will fit," explains freelance stylist Ansley Morgan. She and the nine other cool women we spoke to agreed that the main thing to look for when shopping for boots is to be mindful of the calf circumference as well as how much the material can stretch. To find the best boots for plus-size women, we asked those women — who include models, fashion experts, bloggers, and style influencers — about the pairs they count on. We focused on over-the-knee styles (since those tend to be the trickiest to find) but also added some ankle-length styles, including combat, sock, and Chelsea boots, most of which are available in wide and extra-wide sizes.
Best over-the-knee boots


"For trendy boot options in wide width, my number one recommendation is ASOS," says Sarah Chiwaya, a plus-size-brand consultant and the founder of Curvily. "You can filter by wide fit in their shoe section and find hundreds of pairs in all sorts of styles, including some excellent, of-the-moment boot options," she promises. Stephanie Yeboah, the author of the forthcoming book Fattily Ever After, also loves ASOS and calls these boots her "go-to pair for thigh highs." She loves that the boots, which are available in wide-fit styles, have ample room around the thighs and a "comfortable" four-inch block heel that still provides some height. Yeboah adds that these have gel-lined seams that ensure "the boots will not roll down."
Two of our experts also pointed us to Stuart Weitzman for their inclusive sizing. "My mom, who is also plus-size, has had the prettiest pair of black Stuart Weitzman boots for most of my life," says Morgan, who told us she was ecstatic when she found this pair, which is very similar to her mom's, on sale. "The Liviana Boot embodies the brand's classic style," she says, adding that they are made of stretch suede, which makes getting them over your calves a breeze. "You can easily pull them on and you are good to go." Plus, they're versatile and add a "fun and sexy dynamic" to any outfit, according to her. Photographer Lydia Hudgens is also a fan of the brand: "Stuart Weitzman not only offers different widths for those that need it, but they carry larger shoe sizes, which are difficult to find in most shoe brands." The Liviana boots are currently on sale for 61 percent off, and although the suede style Morgan loves is only available in limited sizes, these all-leather ones are still in stock in sizes 4 to 11.5.
Plus-size models Taylee De Castro and Kaguya are both big fans of Torrid for their range of wide boots for all sizes. "As a woman with thick calves, I never got to wear anything slightly above my ankles," says Kaguya, who especially likes these faux-leather biker boots. "Torrid's options are perfect for every day and even going out, with their various styles and heel height ranges," she says.