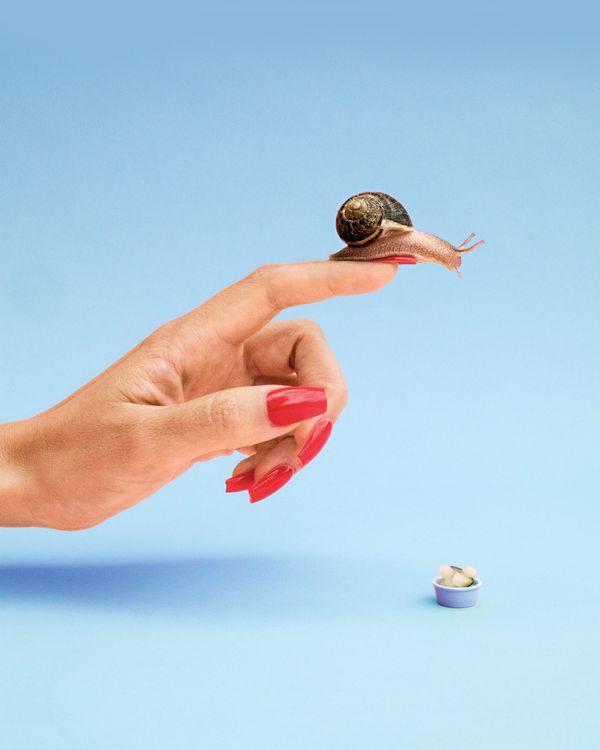 Photo: Aleia Murawski and Sam Copeland
Over the past few months, you might have noticed some slimy new pets crawling onto the scene: snails. They're everywhere — on the popular Instagram feed @aleia, where a mollusk named Velveeta is painting at an easel in a studio; in promotions for jewelry designer Sophie Buhai's spring-summer 2021 collection; and in the homes of people like the artist Chloe Wise, who recently Instagrammed a snail on her fingertip with the caption "Friend."
It makes a certain sense that snails would become especially popular during quarantine. They're not much harder to care for than a fiddle-leaf fig, they look nice photographed next to a Murano mushroom lamp, and their shell-based existence makes them an easy metaphor for our own lives this year. But mollusks have been kept as pets since long before the pandemic. The novelist Patricia Highsmith, for one, was a major snail obsessive; she wrote about them frequently and kept them by the hundreds (her biographer claims she once brought 100 of them plus a head of lettuce in her purse to a party).
More recently, snails have turned up everywhere from Chinatown gallery 47 Canal (where in 2014 artist Anicka Yi injected them with oxytocin for her exhibition "Divorce") to the pages of New York Magazine, which in 2017 ran an article recommending snail-slime facials accompanied by a photograph of snails crawling over the face of a magazine photo editor. The photographer, Bobby Doherty, brought the snails home as pets after the shoot and began periodically posting pictures of them on his Instagram. He says people reach out frequently, asking what their names are and how many he has (quite a few: Three quickly turned into about 100, as tends to happen with snails, who are intersex and can reproduce without a mate).
Soon, more snail doyens emerged. In 2019, Marlow & Daughters butcher Yoko Koide found some snails in a box of arugula at the restaurant. "Everyone got super into them," she says. "So we gave them a nicer container and put dirt in it. Eventually, they laid hundreds of eggs, and we started giving away the babies to our friends." Keren Lieu and engineer Tom Nguyen were two of those friends. "Yoko gave me and my boyfriend four at first," says Lieu. "My boyfriend became obsessed with them. He literally calls them 'my perfect boys.'" Meanwhile, Nguyen took five. "I've definitely posted weird pictures of them on Instagram, and people will be like, 'Wait, where did you get these snails?' And I'll just send them to Yoko because she had hundreds of them," he says.
But things really picked up this past April. First, a 23-year-old woman on TikTok whose account name is Lazy_Mermaid posted a video of her sister's pet snail taking a "shower" in their sink set to the song "Dissolve," by Absofacto — it got nearly 500,000 likes. Meanwhile, in New York, an artist who goes by OKIMOTO found a bunch of snails in their Ridgewood backyard and decided to offer a few up for adoption via pandemic-safe, contactless pickup. One of OKIMOTO's takers was construction estimator Ramona Sadiq, who took two (she liked the way they looked: "They're almost like those Instagram cakes that are blobby and weird, or those blobby ceramics," she says). Another was BuzzFeed News sales strategist Maggie Schultz. "Before I saw OKIMOTO post about having snails, I'd been ready to order one off the snail black market on eBay," she says. In July, a "Letter of Recommendation" appeared in the New York Times, titled "I Didn't Mean to Adopt a Dozen Pet Snails," by Rebecca Giggs, a writer who kept a box of snails that were ordered as props for her partner's (canceled by COVID) play. "Watching them uncurl," she wrote, "I have ceased to lament the future the pandemic upended, and have begun instead to find small raptures here." In the past couple of weeks, snails have even slid into fashion: promoting Sophie Buhai's fall collection (they were photographed crawling across models' backs and nibbling slices of watermelon) and as earrings in Online Ceramics' most recent drop (sterling-silver snails that sold out almost immediately).
When Schultz is asked why she likes keeping snails as pets (her first three, named after the members of the Sopranos family, died, and she's now considering getting more), she says, "They're good company — cuddly and cute — and they don't need much." It's true, they don't: a plastic container, some eggshells for calcium. And unlike a dog or cat, they don't tend to live too long, usually two to three years. (Though Doherty, for one, doesn't appreciate being asked about his snails' life expectancy. "It's absolutely fucking disrespectful," he says.) In any case, they make a sort of easy come, easy go pet that suits the mercurial mood of today. As Lieu puts it, "If I get tired of them, I could just put them back in the garden."
Where to buy a snail
Photo: retailer
If you want to take in a snail you found on a stem of arugula, that may be perfectly aboveboard. But if you want to order one online, that's a different story: It's often illegal to buy snails from out of state because many are invasive species. This doesn't mean snail sites don't exist. Snailpets.com, run by a mother-daughter duo, ships them in a ventilated container with some lettuce ($18), and there are legions of black-market snails on sites like eBay and Etsy. But your best bet, if you want to avoid the legal issues surrounding snail ordering, is to go look for one under a log in the park.
Everything you'll need to care for them
Photo: retailer
Pepper Apollo, who has owned thousands of snails, says she houses them in glass aquariums (from $13 at petco.com). A good rule of thumb for choosing the size, she says, is that a garden snail needs "one gallon per one adult snail. Smaller species can get away with less."
Lindsey Cormack, a snail owner and the founder of snailpets.com, recommends putting coconut fiber ($8 at petco.com) on the bottom of the tank to absorb and break down waste.
"On top of the substrate, it's good to put down some sphagnum moss ($7 at amazon.com) — they like to nibble on it and hide under it," says Cormack. "Just make sure you don't get any of the prettier, dyed moss. I have a girlfriend who keeps snails, and she had this purple dyed moss and the snails ate it and then they passed."
The soil in the tank should be kept moist, which means owners should give it a mist once every day or two, depending on the tank's airflow. Apollo uses an inexpensive hairspray bottle ($7 at amazon.com), which she says dispenses a fine mist that keeps her snails' environment nicely moist.
Baby and adult snails alike need calcium to ensure that their shells grow large and strong. Several of the owners we spoke to recommended putting a cuttlebone ($3 at petsmart.com) in the tank so the snail can absorb its minerals.
Snails also need protein. "But too much," says Apollo, "is like steroids and can cause growth problems or a shortened life span." Apollo gets her protein mix on Etsy from a seller named Brittany Bellows. We heard about Bellows's mix from several other snail owners, including the founder of the Instagram account Sticks.n.Snails, who says it's "one of the most popular snail mixes in the U.S."
With additional reporting by Dominique Pariso
The Strategist is designed to surface the most useful, expert recommendations for things to buy across the vast e-commerce landscape. Some of our latest conquests include the best acne treatments, rolling luggage, pillows for side sleepers, natural anxiety remedies, and bath towels. We update links when possible, but note that deals can expire and all prices are subject to change.