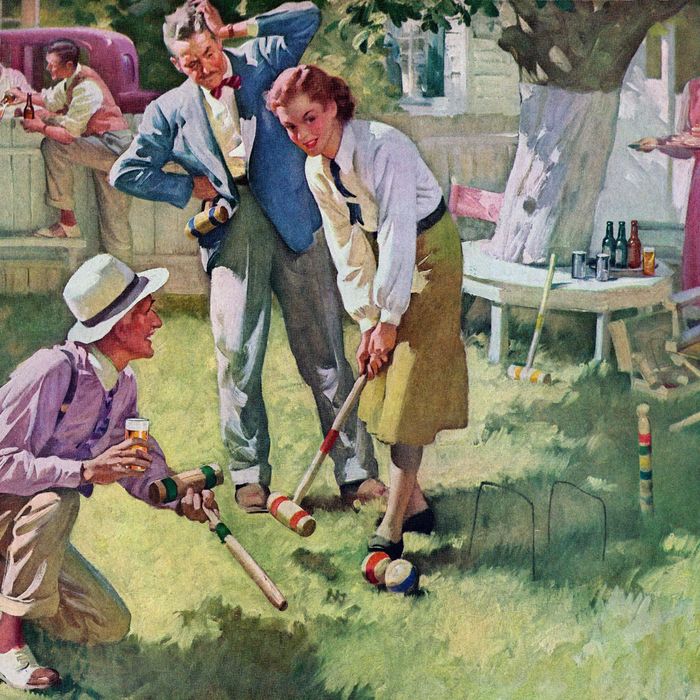 Photo: GraphicaArtis/Getty Images
Here at the Strategist, we like to think of ourselves as crazy (in the good way) about the stuff we buy, but as much as we'd like to, we can't try everything. Which is why we have People's Choice, in which we find the best-reviewed products and single out the most convincing ones. (You can learn more about our rating system and how we pick each item here.)
And while we've written about a lot of games you can play — including the best two-player board games and the best board games for families — here we've rounded up the best outdoor games, as praised by the most enthusiastic reviewers on Amazon.
Best-rated outdoor game
"Spikeball is one of the greatest lawn games ever invented," asserts one reviewer, listing the reasons. "It is easy to carry with you, easy to setup, and is an easy game for anyone to pick up on quickly." "Fun" is a word used in hundreds of reviews, and the general consensus is that this is a game for all ages. "We've played with 5 years old to 65 years old…even a pregnant mom," one reviewer writes. As one reviewer describes it, "It's essentially volleyball, but instead of the ball going over the net, once it HITS the net the other team takes service." That's why several reviewers say it's a great form of cardio. Many also love how easy it is to take this game wherever the party is going. "We really enjoy playing this game in the grass, on the beach, while camping, and more," one reviewer says, adding "you do need a pretty large, open area in order to play, but everything assembles and disassembles easily and quickly so it's easy to transport!"
Best-rated (less-expensive) outdoor game
One reviewer has a pretty simple answer as to why this game is such a hit: "I mean who can toss a rubber chicken without laughing, right?" Many reviewers mention all the laughs and giggles their families get of playing this game. "Huge hit with our family and we bring it to all our get togethers," one writes. "Everyone gets a good laugh out of it, but they actually play it." Even those who "have no idea what the game was really supposed to be," like one reviewer, they still "had fun playing with the rubber chickens." Dozens of others describe ditching the instructions altogether and enjoying making up their own games like "toss and catch the chicken, and who can toss their chicken the highest" as one user did. The chickens float, so many report taking this game into the pool too."It's a little silly looking so we got a lot of attention of the beach," admits one reviewer, :but it's light and easy to transport," making it great for taking on vacation — as long as you're not flying to your destination. "The TSA agent at the airport was sure we they were full of contraband, so we had to sacrifice one to get the others through."
And now for some micro-picks for every type of outdoor game you might be looking for.
Best cornhole set
"This Cornhole PRO bean bag toss game set is what I'd classify as the Cadillac of corn hole boards," writes one reviewer. Quality is a word that comes up in dozens of reviews, and many also like that these foldable boards are easy to transport, especially compared to the classic wooden kind. "I've played on a lot of different sets in my day and I have to say, this one is up there," one reviewer writes. "The portability is great, it isn't too light (you don't want the boards shifting all around) but they also aren't too heavy to lug around long distances." While many reviews mention the ease of taking this game to the beach or on a camping trip, this set of corn hole is also light enough to make the trip to "Aruba and Mexico" according to one reviewer. Wherever you finally set up, according to one reviewer, you'll be able to play for a long time. "The boards and bags stood up well through intense play," they write. "The bean bags have not split apart, despite their use on a paved parking lot!"
Best lightweight cornhole set
As one reviewer puts it, "This isn't competition ready, but it's great for recreational fun," and according to reviewers fun can happen anywhere since this set is so portable. With this you will be "beach, backyard and tailgate ready," according to one reviewer. Another mentions how "simple" it is to "take along and easy to store" because it breaks down into a bag. "We have taken this to family bbq's and camping," one reviewer writes adding that it is "easy to assemble, and a compact carrying case make this super convenient." Other reviewers raved about the price. "There are lots of more expensive options out there, but I'll tell ya, this gets the job done at a much more affordable price point."
Best outdoor game for grass
Photo: Courtesy Molkky
Though we've written about Molkky before — after our managing editor Maxine Builder discovered this European lawn game in Paris a couple summers ago — many reviewers either hadn't heard of Molkky before they ordered it but were pleasantly surprised by how fun the game is. "Easy to set up, simple rules, lots of trash talking — it all adds up to fun times for our family," one reviewer writes. The simple rules make this a hit among all ages, as many reviewers point out, and among large groups. "Fun for any number of players (unlike Bocce or Cornhole, where you are limited to 2 or 4)," one reviewer writes adding that it is "good for kids, as they can throw from a little closer, and more importantly, if they get bored and quit, it doesn't end the game for all." One user compared the game as "combining the best elements of horseshoes, bocce, with the hand eye coordination of cornhole," but many simply describe as similar to bowling.
A common warning about the game is that it is best suited for the grass. "It does require a flat yard with shorter grass to get the pegs to stand up," one reviewer writes. Another says, "We played on asphalt one day and it chewed up the pins a bit." As long as you do the necessary prep work, you'll hopefully find, like one of our editors did, that "it's still slow-paced enough to drink a beer and chat with your friend while you play, which is really the main reason to play any lawn game."
Best lawn horseshoes set
This game is much safer than the original which comes with iron shoes and an iron base," one reviewer points out, which is why so many users purchased this rubber horseshoe set for kids. "My family plays horseshoe's quite often in the summer," one reviewer writes. "We have an adult set and the kids always want to play. The horseshoes are just too heavy for them. Bought this set so that my children could play. They love it." Another reviewer notes that it is also a good alternative to the "plastic type you can find in party stores," because these rubber shoes "are heavy enough to not get carried away by the wind, but are not too heavy for young children." If kids aren't a concern, another reviewer points out the material protects dogs and possessions as well.
Best outdoor game for kids
Reviewers have decided that this upgraded version of capture the flag is great for kids. "We ordered this for my son's 14th birthday," one reviewer writes. " All of the kids loved it! We had children from 6 to 14, plus adults, and everyone played." "This is a great way to get kids moving!" another reviewer writes. "The kids enjoyed this way more than the usual flashlight tag." Another parent raved about how great this set is for birthdays. "When my son got it for his birthday, we took it to a party with a bunch of kids," they explain. "They played this as soon as it got dark and couldn't stop playing." While you might think outdoor games and summer go hand in hand, this game is so fun kids love playing it year round, according to one reviewer. "We play at a big open field behind the kids school even during the cold months," they write. "The kids just dress warm and wear mittens, and all the running around keeps them plenty warm." If the price is a deterrent, this reviewer will tell you it is worth every penny. "I was hesitant to order this game because of the price, but it is worth every penny, and then