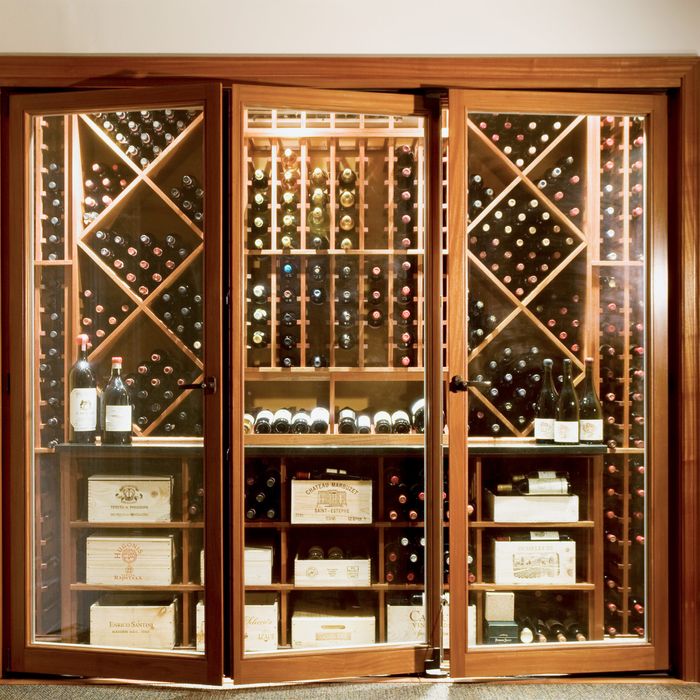 Photo: Elliott Kaufman/Getty Images
Here at the Strategist, we like to think of ourselves as crazy (in the good way) about the stuff we buy, but as much as we'd like to, we can't try everything. Which is why we have People's Choice in which we find the best-reviewed products and single out the most convincing ones. (You can learn more about our rating system and how we pick each item here.)
And while we've written about lots of wine-related things — including the best gifts for wine lovers, the best wine stoppers, and the best wine decanters — here we've rounded up the best wine coolers, as praised by the most enthusiastic reviewers on Amazon.
Best-rated wine cooler
More than 70 percent of reviewers gave this wine cooler five-star reviews, calling it "sleek," "stylish," "super quiet," even, as one shopper sums it up, "the greatest!" Another reviewer gets more specific, writing, "This unit is great, no problems putting in bottles of varying size (hello, Chardonnay), and the ability to stand bottles vertically when we have opened but not finished is fantastic." That ability to hold upright bottles is flagged by many, including one who admits, "You may not think of this at first, but you need a stand-up area for the wines you have opened and not finished drinking…No leak worries in the cooler with stand-up area." Reviewers also found that this cooler chilled wine quickly and still stayed cool after introducing additional bottles. "The cooler reached temperature within four hours. After allowing the unit to stabilize overnight I filled it with eight bottles, two of which I stood up vertically in the left side compartment (one was opened previously, the other a bottle of Riesling that is taller than 'standard')," writes one shopper. "Temperature re-stabilized quickly within four hours." They also note that the cooler helped save valuable real estate on the countertop and in the refrigerator: "The cooler has allowed us to remove a wire wine rack from our kitchen counter and free up space for more appropriate items in our refrigerator."
Best-rated (less expensive) wine cooler
Reviewers lauded this cooler sleeve as an inexpensive, travel-friendly option that's perfect for keeping wine cool at picnics and parties. "We love these items when we do picnics at wineries," one reviwer writes, explaining, "We bring it in a cooler with some ice packs and when we arrive at the winery and purchase our bottle, we slip this baby over it and it keeps the bottle cold the whole time we are picnicking, even in hot weather." They note that it's also good for parties: "We also use it if we are bringing a bottle of white wine to a party. When you arrive, it's still as cold as it was when you took it out of the fridge." And reviewers found that despite the very affordable price, this cooling sleeve gets the job done: "Did not expect these to perform that well but they sure do, 15 minutes around a bottle and close to perfectly chilled. Will keep it that way for a bit too," says one reviewer. Another says, "I've had two of these in my freezer for 15 years, and they still work wonderfully well." And it's so good at keeping liquids cold that at least one reviewer used it for a non-alcoholic beverage: "It even worked on my protein shake I had in a tall glass with a lid. Needed to keep it cold in my car for about half an hour and it actually froze it a little. I was thrilled! I would buy this again and probably buy as gifts too."
And now for some micro-picks for every type of wine cooler you might be looking for. 
Best 12-bottle wine cooler
This was the Goldilocks wine cooler for reviewers — not too big, not too small, just the right size, and at the right price point. "Just what I wanted. It is compact but appropriate for the person just looking to chill a few bottles," writes one reviewer. "Just went down to our home in Arizona after the hot summer and the cooler was working well despite the extreme summer heat in the house. Quality product with a nice look." The price was a big draw for shoppers, too. "Can't beat this cooler for the price, it works great and temp is very adjustable!" says one. Another writes, "I feel so rich for having this wine cooler. For the price I paid, it sure made it so worth having it." Another shopper says, "I write very few reviews, but this product deserves one…It just works, I have had it for quite a while now and never a problem. One of the best investments I've bought for my bar."
Best 18-bottle wine cooler
"Great product…and at a great price compared to alternatives," says one shopper, and many others note that it's a good value. But even with that lower price point, this wine cooler still boasts the amenities of some of its higher-priced competitors. For one thing, reviewers found it to be extremely quiet: " It is so quiet you don't even know it is running," says one. Another shopper says, "I don't hear any noise. That is very important because the unit is not too far from my couch and the TV viewing area." One shopper calls the 18-bottle capacity "perfect size for frequent entertaining." Another writes, "Great size for a cabinet — gives a little extra storage!"
Best dual-zone wine cooler
Shoppers who wanted to be very precise in their chilling loved this dual-zone cooler. As one reviwer writes, "I learned that all wines should be chilled for storage. I also learned that reds should be served slightly chilled and whites should be served about ten degrees Fahrenheit above normal refrigerator temperature. Thus I was on a mission to find a dual-zone wine chilling refrigerator…I could not be happier with my choice. It looks great, is very quiet, and easy to set up." Another says, "It was easy to set temperature for each zone and to adjust one of the feet to level the unit. Both zones chilled down accurately and we are now enjoying wines at their perfect temperature." And reviewers said it was rare to find a cooler with the feature in this price range. "Dual zone temperature function at this price