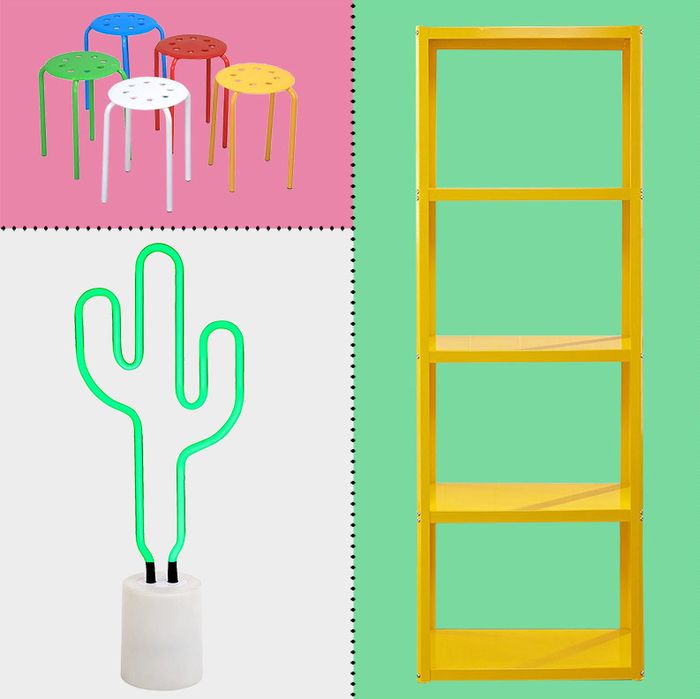 Not sure about you, but we're getting a little tired of the minimalist, all-white Scandinavian look, and have been noticing a return of bright, almost–Sesame Street–esque colors — fire-engine reds, banana yellows, kelly greens — that feel a little bit like a child's bedroom circa 1987. If you're looking to dip your toe into the world of Color (with a capital c), we've combed through Amazon to find the best décor out there that's expensive-looking, but that you can buy on the cheap.
This cactus lamp would look incredible on a shelf of the yellow bookcase below.
This bright-yellow bookshelf will zhuzh up your otherwise humdrum living room or bedroom.
Get exclusive deals from The Strategist delivered to your inbox.
Cavallini & Co. has dozens of old-timey charts, which you can pop into a poster frame like this. We're partial to the crystals above, and these mushrooms. (For more inexpensive wall art you can buy on Amazon, click here.)
What is more fabulous than some flamingo bed sheets?
These are currently out of stock, but they are still available in a twin set or here is a similar elephant version.
This neon paring-knife set will make chopping onions and carrots a little more fun and flirty.
Throw your laundry into this instead of a crinkly old Ikea bag.
A perfect little side table for a reading lamp like this.
Use this mint-green jadeite pitcher as a vase for your deli flowers.
Some classy Andy Warhol magnets to make your big white fridge look a little less hulking.
Put these fake Monstera leaves in a glass bottle, and no one will know they're plastic.
Throw this teal Parsons desk in the corner of your living room and, poof, you have a "home office."
If your apartment doesn't allow dogs, and you've always wanted a shar-pei.
Stack these colorful stools in a corner, and you'll have extra seating for your Oscar-watching party; they also make wonderful plant stands.
A colorful Kantha quilt to keep at the foot of your bed.
A psychedelic garbage can for the bathroom.
Hang this green pendant light above the dining-room table for a cool coffee-shop (in a good way) look.
This is no longer available, here are two other colorful pendant lights: more modern, more vintage.