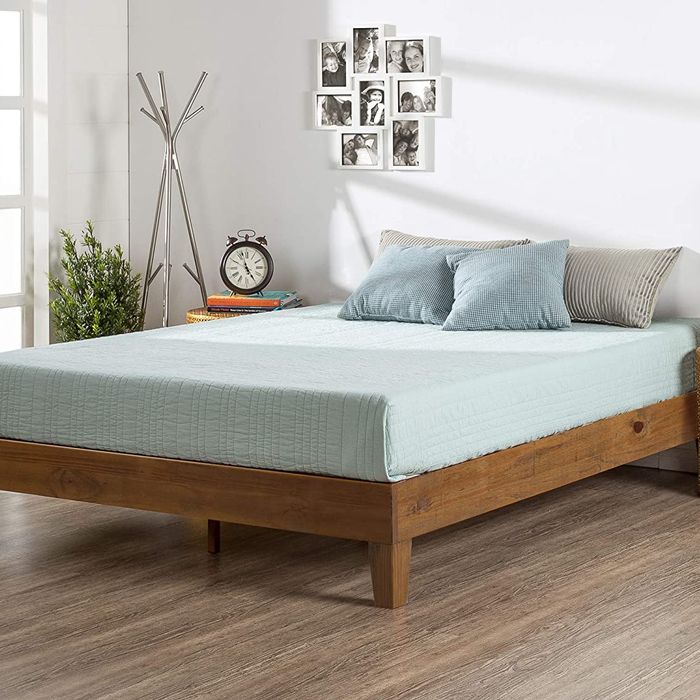 Photo: Courtesy of Retailer
Spending all this time at home might have you rethinking your décor, and perhaps it's time for a new bed. If you're living in a small space, a platform bed will give you that much needed under-the-bed storage space, and truthfully, they can look pretty chic. To find you some decent (and relatively inexpensive) options, we found the best ones, as reviewed by the most enthusiastic customers on Amazon. For ease of comparison, we've listed the prices for queen-size frames, but most are available in king too. And since you're on that redecorating kick, check out the best mattresses, headboards, and sofas under $2,000 once you've picked out your bed.
Related Article: Best Mattresses | Best Duvet Covers
Best-rated platform bed
"Ignore the thing about this only supporting sleepers up to 240 pounds," one reviewer writes. "Pretty sure that should have been 2,400 pounds. I am a 360-pound fat boy, and this thing doesn't squeak, move, groan, anything." And he's one of dozens of reviewers who swear by this bed frame's high weight capacity. Another reviewer writes, "It's had over 300 pounds of people and cats on one side and not even creaked, so I'm sure it will last for years to come." More than 1,000 reviewers call it sturdy and say it holds up to pretty intense use, too. "I purchased this due to having a teen that is ROUGH on everything I buy," one customer says. "I read the reviews about how sturdy and quiet this bed is and thought the price was right considering his destructive nature. I am so glad that I bought it … We did the 'fun' tests and bounced on it. and it didn't make any squeaking or creaking noises. It is a platform frame, so no box spring needed, and laying on it is very level and smooth."
Best-rated (less expensive) platform bed
As far as platform beds go, this one pretty much about as basic as it gets: simply a metal frame that you assemble on your own. But reviewers still really love it. "Oh my goodness, oh my greatness," says one reviewer about this frame. "The frame is strong, comfortable and sturdy. I have slept so well on this frame, I don't wake up stiff and tired." And despite the low price, she thinks this bed frame makes her room look "so high end." As with most other furniture from Zinus, this bed frame is easy to assemble, because "all holes in EXACTLY the right place so no need to wrangle the material." Another reviewer extremely happy with it and describes the metal as "all smooth, no rough parts, no rust or discoloration or missing paint."
Editor's note: This won't be in stock until July 15.
Best metal platform bed
Put concisely by one customer, this platform bed is "great for its price and was easy to assemble since it came with everything you need." And dozens of reviewers comment on the rigorous activity this frame can withstand. "I have a lot [of] roommates who are constantly in and out of my room and jumping on my bed, so being able to have a bed frame to withhold all that wear and tear is amazing," one writes, while another says "it is toddler tested — the moment I put the mattress on, it was jumped on for over 20 minutes and the frame or mattress didn't move/slide AT ALL." One keeps their review of this platform bed very real, calling it, "a sex-friendly frame." Many also comment on how easy it is to put together: "My dog could put this together if he had thumbs. It's that easy."
Best metal platform bed with headboard
The Zinus Mia is another favorite among Amazon reviewers for its streamlined look, ease of assembly, and underbed storage. It's made of metal and comes with a headboard. "Let me start off by saying we purchased this frame specifically because it was metal. As a military family we move often and we need furniture that is going to survive frequent moves and daily use. I wanted something durable yet easy to take apart and put together. This bed frame is it," raves one reviewer. The instructions for the Mia are clear and straightforward, a fact that even inspired one customer to write a review: "I'm not usually one to write reviews, but I have to praise the manufacturer for making the easiest assembly I've ever experienced." It looks sleek, too. "It looks great — simple design that is hard to dislike," says one reviewer. Another agrees: "Aesthetically and functionally, the build of this frame is great. I'm glad to say that the design decisions in (certain things such as how the corners are connected) help improve the overall stability/build of the frame as a whole. The exterior finish of each component is clean — no conspicuous, ugly welds on any visible component." Storage is just a bonus for many reviewers. "This bed is great for small apartments because it has a lot of storage space underneath," says one. "I was able to fit large checked-luggage-size bags underneath with no issues and plenty of room for other things as well."
Best platform bed with drawers
"I'm a college student living in a small one-bedroom house with very little space, so the storage drawers got me hooked," writes one reviewer, who's ultimately impressed with this platform bed's four underbed drawers. Another describes the doors as "HUGE," with "so much room for anything you want to put in there. You can fit your extra throw blankets or your pajamas. I personally keep fashion corsets, designer stockings/thigh-highs, and other things I don't need very often but don't want to put too far out of reach for when I feel like dressing up." Nearly 20 percent of reviewers also comment on the quality of the storage. "They even have a locking mechanism that our 2-year-old won't figure out," writes one reviewer, but the praise for the quality extends to more than just the drawers. One reviewer reports, "We both jumped on the bed last night, and it held up great."
Best faux-leather upholstered bed with headboard
Zinus's Gerard Deluxe is a favorite among customers for its reliability and sturdiness. "I never thought I'd rave about putting together a piece of boxed furniture," admits one reviewer, who continues, "The frame is amazingly solid. It looks fantastic and the faux leather is soft and comfortable if bumped into. For the price, I don't know what you could get that would be better." "This thing is solid," agrees another. "In the morning, I tried kneeling on the mattress and moving about really fast to try to get it to wobble or make some noise — nothing! I am 100 percent satisfied with my purchase so far." Another reviewer describes the fake leather as "beautiful and soft." One reviewer adds, "The 'leather' feels about as good as you can expect faux leather to feel. It's padded obviously, but it feels nice, especially for this price point. The bed as a whole looks absolutely amazing. Does it look like something that would cost you $800 at the furniture store? No … but it doesn't look like it was $250 either." That quality is why one reviewer calls it, "the perfect bed frame for young adults. It looks nice and is so affordable. This bed frame has changed the entire dynamic in our apartment, and definitely gives it a semi-classy vibe."
Best upholstered platform bed with headboard
Here's a highly rated upholstered bed frame with over 3,500 reviews that customers love for its quality. "Wow! This is a gorgeous headboard and base for a queen bed. It looks much more expensive than it is. We were so impressed with the quality of the material and how easy it was to put together," one reviewer writes. "It comes so efficiently packaged and designed that it is virtually foolproof," another reviewer raves. "It is extremely sturdy; no wiggling or shaking of the frame or movement of the mattress at all." And many reviewers agree that it looks good, too, with one saying, "I get a lot of compliments on this bed frame. I think peoples' eyes are immediately drawn to the diamond stitching on the headboard. I recently bought a minimalist home and this bed frame fit perfectly in my undersized rooms." Easy assembly is another feature of this frame that impressed many. "Very easy to set up. It takes maybe 20 minutes by yourself. Whoever wrote the instructions should get a bonus because it was very simple and easy to understand," says one reviewer. Another adds, "In less than 30 minutes, I ended up with is a great looking and surprisingly sturdy bed. I don't hear a single creak and nothing moves where it shouldn't."