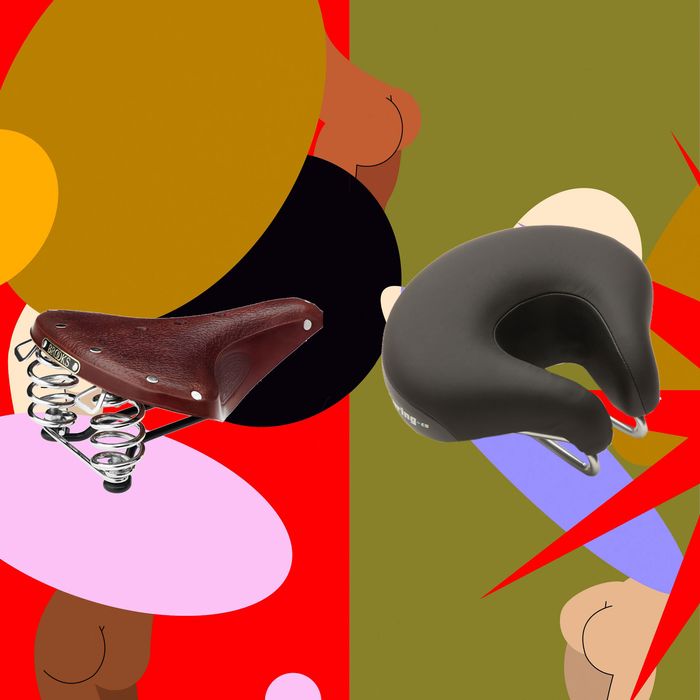 Photo-Illustration: Chaimae Khouldi; Photos: Retailers
Cycling — both indoors and outdoors — is a great form of exercise and a lot of fun, but it can also be a literal pain in the butt. A stiff, unforgiving saddle can leave you "walkin' side to side" à la Ariana Grande and be a total turnoff from the sport. Fortunately, saddle design has come a long way over the years and now even those with the the boniest of butts can find a seat that'll make them want to clip in and ride.
Finding the right saddle involves some trial and error, as the specifics of your anatomy — including the width of your ischial tuberosity, or "sitting bones" — will determine what works best for you. "There's not one saddle that's comfortable for everybody," says Curtis Clarke, a bike fitter and co-owner of Echelon Cycles in the West Village. He recommends starting your search by figuring out what you don't like about your current saddle. Where do you feel pain or pressure points? Does the nose (front tip) curve up and bump against you? Are the sides so wide that they chafe your inner thighs? Knowing what problems you're looking to solve will help lead you to that just-right seat.
Your riding style will also influence your saddle choice. If you're a performance-oriented speedy rider, you'll want a narrower, firmer saddle, as your weight will be shifted forward when riding, with less of your butt in contact with the saddle. For comfort-focused cyclists on cruiser bikes, a wider, thicker saddle will be preferable, as you're sitting in an upright position with your weight concentrated on the seat.
Whether you're riding on the roads or pedaling at home on your Peloton, the same rules for saddle selection apply, and all of the saddles below (selected by a panel of cycling experts) should work with any standard indoor or outdoor bike. If you lock your bike outside, consider a saddle-specific lock (like this one) to protect your investment. And, of course, a good pair of bike shorts with a padded chamois will make any seat even more comfortable.
Most comfortable leather saddle
Two of our experts — Adam Sokol, a sales representative at Ride Brooklyn, and Neile Weissman, the public-relations director at New York Cycle Club — prefer leather saddles because they're the only ones that truly conform to your shape over time for a custom-feeling fit. They do have their downsides, though. Leather takes time to break in, so while one of these saddles might be the most comfortable in the long run, it will feel hard and stiff in the beginning. (Sokol says the break-in period could last 300 miles). Leather is also less weather-resistant than the synthetic materials in other saddles, so you might want to invest in a protective cover if you leave your bike outside in the rain. If you do decide on leather, experts love the English brand Brooks for their high-quality saddles. The best-selling B17 model (available in gender-specific sizes) is a reliable choice that works for most riding styles. It's neither as narrow as a road-racing saddle nor as wide as a cruiser-bike saddle so it's a good fit for casual commuters who occasionally want to go for longer, faster rides.
Most comfortable cutout saddle
Softer than leather from the start and with a unique cutout design to improve ventilation and reduce pressure on sensitive areas, the Selle Royal Respiro saddle is Sokol's pick for someone who wants a comfortable saddle from the first ride. "It's nice and cushy without being overly so," he says. "It's still supportive without being too hard." The Respiro features gel-infused padding that's soft and responsive. Note that gel does tend to condense and harden faster than the foam cushioning in other saddles, so it might not be the best for riders who plan on racking up thousands of miles.
Most comfortable noseless saddle
While the Respiro has a cutout in the rear, ISM saddles are "noseless," meaning the frontmost part of the saddle has been removed. These saddles are a good choice if you experience more discomfort in the groin rather than in your butt. Jonathan Oliveras, an instructor at Harlem Cycle, recommends these saddles if comfort is our top priority. He admits they "look funky, but feel phenomenal" and "alleviate a lot of pressure points." ISM makes performance-oriented saddles (popular among triathletes), but casual riders will likely prefer the touring style that features a wide seat that's perfect for upright cycling. It's filled with long-lasting foam cushioning that'll stay soft even when you're bike-commuting every day.
Most comfortable 3D-printed saddle
Relatively new to the cycling world, these saddles are created from a 3-D mold that allows for seamless fusion of different cushioning layers in different parts of the saddle. Clarke explains that these saddles are thicker and softer in the rear (where most of your weight is concentrated) and thin out toward the nose. With a breathable and flexible nylon shell, this 3-D-printed Fi'zi:k model would be a good option for road riders and racers who want comfort in a streamlined saddle.
Most comfortable saddle for women
Even though it's technically a unisex saddle, the Selle Anatomica X1 tends to be popular among women, according to Weissman. Made from leather, it's similar to the Brooks but slightly lighter and shorter, so it's a better fit for smaller riders. The elongated, cutout design reduces pressure on the perineum and boosts the saddle's flexibility and ventilation.
Most comfortable saddle for plus-size riders
If you're a larger rider, you might think a saddle that's extra-wide with lots of padding might be more comfortable, but Weissman cautions that this could just lead to painful inner-thigh chafing. Instead, he likes the leather B67 saddle from Brooks that has springs for shock absorption. It does have a wider base to help, as he says, "disburse the load," but is still narrow down the middle so it won't rub against your thighs. Sokol agrees this saddle is a good choice, especially for upright cruiser bikes. Like the Brooks B17, it's also available in a shorter size that might be more comfortable for women.
Most comfortable saddle for racing
If performance is your top priority, Oliveras likes the Specialized Power saddle, a top choice among bike racers. He says it offers the ideal "combination of comfort and full-out speed." You won't find any plush gel or foam on this minimalist saddle, but experts like Weissman say that's not a concern for more aggressive riders who often ride out of the saddle and use their arms and legs to balance their weight out instead of resting it all on the seat. Ollie Boulton, a member of the marketing team at British bike shop Sigma Sports, also counts the Specialized Power among his favorites. He says the saddle's short, downward-curved nose increases comfort for forward-leaning riders.
Our experts
» Ollie Boulton, marketing-team member at Sigma Sports
» Curtis Clarke, bike fitter and co-owner of Echelon Cycles
» Jonathan Oliveras, instructor at Harlem Cycle
» Adam Sokol, sales representative at Ride Brooklyn
» Neile Weissman, public-relations director at New York Cycle Club
The Strategist is designed to surface the most useful, expert recommendations for things to buy across the vast e-commerce landscape. Some of our latest conquests include the best acne treatments, rolling luggage, pillows for side sleepers, natural anxiety remedies, and bath towels. We update links when possible, but note that deals can expire and all prices are subject to change.