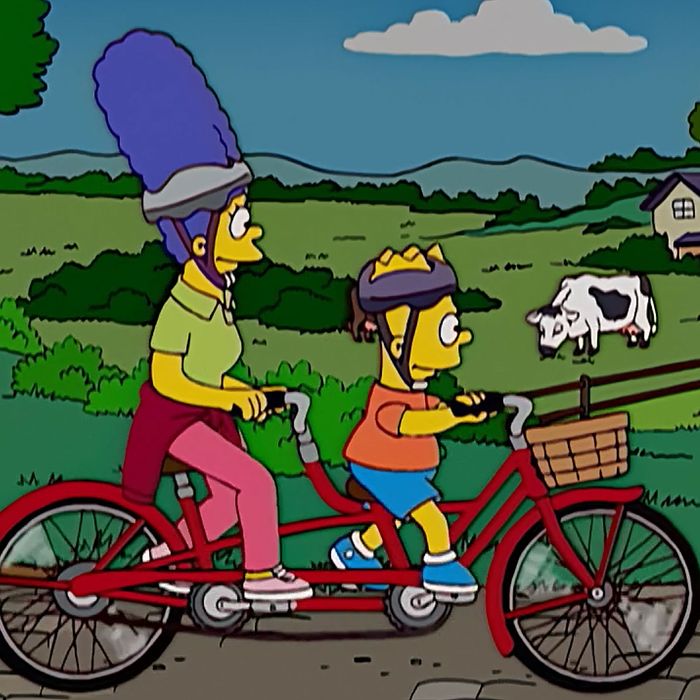 If you're one of the many who have taken up cycling as a hobby or form of exercise in recent months, by now, you might be realizing that the right bike — and helmet — may not be all you need to ride as comfortably as possible. As you've probably gathered from watching other cyclists whiz by you, there are lots of clothes specifically designed for being more comfortable — and performing better — on a bike. Angel Ramos, a creative director at fashion brand 18th Amendment who started cycling during the early days of the pandemic, says that the first time he tried on bike-specific clothing was a revelation. "I was instantly more comfortable, and not only that, I saw an instant speed increase. In my regular clothes, I was averaging 16 mph — the first day I rode in the gear, I was averaging between 18 and 19."
Of course, like any clothes for sport, stuff for biking can run the gamut, and some of it is better than others. To help you sort through the thousands of pieces you can buy, we asked eight male and female cyclists — and a couple of bike-store owners — to share the bike clothing they swear by. In telling us about their favorites, the experts all noted key features many share that make them preferable for spending time on two wheels. Bike shirts (or jerseys), for example, often have pockets across the back, so you can stay aerodynamic and still reach your phone and wallet. Bottoms made for biking, whether shorts or longer pants, typically have padding in the groin area to alleviate discomfort from sitting on a seat. And bike jackets will usually have longer arms and bodies than regular "workout" jackets do, so that you're protected from the elements even as you lean across the frame of your bike.
Below, our experts' favorite 35 pieces of bike clothing for men and women — and if you're looking for stuff to upgrade your bike itself, check out our recent guide to everything you need for fall and winter biking.
Best
men's
bottoms
for
bicycling
Best overall men's bike shorts
Every expert we spoke to told us that a pair of cycling-specific shorts should be any rider's first priority. In addition to making you more aerodynamic, the best cycling shorts will have four-way stretch, the ability to wick sweat and moisture to prevent chafing, and a built-in piece of padding called a chamois (cyclists and brands refer to it as a "shammy") to make riding more comfortable. "Bike shorts are the absolute first thing you need after your helmet," says Ben Sawyer, a bike mechanic at Maine's CycleMania, "because they make it possible to sit comfortably on a bike seat for a long period of time." Jeff Selzer, the general manager at Palo Alto Bicycles, echos Sawyer's advice, saying bike shorts are the "most comfort-inducing piece of equipment" a rider can buy.
Every male cyclist we spoke to also told us that bib shorts, which have shoulder straps to keep them in place, are the way to go, because the straps hold the shammy more securely while eliminating the need for a waistband that can cut into your stomach as you ride. "Bib straps don't pinch your waist," Sawyer explains, "so they don't restrict your breathing." Ramos, who told us he now rides "150 to 200 miles a week," says the shorts that allow him to go those distances are this pair made by Italian brand Pissei, which come with a cycling shirt (making their price much more reasonable). "The straps over the shoulders are odd at first," Ramos admits, "but over time you get used to them. The moment I put on these shorts, it made a huge difference. I don't feel anything on the seat any more. They've made it much easier to get on a bike, knowing I can ride for so much longer." He adds that he's "a bigger guy — six-foot-two and 225 pounds," and wears an XXL.
Editor's note: Pissei ships worldwide but lists all prices in Euros, so the price shown is an approximate conversion in U.S. dollars.
Best less-expensive men's bike shorts
Houston-based cyclist Melvin Onyia also recommends investing in a pair of bib shorts. He agrees there's "a learning curve" with wearing them, but promises that "they are so much more comfortable." His favorite pair is this less-expensive one from cycling brand Rapha. "They have thicker straps than other brands I've tried, and don't move an inch while you're riding."
Best even-less-expensive men's bike shorts
A brand that came up many times while reporting this story (and previous ones about cycling) is Pearl iZumi, which Sawyer tells us his shop "sells a ton of, because everyone can find something with the brand that fits their budget and cycling level." He recommends this "middle of the range" pair of bike shorts from the company because it has "nice padding and a nice strap." While these are not overly expensive, they're not the cheapest pair Pearl iZumi makes either, which Sawyer says is important: "Paying a little more for a better-quality shammy really makes a difference."
Best not-so-tight men's bike shorts
Selzer told us that guys who "don't want to wear tight clothing on errands but want shorts designed for sitting on a saddle" should consider these looser-fitting mountain-bike shorts and padded boxers from Assos. He says they "look like a regular baggy short," but when worn over the boxers, you'll be just as supported as if you are wearing a pair of skin-tight bib shorts. "You can walk into a Starbucks and not feel like Racer Joe," as he puts it.
Best overall men's bike tights
"One of the best companies out there for clothing is Pearl iZumi," says cyclist Robert Evans, agreeing with Sawyer. "They range from economical stuff to expensive stuff, but it's all good quality." For biking in cooler temperatures, he recommends the brand's thermal, waterproof, and windproof bib tights, simply calling them "phenomenal." Evans adds: "These really help, even as you get down to the gnarly temperatures."
Best men's shirts for bicycling
Best overall men's bike shirt
"After shorts," Sawyer says, "most people think about a bike jersey." They're different from regular athletic shirts, he explains, because bike jerseys are "more fitted so they don't flap in the wind" and "have pockets on the back for your phone, wallet, and snacks," he explains. Having pockets on the back of a shirt means that "stuff isn't moving around when you're riding" like it would in the pocket of a jacket or pair of shorts, Sawyer says. Selzer adds that bike jerseys typically have two layers: an outer water-repellent one and an inner moisture-absorbing one "so it dries quickly when you sweat." Sawyer's favorite jerseys are from Bontrager, a brand he recommends to anyone starting to build their biking wardrobe for its wide range of cuts. The Circuit Jersey, he adds, is a best seller with his customers.
Best size-inclusive men's bike shirt