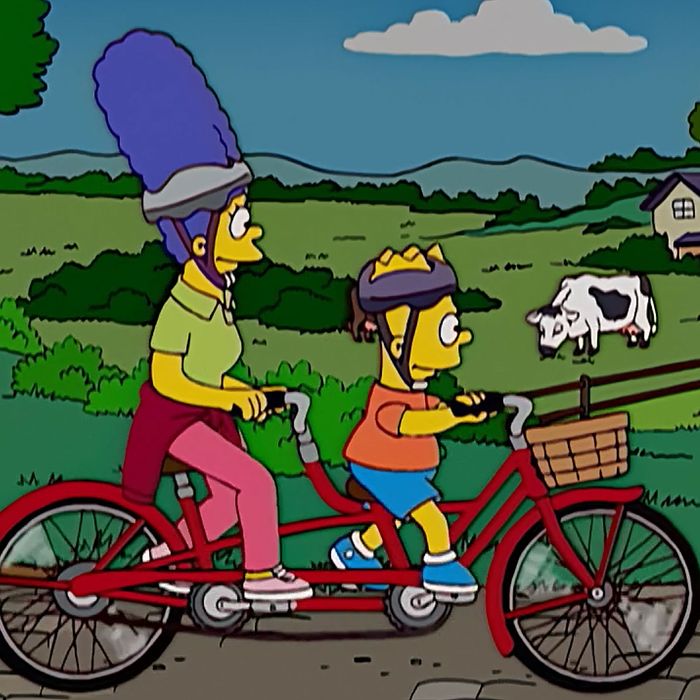 If you're one of the many who have taken up cycling as a hobby or form of exercise in recent months, by now, you might be realizing that the right bike — and helmet — may not be all you need to ride as comfortably as possible. As you've probably gathered from watching other cyclists whiz by you, there are lots of clothes specifically designed for being more comfortable — and performing better — on a bike. Angel Ramos, a creative director at fashion brand 18th Amendment who started cycling during the early days of the pandemic, says that the first time he tried on bike-specific clothing was a revelation. "I was instantly more comfortable, and not only that, I saw an instant speed increase. In my regular clothes, I was averaging 16 mph — the first day I rode in the gear, I was averaging between 18 and 19."
Of course, like any clothes for sport, stuff for biking can run the gamut, and some of it is better than others. To help you sort through the thousands of pieces you can buy, we asked eight male and female cyclists — and a couple of bike-store owners — to share the bike clothing they swear by. In telling us about their favorites, the experts all noted key features many share that make them preferable for spending time on two wheels. Bike shirts (or jerseys), for example, often have pockets across the back, so you can stay aerodynamic and still reach your phone and wallet. Bottoms made for biking, whether shorts or longer pants, typically have padding in the groin area to alleviate discomfort from sitting on a seat. And bike jackets will usually have longer arms and bodies than regular "workout" jackets do, so that you're protected from the elements even as you lean across the frame of your bike.
Below, our experts' favorite 35 pieces of bike clothing for men and women — and if you're looking for stuff to upgrade your bike itself, check out our recent guide to everything you need for fall and winter biking.
Best
men's
bottoms
for
bicycling
Best overall men's bike shorts
Every expert we spoke to told us that a pair of cycling-specific shorts should be any rider's first priority. In addition to making you more aerodynamic, the best cycling shorts will have four-way stretch, the ability to wick sweat and moisture to prevent chafing, and a built-in piece of padding called a chamois (cyclists and brands refer to it as a "shammy") to make riding more comfortable. "Bike shorts are the absolute first thing you need after your helmet," says Ben Sawyer, a bike mechanic at Maine's CycleMania, "because they make it possible to sit comfortably on a bike seat for a long period of time." Jeff Selzer, the general manager at Palo Alto Bicycles, echos Sawyer's advice, saying bike shorts are the "most comfort-inducing piece of equipment" a rider can buy.
Every male cyclist we spoke to also told us that bib shorts, which have shoulder straps to keep them in place, are the way to go, because the straps hold the shammy more securely while eliminating the need for a waistband that can cut into your stomach as you ride. "Bib straps don't pinch your waist," Sawyer explains, "so they don't restrict your breathing." Ramos, who told us he now rides "150 to 200 miles a week," says the shorts that allow him to go those distances are this pair made by Italian brand Pissei, which come with a cycling shirt (making their price much more reasonable). "The straps over the shoulders are odd at first," Ramos admits, "but over time you get used to them. The moment I put on these shorts, it made a huge difference. I don't feel anything on the seat any more. They've made it much easier to get on a bike, knowing I can ride for so much longer." He adds that he's "a bigger guy — six-foot-two and 225 pounds," and wears an XXL.
Editor's note: Pissei ships worldwide but lists all prices in Euros, so the price shown is an approximate conversion in U.S. dollars.
Best less-expensive men's bike shorts
Houston-based cyclist Melvin Onyia also recommends investing in a pair of bib shorts. He agrees there's "a learning curve" with wearing them, but promises that "they are so much more comfortable." His favorite pair is this less-expensive one from cycling brand Rapha. "They have thicker straps than other brands I've tried, and don't move an inch while you're riding."
Best even-less-expensive men's bike shorts
A brand that came up many times while reporting this story (and previous ones about cycling) is Pearl iZumi, which Sawyer tells us his shop "sells a ton of, because everyone can find something with the brand that fits their budget and cycling level." He recommends this "middle of the range" pair of bike shorts from the company because it has "nice padding and a nice strap." While these are not overly expensive, they're not the cheapest pair Pearl iZumi makes either, which Sawyer says is important: "Paying a little more for a better-quality shammy really makes a difference."
Best not-so-tight men's bike shorts
Selzer told us that guys who "don't want to wear tight clothing on errands but want shorts designed for sitting on a saddle" should consider these looser-fitting mountain-bike shorts and padded boxers from Assos. He says they "look like a regular baggy short," but when worn over the boxers, you'll be just as supported as if you are wearing a pair of skin-tight bib shorts. "You can walk into a Starbucks and not feel like Racer Joe," as he puts it.
Best overall men's bike tights
"One of the best companies out there for clothing is Pearl iZumi," says cyclist Robert Evans, agreeing with Sawyer. "They range from economical stuff to expensive stuff, but it's all good quality." For biking in cooler temperatures, he recommends the brand's thermal, waterproof, and windproof bib tights, simply calling them "phenomenal." Evans adds: "These really help, even as you get down to the gnarly temperatures."
Best men's shirts for bicycling
Best overall men's bike shirt
"After shorts," Sawyer says, "most people think about a bike jersey." They're different from regular athletic shirts, he explains, because bike jerseys are "more fitted so they don't flap in the wind" and "have pockets on the back for your phone, wallet, and snacks," he explains. Having pockets on the back of a shirt means that "stuff isn't moving around when you're riding" like it would in the pocket of a jacket or pair of shorts, Sawyer says. Selzer adds that bike jerseys typically have two layers: an outer water-repellent one and an inner moisture-absorbing one "so it dries quickly when you sweat." Sawyer's favorite jerseys are from Bontrager, a brand he recommends to anyone starting to build their biking wardrobe for its wide range of cuts. The Circuit Jersey, he adds, is a best seller with his customers.
Best size-inclusive men's bike shirt
If you have a more athletic build, like Onyia, he says you may be more interested in the custom jerseys from Brandt. "I have larger-than-average biceps and arm circumference for a cyclist," he explains. "Most cyclists tend to have a smaller upper body because it's deadweight to them, but this brand makes custom jerseys out of quality material for guys with a bigger build. They're a little more expensive, but worth it," he promises.
Best cold-weather men's bike shirt
Selzer says the "waterproof, windproof, breathable, and insulating" material on this shirt is a "little heavier, so it's great for colder climates or rainy or windy days in hotter places." Like the bib shorts, he says it may not feel great to wear when you're off a bike — but that's because it's so well designed for wearing on a bike. "It's tight in strange areas when you put it on, but then as soon as you're on the saddle, leaning forward with your hands on the handlebars, the entire jersey disappears. You don't even notice it."
Editor's note: Pas Normal ships worldwide but lists all prices in Danish krone, so the price shown is an approximate conversion in U.S. dollars.
Best less-expensive cold-weather men's bike shirt
"This is essentially a rain jacket and jersey in one," says Evans, who adds its material is "warm, water-resistant, and windproof." He told us it's another great one for cooler (or yuckier) days, saying, "As long as it's under 60 degrees, it's entirely breathable."
Best men's outerwear for bicycling
Best overall men's bike vest
When it comes to outerwear, our experts told us that vests are a good place to start. Depending on where you live, a vest might be the only extra layer you need, according to Sawyer. "It's totally climate specific. Below 60 degrees, you may want a vest." He says a sleeveless vest provides extra warmth only where it's needed: "Your core stays warm, but you don't get sweaty inside a shell and overheat." The vest he (and his customers) like best is this one from Pearl iZumi, which we're naming best overall given its more affordable price and the brand's esteemed place in the eyes of our experts. Most important, Sawyer says the vest offers "high visibility, so you can be seen by cars" while also being "really light, so you can roll it up and stick it in your jersey pocket if you get too hot."
Best lightweight men's bike vest
"Living in Houston, where I'm just facing slightly cool weather and a little rain, this is the only extra layer I've needed," Onyia says of his go-to bike vest from Rapha. He puts it on when there's a chill in the air or if the forecast calls for rain.
Best overall men's bike jacket
If you're biking somewhere that gets brutally cold, you may want to layer a bike jacket over your vest. Unlike a regular jacket, bike jackets "have longer arms, so there's no pulling or exposure of the wrist when your arms are stretched out," Selzer says, echoing wisdom we heard from other experts. He adds that bike jackets are also "shorter in the front, so the fabric doesn't bunch up around your stomach while riding, and longer in the back, so the jacket doesn't ride up and let cool air in when you're leaning forward." Selzer recommends this Assos jacket, which wicks moisture, "is proportioned in all the right places, and insulates really well." That last detail is why we're calling it best overall — because if you're buying a bike jacket, you will probably want one with superior insulation.
Best less-expensive men's bike jacket
This jacket, which Evans loves, is less insulated than the Assos one above, but it's entirely waterproof and boasts a unique feature in that it glows when any light hits it, increasing your visibility on the road. "If you shine a light on it in a dark room," Evans says, "it looks like you're fully illuminated."
Best men's accessories for bicycling
Onyia and Evans told us about a few smaller pieces of clothing they use while riding. Onyia, who's a fan of POC's bike helmets, also recommends picking up the brand's cap, which you can wear under a helmet to absorb sweat. He says it fits comfortably under any helmet and has the shorter brim that cyclists like: "The smaller brim can flip up to increase your field of vision and flip down when you need rain or sun protection."
Instead of wearing a base layer under his cycling jersey, Evans prefers to suit up in these arm warmers on colder days, because he can easily roll them down as his body temperature heats up. He promises that they are warm and, "though not advertised as waterproof, are also great for getting caught in the rain because the water kind of beads on your arms."
"My brother-in-law did a couple tours in Afghanistan, and when he got back he gave me a spare pair of these socks," says Evans, who will wear them over his cotton socks while biking because they're "really thin, windproof, and waterproof — like all things Gore-Tex."
The cotton socks Evans wears under his Gore-Tex ones is this mid-weight pair. "If I'm wearing these under the Gore-Tex Rocky socks with my bib tights, it has to be super-gnarly out for me to ever be uncomfortable," he says.
Evans says that, in fall and winter, he wears these gloves. They "aren't traditional cycling gloves," he notes, but have the most important feature of a cycling-specific pair — a full nylon shell. "Most other gloves have leather palms or terrycloth parts that let water and air seep in. But the palms on this are nylon, with grip," Evans explains. "They keep my hands warm in the coldest temperatures."
Best
women's
bottoms
for
bicycling
Best padded women's bike shorts
The female cyclists we spoke to for this story also told us that bike shorts are their first recommendation for anyone looking to curate a proper cycling wardrobe. But they were less emphatic about bib shorts as a go-to style, and actually recommended a handful of pairs without any overlap. So instead of naming a best overall, we're highlighting the most unique features of each to help you choose the right pair. Cyclist Brooklyn Bell has been biking on mountain trails near her home for five years now and says her favorite bottoms are these longer ones from Patagonia, which come with a removable padded liner that make them essentially two shorts for the price of one. "They wick moisture super-well, are really lightweight and stretchy, and move well with my body," Bell says. She adds that the padding supports her on "long rides that are bumpy and rocky," while the outer layer keeps her dry. "We get a lot of rain where I live in the Pacific Northwest," she says, "and these always dry over the course of my ride."
Best longer women's bike shorts
Adventure journalist and avid mountain biker Morgan Tilton told us these wind-resistant, water-repellent, and moisture-wicking shorts from cycling brand Norrona (which are designed for the slightly tougher conditions of mountain biking) are her go-tos. "The length is slightly longer than most other shorts, so the top of my knees are protected from the sun, wind, rain, and shrubs," she explains. "The extra material contours the knee, too, so the fabric doesn't feel floppy." Most important, she says, the shorts' waist is "very comfortable, with zero pressure points, and adjustable via two Velcro bands — plus the seamless snap closure never pops open."
Best women's bib bike shorts
While we didn't hear about a lot of women's bib bottoms, Carolyn Carter, a cyclist of four years (who started riding in Ohio before moving to, and biking in, Los Angeles) recommends this pair from Pearl iZumi to anyone looking for the most aerodynamic cycling bottom. It has a padded interior and the signature shoulder straps to hold everything comfortably in place. Plus, Carter adds, these "match everything else I ride in."
Best not-so-tight women's bike shorts
Nicky Ruskowski, an endurance cyclist who works as as a health educator, also told us that newcomers who don't want to wear tight bike clothing may want to look at mountain-biking shorts because, while baggier, they're still made for biking, so they're both casual enough to wear around town and still thoughtfully designed for a comfortable ride. While these don't come with padding, Ruskowski says that they are her "favorite biking shorts: They're really good quality, stand up to wear and tear, and don't rip when you scrape them against branches."
Best women's bike skirt
Rachel Clark, a floral designer and the owner of Dearest Rachel, told us she's been recreationally riding for seven years. Because she often is biking to client meetings and drop-offs, her "struggle is riding comfortably while still looking fashionable." While made for playing tennis, Clark says this Nike skirt is the best bottom she's found for her day-to-day cycling. "It doesn't make me hot, and because it has a liner, I don't have to worry about accidentally flashing someone, which was a problem when I first started riding." The skirt doesn't have extra padding, but she says that, "for the riding I do, which is 5 to 6 miles at a time with intervals, it's my favorite."
Best women's shirts for bicycling
Best overall women's bike shirt
Bell's favorite cycling jersey is also made by Patagonia. She particularly likes it for its merino-wool construction, which she says makes it wearable year-round: It "cools you when you're hot, and heats you when you're cold," as she puts it. What's more, the wool "dries out so much better than other materials," she promises. And, important for some, "Patagonia's bike clothes are still casual enough to bop around a bit after riding," Bell adds. It's for these reasons — but mostly the year-round wear — we're naming this best overall.
Best less-expensive women's bike shirt
This Pearl iZumi jersey is one of the most popular jerseys among the women who shop at CycleMania, Sawyer says, because it's not too expensive and has all the quality riders have come to expect from the brand, including breathable, moisture-wicking fabric and reflective elements that make you easier to see as you ride.
Best less-expensive (brightly colored) women's bike shirt
Speaking of making you easier to see, Carter told us cycling brand Fitter's jerseys are her favorite in part because she "really likes the bright colors." She says their unisex claim initially made her worry they'd be ill-fitting, but that proved not to be the case at all. "I'm tall, and they fit me and another much shorter female friend perfectly," she says. She now owns three of them, telling us the jerseys are made with "good fabrics, have deep pockets, and are really light."
Best women's outerwear for bicycling
Best women's bike vest
When Carter lived in Ohio, she says that she often wore this "really well-designed" vest from Castelli, which she'll still throw on when its colder in her current home of L.A. "It's compact, but then as you warm up really fast, you can take it off and shove it in your pockets."
Best women's bike jacket
When the weather calls for more than a vest, "having a good-quality waterproof jacket is so important," Ruskowski says. "Something you can take off and fold down really small, that has longer fabric and no hood, because hoods flap in the wind and are super-annoying. You also want pockets in the back." Her favorite cycling jacket, from Pearl iZumi, boasts all of these features.
Most stylish women's bike jacket
Selzer says this cool-looking jacket from Cafe Du Cycliste — "the other CDC" — is always well received when he recommends it to shoppers. He describes the quilted jacket as "like a regular puffer, but cycling-specific, with the right proportions for women's bodies and cycling positions." He adds that, inside, it is lined in a "brushed Lycra that has a fleece feel to it, but it still wicks exceptionally well," calling it the perfect midweight jacket for women. (For anyone who thinks they need something more heavy duty, Selzer suggests checking out the brand's "100 percent windproof" Albertine jacket.)
Best women's accessories for bicycling
In this era of social distancing, Tilton says she's found a face mask she actually likes to wear while riding. "The elastic ear loops are stretchy, soft, and don't pinch my ears even after hours of use," she says, adding that "the polyester-spandex fabric is constructed to fit over the shape of a face, so there's no useless material." Crucially, she says she can also "actually breathe with the mask on, even during intense rides."
Many of our women cyclists, just like their male counterparts, told us about certain pairs of socks that are key to their biking outfits. Tilton likes this pair from cycling brand Velocio. "When I ride, I sweat a lot, including my feet." She describes this pair as "like a refined women's dress sock yet reinforced for miles outside," adding that the fabric is ultralightweight and that the socks have a "mesh band across the top of the foot for breathability and cuffs that sit nearly seven inches above the ankle — and stay put." What's more, she promises that these "don't hold stench even after multiple days of wear."
Bell — like Strategist editors and Mayor Pete Buttigieg — loves to wear socks from Darn Tough. "These are merino wool," she notes, and wick moisture really well, allowing her to "keep me warm without becoming super-stinky."
Like Evans, Ruskowski also prefers to wear "arm warmers as opposed to a base layer because you can take them off easily mid-ride." Her favorites are from Bontrager, and once they've done their job on cooler days, she says she can just "roll them down and put them in my pocket."
Photo: Retailer
Selzer likes these Pearl iZumi gloves because their construction shows the brand thought about the differences between male and female hands. "We used to complain that companies would just 'shrink it and pink it' to make women's gear, but Pearl iZumi doesn't just put the men's palm pads in the women's gloves and size them up. Instead, their palm pads are smaller, because women tend to have smaller hands."
The Strategist is designed to surface the most useful, expert recommendations for things to buy across the vast e-commerce landscape. Some of our latest conquests include the best acne treatments, rolling luggage, pillows for side sleepers, natural anxiety remedies, and bath towels. We update links when possible, but note that deals can expire and all prices are subject to change.