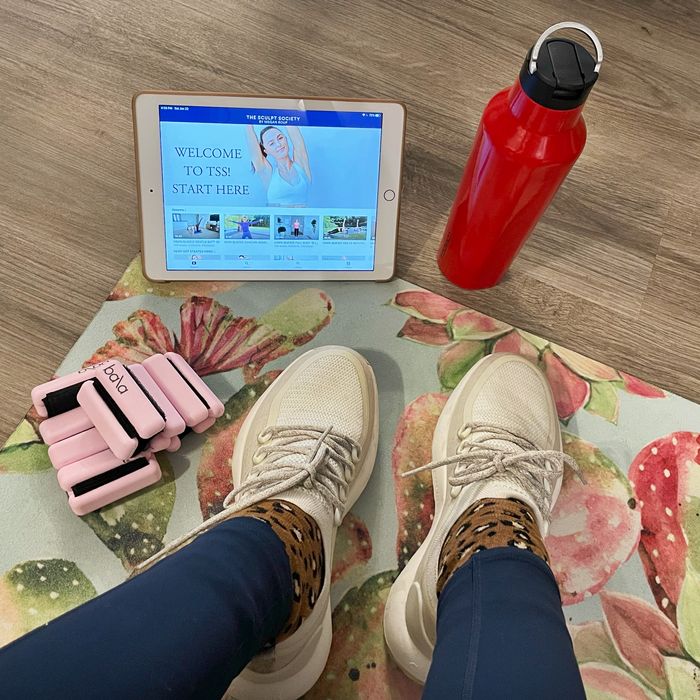 I never thought to compare my butt to anyone else's until the popular girl in my middle-school class, who was sadly already relentlessly nitpicky about her body, stood on the benches in the girls' locker room and told us she has a butt that looked just like Snooki's. "I have the best butt in our class," she added. As a confused 13-year-old, I wondered what celebrity my butt looked like. (I barely had one.) The more I thought about it, the more I stopped dreaming about the day my braces would come off and instead wished for a booty just like the pop stars I loved at the moment: Britney Spears, Christina Aguilera, Rihanna, Gwen Stefani, even Jennifer Lopez.
As I got older, I learned just how commonplace this comparison game actually was. And I probably don't have to tell you how harmful this mindset can be, especially when it starts at such a young age. It took me years to step out of that frame of mind, and part of it just came with growing up. My body began to change: My hips grew wider, so subsequently, my butt got bigger. I was no longer the shapeless tween girl who once wished for curves. Even through all this transformation and acceptance, part of me still longed for that "pop star" booty: a perfectly smooth shape that was just as firm as it was lifted regardless of how big or small it actually was. I didn't want it to look like anyone's butt in particular, I just wanted my butt to look like itself, only better. My goal was for it to noticeably say, "Yes, I squat." And it wasn't until I started using the Sculpt Society, a subscription fitness app, two years ago that I actually started to see the results I wanted.
I had used subscriptions like Ballet Beautiful and Down Dog, along with a few free trials here and there, but I felt bored after a while — they all repeated the same moves so regularly that it became hard to distinguish the difference between each video. One fitness-obsessed friend posted a photo of herself after a Sculpt Society workout, singing its praises for being fun but actually challenging. When I asked why she liked it, she told me, "Megan is just not like other instructors, I can't explain it, you really have to just try it." She raved about how toned her back and arms were, but most importantly, her butt was "literally so firm." I wanted a "literally so firm" butt, so I signed up.
Photo: The Sculpt Society
Megan Roup, the founder of TSS (as she calls it), danced for the Brooklyn Nets and even taught at some other well-known workout subscription services before setting out on her own. She's cool and relatable and extremely in shape. Plus, because she was a former dancer, she herself has the aforementioned pop-star booty. Her no-equipment-required routines center on a combination of dance cardio and sculpting. They're not easy (after a 45-minute workout, I'm dripping sweat), but somehow Megan makes it fun — she's like a modern-day Jane Fonda. As I've written before, she's best described as that active best friend who persuades you to work out with her. She's not overly peppy and nothing like a drill sergeant; she hits that sweet spot of an informative trainer who pushes you to do your best without making you feel down about your abilities.
Her workouts are also not about losing weight. She focuses on toning the muscles, like the glutes, to make you stronger rather than trying to quickly burn calories and fat. Her full-body routines do include a good amount of glute-enhancing moves, but her butt-specific options are really what makes the difference. She has an entire category of more than 30 different butt-specific workouts called "quickie butt." Most of them are around 10 to 15 minutes, but she packs a lot into that short amount of time: multiple rounds of leg lifts, leg pulls, pulses, squats, and moves I couldn't even name, all of which tone your glutes (and make you incredibly sore). She also constantly reminds you to squeeze your glutes to maximize the results.
And even though these are videos that thousands have access to (you just have to subscribe to use her content), it feels like a personal experience. Like a social-media algorithm, sometimes I think Megan is actually listening to me (she's not), because as soon as I feel like I want to give up or skip out on the last four leg lifts, she encourages me to keep going as if she knew at that exact moment I would want to stop. Because I don't want to disappoint her, as ridiculous as it sounds, I keep going, and typically, I'm glad I did. Her big saying is, "Do what feels good for you," so when a move feels too advanced, she shows you how to alter it to suit your skill level and encourages you to slow down if you're feeling tired.
To this day, I work out with Megan at least three times a week. My stomach certainly isn't two sit-ups away from a six-pack, and I truthfully haven't lost a noticeable amount of weight (not that that was the point to begin with), but I feel so much stronger and toned overall. And I finally have my holy-grail butt: firm and lifted with a plump, curved shape that looks good in everything from sweats to high-waisted jeans to leggings. Best of all, though? I now also have the pop-star-type confidence that comes from feeling really good about myself in a way 13-year-old me would be proud of.
The Strategist is designed to surface the most useful, expert recommendations for things to buy across the vast e-commerce landscape. Some of our latest conquests include the best acne treatments, rolling luggage, pillows for side sleepers, natural anxiety remedies, and bath towels. We update links when possible, but note that deals can expire and all prices are subject to change.