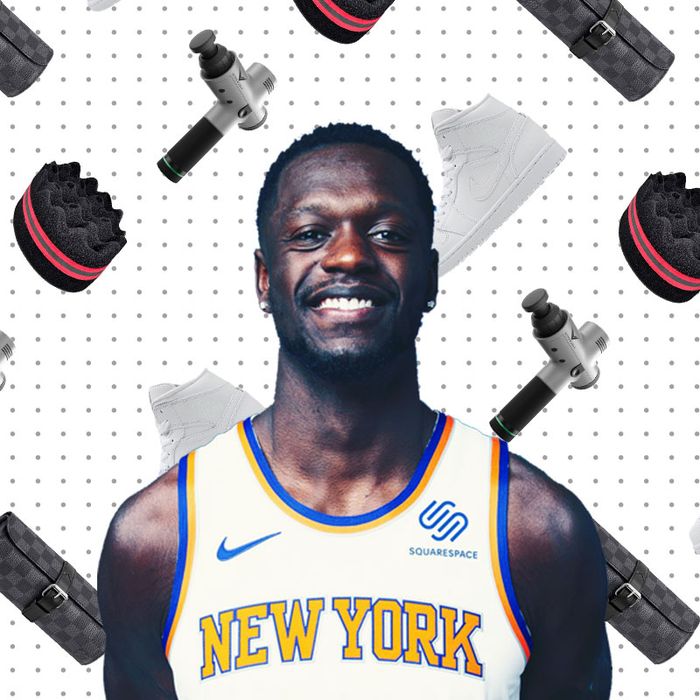 Photo: Courtesy of the subject
If you're like us, you've probably wondered what famous people add to their carts. Not the JAR brooch and Louis XV chair, but the hand sanitizer and the electric toothbrush. We asked New York Knicks center Julius Randle about the watch case, speaker, and book he can't live without.
I put Cholula on everything. I put it on eggs, I put it on pasta, it doesn't matter what it is. I've got a teammate, Jordan Clarkson, and we're both from Texas. I never really liked hot sauce, then Jordan introduced me to it. Cholula, for me, is not as hot as other hot sauces — it's kind of mild — and now I use it for everything.
Basically, I use it to make me look good! When you use it, you look good, you feel good, you play good. It's literally like a sponge for your hair; it makes your hair look curly and gives your hair a certain texture. You can use it in the morning before you get ready, and before you go out to a game. Whenever you're about to be somewhere where you need to present yourself in a respectable manner and you need to look good, you use the sponge. Honestly, if you ask any athlete about it, I'll guarantee you they're going to know about it. It took over a couple years ago, and now it's everywhere. I guarantee you other people on the Knicks use it, too.
Air Jordan 1's go with anything. You can dress them up or dress them down. I can wear them just walking around, or I can wear them when I'm going to dinner. You can wear them with slacks for dressing up. Jordan 1's just go good with anything. I've got them in a bunch of different colors.
It was a great book. My driver in L.A. recommended it to me. It definitely opened my mind up as far as how to think on everyday life. It just got me to think really positively — self-affirmation type things, where you speak things into existence. In the book, it's all connected as far as speaking things into existence — whether you're talking about what you want out of life, or work, or relationships, or whatever. You get positive results by first thinking positive things. I became a really big believer in that and meditation. It's a book that I can open up at any time and read and it makes you feel good.
A year and a half, two years ago, I really started getting interested in wine. My teammate in New Orleans Anthony Davis introduced me to this wine. I didn't really like red wine, and this immediately opened my mind. Red wine became my favorite because it was so smooth and I loved it. I actually took a trip to Napa this summer — that was a great experience, and now I'm trying to become a wine connoisseur. I love trying all different kinds of wine, so Caymus is definitely an essential for me when I'm traveling or at home and relaxing. I'd have it with steak or Italian food.
For me, this is a road essential. When I'm in a room I love to listen to music, whether it's before bed or getting ready for the game. I just love music in general, blasting music — chances are if you're walking down the hallway and there's loud music playing, it's probably coming from my room. Before a game, I'll listen to Nipsey Hussle, Jay-Z, Future, or Wale, depending on how I'm feeling.
We travel a lot, we play a lot, we do a lot of wear and tear on our bodies, and when we don't have our athletic trainers or massage therapists this is an effective way to do some self-maintenance. It's kind of like a vibrating massaging tool, and you basically use it on sore muscles to work the kinks out. You can use it before a workout to get warmed up and get your body going, and you can use it after a workout. I've dealt with plantar fasciitis before, so I use it to kind of massage the bottom of my foot and my heels to get my feet going when I get out of bed in the morning.