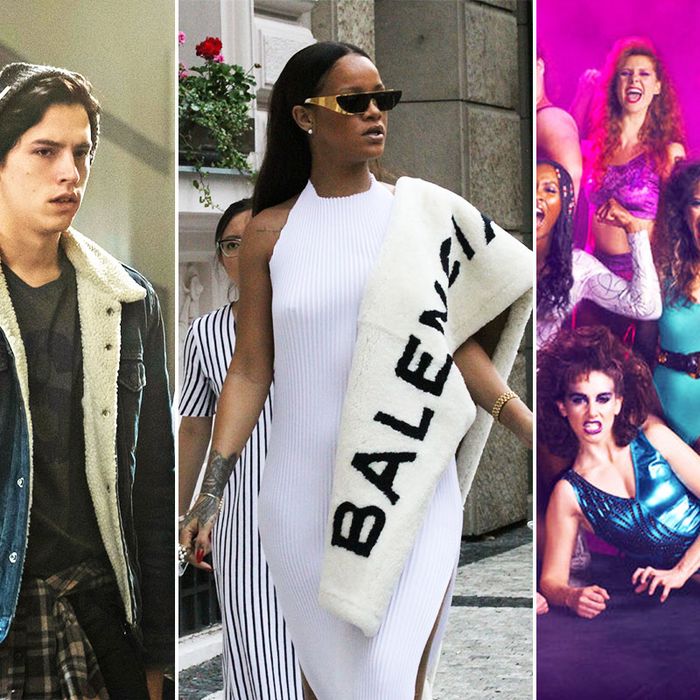 Pick your pop-culture reference: Jughead, Rihanna with fur, or GLOW.
Surprise, surprise. Halloween is less than a week away and you have no idea what your costume is nor the time and energy to pull a good one together. Never fear! We've combed Amazon, and pulled together a bunch of clever, topical (thotty, irreverent, terrifying, hilarious — take your pick) costumes that can be delivered Next Day.
Some may argue that draping a sheet over your head and shuffling around silently is "lazy." But when it's inspired by the over-bloated, pretentious indie film, A Ghost Story, suddenly your costume because a "graceful meditation on grief and loss that plebes just didn't get." Important note: Do not select a white bedsheet — there's a fine, fine line between "art-house ghost" and "KKK member."
Couple's Upgrade: Have your partner carry a pie tin while he or she quietly sobs and shovels chocolate-cream pie into their mouth all night.
Every nerd who has been planning their costume since the Fourth of July is going to be an elaborate (and let's face it, totally alienating) Pennywise. Yawn. If you'd like to pay tribute to the classic horror-movie reboot, how about a creative and definitely twisted option: the film's first victim. It's the adorable, lovable, far too trusting Georgie! Just make sure to add some fake blood so it looks like your arm was ripped off.
Buy some mini-Hypebeast gear and pay tribute to the only man who can really win Rihanna's heart, the true king of summer: Baby Asahd Khaled. Sure your bling will never be as expensive as his, but at least you can afford the same track pants as this 1-year-old.
Easy Couple's Upgrade: Have your partner wear the exact same outfit, and insist on Snapchatting/Instagramming/tweeting pictures of you all night.
Haven't you heard? All the kids on Riverdale are super hot (and super horny), but Jughead, with his 2017 emo upgrade might be the hottest of them all. Sorry, Archie.
It might be tough to differentiate between all of Ryan Gosling's cool jackets (see the red number in The Place Beyond the Pines and the satin bomber in Drive), so just walk around chanting "Cells. Interlinked. Cells. Cells," and carry a copy of Nabokov's Pale Fire to really drive it home.
Before you say "isn't this just an excuse to look hot in some freakum gear" just remember that Fashion Nova's distinct, butt-centric Instagram presence has made it a favorite brand of celebrities like the Kardashian-Jenner clan, Cardi B., and Beyoncé. And yes, you little thot-pocket, your ass will look fantastic in this costume.