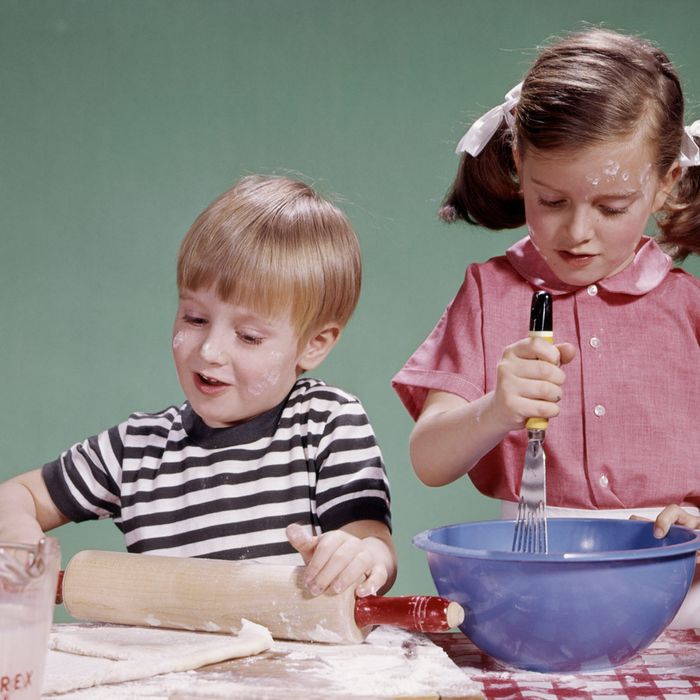 If you've ever tried looking for kid-friendly recipes online, you know how hard it can be to find recipes for kids to make that everyone in the family will actually enjoy eating, yet are simple enough for a child to help make. And though there are plenty of them out there, most kids' cookbooks aren't very helpful either. They can be gimmicky, with stunt foods rather than real food, or recipes that are so oversimplified that they're confusing even for an adult who's got a handle on the basics.
That's why I asked chefs with children to share the cookbooks they use in their own kitchens when making meals as a family, along with the titles their own kids like reading. So whether you've got a child or teenager in your life who's interested in cooking and wants to learn more, a burgeoning little foodie in a high chair who needs a gift, or you're just in desperate need of easy dinner recipes for kids that you can make together as a family, here are 17 chef-approved children's cookbooks.
"Every kid loves pizza, and ours is no exception," says Vanessa Palazio, executive chef and co-owner of the recently opened Chicha Cafetín and Cocktails in Bushwick, which she owns with her husband, Adam Schneider. But their 2-year-old son Luca is too young to really cook, so they'll read Pizza!: An Interactive Recipe Book, which lets him pretend to do a lot of the heavy lifting. "Each step has different textures and actions that mimic making real pizza, like mixing the dry ingredients, the pliable dough, and the cut segments at the end," explains Palazio. It's like letting a toddler cook, but without the mess.
The author of Pizza! also wrote Tacos!, which goes step-by-step into making chicken tacos.
If your toddler is more of a breakfast person, there's also Pancakes!
If you're trying to make an edible pizza with your toddler, chef Dave Warner, at JRDN at Tower 23 Hotel in San Diego, California, likes reading Little Belly Monster with his 4- and 2-year-old sons. The book goes step-by-step, giving his young ones a chance to actually cook if they want and teaching them the importance of using what Warner calls "wholesome" ingredients — though it can also be enjoyed as a stand-alone picture book.
Anthony Falco, the pizza consultant at Bocce Union Square, has kids who are also obsessed with pizza, so he and his wife read them books about pizza when they tuck them in for the night. "We've recently been into a fun one called Tony and the Pizza Champions, by Tony Gemignani." And though it's more of a bedtime book than a proper cookbook, it's still got "some killer recipes and pizza-making illustrations."