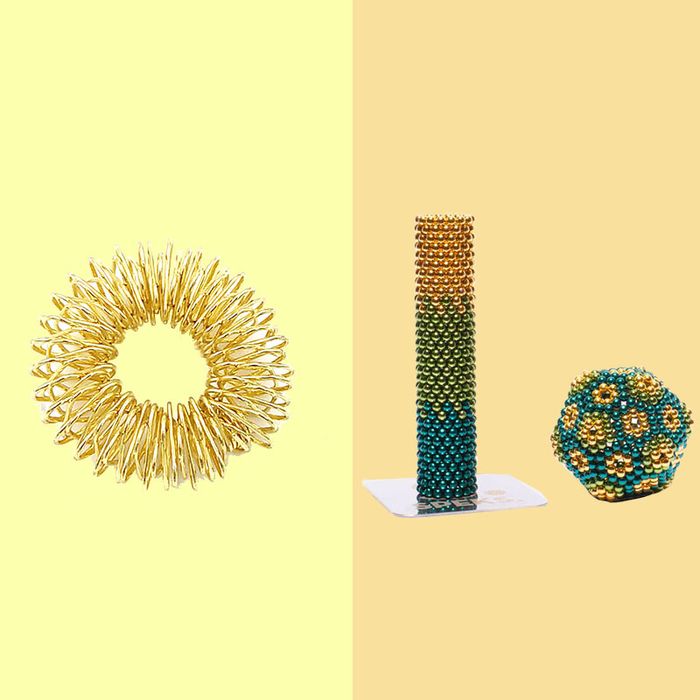 Photo-Illustration: The Strategist; Photos: Retailers
In our advice column, "Ask the Strategist," we take your most burning shopping questions and survey friends, call up experts, and draw on our own personal experience to answer them. If you have an online-shopping question of your own, please send it to strategist@nymag.com with the subject "Ask the Strategist." We're here to help.
I fidget — a lot. And especially working from home, having something to do with my hands helps me stay focused during long Zoom calls. But right now I just have a gum eraser thing and it's kind of gross. Most of the things that are marketed as "fidget toys" (like the popper things or spinners) aren't very satisfying to me. I love an old-school stress ball but want to find something more design-y or that's more flexible, maybe with moving parts.
As someone who suffers from anxiety and doesn't always love being on camera, I also find it hard to focus during long Zoom meetings. I tend to doodle or pet my dog to ground myself and concentrate on work. Other people find focus by chewing gum, tapping their feet, squishing kinetic sand, or squeezing a stress ball like the old-school variety you mentioned. And occupational therapists often use fidgets that provide sensory feedback to help their patients focus while at work or in the classroom. Julie Schweitzer, a neuroscientist and professor of psychiatry and behavioral sciences at UC Davis Health in Sacramento, California, is currently working with researchers at UC Santa Cruz to study the effects of fidgeting (with or without the help of a fidget device) on people with ADHD. But she says you don't have to have ADHD to benefit from fidgeting, and that it can help with attentiveness as well as regulating emotions like stress and anxiety. When it comes to what kind of fidget is best, she encourages people to test out a few different things and systematically take note of what helps the most.
So far it sounds like what works best for you is the sensation of squeezing or pulling rather than spinning and popping. So I started my search by looking for something to replace your gum eraser. At first, I thought you might like "thinking putty," which comes in lots of cool colors and looks like a less gloopy version of slime. But when I showed it to my fiancé, a fourth-grade teacher who spends a good amount of time recommending fidgets to the parents of his students, he worried that it might be too sticky. Plus some of the reviews on Amazon warn that it can get stuck on clothes, which might add to your stress rather than relieve it. Next, he asked me to move over, took control of my laptop, and started googling "OT therapy putty."
From that search, this set of four tubs of putty is his recommendation. He likes that you get four different colors and four different densities — extra-soft, soft, medium, and firm — and notes that unlike slime or other putties made for kids, this won't stick to your hands or your clothing. While the varying densities are designed with hand rehabilitation and muscle strengthening in mind, they also provide different sensations to fidget with, so you can choose your favorite or rotate through all four.
Since you mentioned liking old-school stress balls, I asked him to recommend some that would work for fidgeting during meetings. He found this set of balls that are covered in a slinky fabric and also vary in density from soft to firm. The set has more than 2,000 five-star ratings on Amazon, and while they aren't the most stylish option, they do come in a handful of pleasing colors.
From there I took back the reins and went looking for something so aesthetically pleasing it could double as desk decor. I found it in these silicone stress balls from Speks, a brand that also makes sets of wildly popular (and Strategist-approved) magnetic balls. Everything from the blobby shapes to the jewel tones to the matte texture of the silicone makes me want to reach out and touch these squishy fidgets. Do they look a tiny bit like minimalist sex toys? Yes. For one thing, the aesthetic goals are somewhat aligned — both are meant to encourage relaxation and a sense of calm, and both might pass as home decor. But they don't look so much like a vibrator or a butt plug that you should be nervous about a co-worker noticing one on your desk. I am seriously considering buying the green one that looks like a planet with six orbiting moons, as well as the one that looks like a reimagined Koosh ball.
If you can't unsee the adult-toy similarities, Speks also makes this eight-piece magnetic desk toy that you can combine in different ways to create little bendy sculptures. Like the Speks Blots, these pieces, called Fleks, are made of soft silicone. Magnets at each end let you snap them together and to the included steel base. But you don't have to use them with the base at all; you can simply play with the feeling of snapping the magnets together and pulling them apart over and over again.
In 2017, features editor Katy Schneider wrote about finding relief for her "incorrigible" restless hands in a set of Speks magnetic balls. While other devices designed for fidgeters left her disappointed or with hands that smelled like imitation vanilla, these kept her hands busy for hours. "Each ball detaches from the last, which means you can do anything with them: build them into a little marble house; flatten them into a square; form a long, single strand and wrap it around your wrist or your fingers — all while taking phone calls, reading emails, and even sitting in long meetings," she says. Just writing this, I am tempted to buy some. Speks has since broadened its offering to include tons of different colors, from full-spectrum rainbow sets to slightly more subdued palettes like this green and gold one.
I know you said you found spinners distracting. But this spinning anxiety ring was recommended by Jessica Biren Caverly, a licensed psychologist with Western Connecticut Behavioral Health, as one of her new favorite fidgets because it's discreet and not distracting. She says, "I wear it on my finger during endless Zoom meetings or when I testify in court. It keeps my fingers moving and makes me so much more attentive." I was surprised to see that it is made of sterling silver, giving it a degree of quality most fidgets don't have.
Another fidget that could pass for jewelry is this spiky sensory ring that I use to calm my nerves anytime I am anticipating a stressful event like a medical procedure or an interview with a celebrity. As you roll the ring back and forth along your fingers, the spikes create what I would describe as a hard tingle. For what it's worth, I am easily creeped out by light feathery sensations but find a slightly painful, poke-y touch calming. If you feel that way too, this ring is worth checking out.
The Strategist is designed to surface the most useful, expert recommendations for things to buy across the vast e-commerce landscape. Some of our latest conquests include the best acne treatments, rolling luggage, pillows for side sleepers, natural anxiety remedies, and bath towels. We update links when possible, but note that deals can expire and all prices are subject to change.