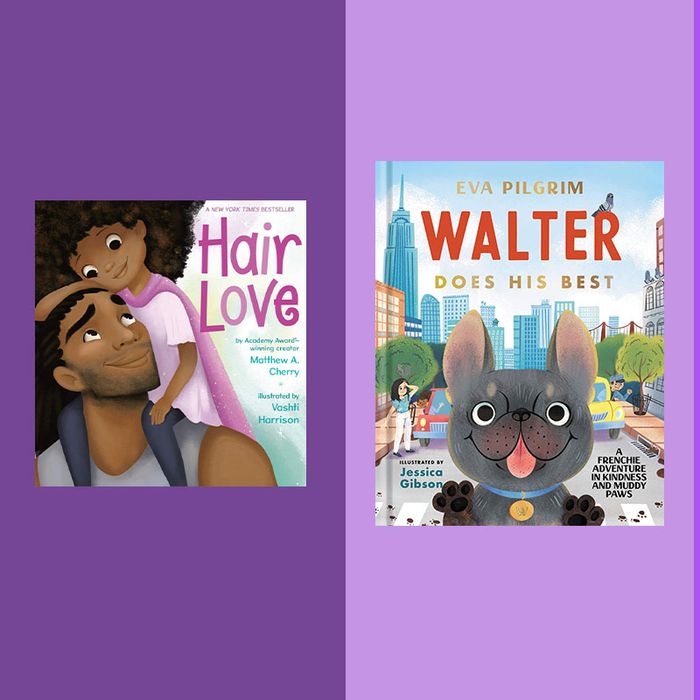 Photo: courtesy of retailer
In first grade, most children are starting to learn to read on their own. But because their abilities and interest in reading at this age can vary like crazy, Leigh Fox, a children's librarian with the Brooklyn Public Library, "highly encourages" parents and caregivers to continue to read aloud to their first-graders, even as they learn to flip through pages themselves. When reading aloud, Fox suggests incorporating a "variety of stories and formats," including longer chapter books, nonfiction, graphic novels, and picture books, "to best excite them about reading and make it a positive experience."
When it comes to books the 6- and 7-year-olds in your life read on their own, Carly Lemire, head of youth services at Blackstone Library in Branford, Connecticut, recommends using the "five-finger test," rather than grade level, to more accurately choose titles that help instill confidence in young readers. Conducting the five-finger test is simple, she explains: "Open a book to any page and have your child read that page. If there are five or more words that they have difficulty with, then that book is a little too hard for them," in which case you should either pick something a little easier or read it aloud to them until they are ready to read it themselves.
In terms of subject matter, our experts generally agreed that the best books for any first-grader are the ones they love the most — no matter how silly the story may seem. "Any book that a kid likes to read is one that is going to help make them a lifelong reader," explains Maggie Levine, a children's librarian with the Boston Public Library. And no matter how well-stocked their school library might be, it's never too soon to expand their horizons even further by choosing books that depict children of many different ethnicities and cultures, says Kazz Alexander Pinkard, executive director of Hit the Books, an after-school nonprofit in Harlem. "I think that that level of exposure is really important," he says.
To help narrow the field, however, we talked to Fox, Lemire, Levine, Pinkard, and five other librarians and educators about their favorite books for kids in first grade. Read on for their picks, which include books to read together, easy-reader books, early chapter books, and even some of the most popular titles as determined by actual 6- and 7-year-olds.
Best books to read to a first-grader
Four of the people we talked to — Lemire; Faith Ward, a middle-school librarian at Baltimore's Gilman School; Rouhama Garelick, the director of Walder Education; and Emily Levitt, VP of education at Sylvan Learning — specifically recommend Willems's picture book about a grumpy pigeon as one to read aloud to a first-grader. Levitt loves how the pigeon's behavior mirrors that of many kids at this age, and how the bus-driver character breaks the fourth wall to involve the reader. "I love it for this age because the concept is zany and the story is hilarious. Both parent and child will relate to Pigeon's pleas to drive the bus. It has all the necessary ingredients for a winning first grade children's book." Although only half of our experts chose this specific title, nearly all of them recommended reading something written by Mo Willems aloud, raising this to the top of our read-aloud list. Lindsy Serrano, a librarian at St. Francis School in Kentucky, credits Willems's use of catchy graphics paired with minimal text in different sizes "to display different emotional levels."
Andrea Beaty's picture book about a burgeoning scientist is the third in her series of best-selling STEM-themed children's books and, like the Willems title above, also came recommended by four of our experts as a wonderful read-aloud book for any first-grader. "Ada questions everything and experiments constantly," says Levitt, who told us she appreciates the book's "up-close view of the scientific method and excellent representation of children of color engaged in STEM." Lemire; Brooklyn Public Library librarian Yesha Naik; and Mollie Welsh Kruger, a professor at the Bank Street College of Education who teaches a course in children's literature, all suggested Ada Twist as well. If that's not enough to convince you, Netflix recently released an animated series inspired by Ada Twist, making the character a celebrity in many kids' eyes.
Also recommended by four of our experts — Naik, Ward, Lemire, and Serrano — is this story about a boy who loves mermaids. Naik loves the book's "fluid, colorful illustrations," and Serrano says she uses it during story time because of the way it "defies male expectations and stereotypes."
For 6- and 7-year-olds who are fascinated by anything for older kids, the Dog Man series by Pilkey — the author of the wildly popular Captain Underpants franchise — is a great set of books to grow into, according to Lemire, Serrano, Fox, and Lisa Goldstein, another librarian with the Brooklyn Public Library. They all say first-graders love Dog Man because of its big-kid feel and subversive humor. Even though these books are probably a bit too hard for most first-graders to read on their own, graphic novels like these are really popular at this age, according to Serrano, and are generally a fun way to excite young readers. Goldstein agrees, calling the Dog Man books "an exciting boundary-pusher for younger kids."
Another book first-graders find hilarious is The Book With No Pictures, which was written by The Office star turned kids' author B. J. Novak and came recommended by Levitt and Serrano. Devoid of illustrations and designed to be read aloud or in groups, this book is popular because it's full of onomatopoeia and alliteration, forcing the person reading it to say silly things. Levitt likes that it teaches vocabulary while encouraging children to use their imaginations. Serrano says that when she reads it at story time, "kids are rolling on the floor laughing."
This book, by award-winning author-illustrator Ryan T. Higgins, came recommended by Welsh Kruger and Lemire. We Don't Eat Our Classmates is also one of the four 2019 winners of the Irma Black Award, an honor determined by an annual vote cast by first- and second-grade children from around the world. Welsh Kruger says that in the past few years, humorous books like this and Novak's have had "a bit of a winning streak, because kids at that age particularly like humor."
For first-grade readers, Pinkard always recommends The Day the Crayons Quit and its sequel The Day the Crayons Came Home because they have wonderful, diverse characters that reflect different personalities. "I love the idea of the crayons and the rainbow reflecting the differences between people and attitudes and roles in society," he says. In addition, the text switches between multiple fonts, which has real-world applications: The more often kids see the same words written in cursive and print, the better they'll become at reading with fluency.
Levine told us that she loves the illustrator Christian Robinson, and that this picture book and DiPucchio's sequel entitled Antoinette — both of which feature Robinson's artwork — are her favorite books to give as gifts. Serrano also recommends Gaston, which tells the story of a French bulldog and a poodle switched at birth, because it has sparked interesting conversations among her kindergarteners about what makes a family.
Photo: Retailer
Pinkard is a huge fan of Walter, a book about a mischievous dog who runs amuck in New York City. "I love all books about New York City, and I think Walter is a perfect book for students to learn vocabulary, but also to learn about the city sounds and how to describe them," he says. These city onomatopoeia like "screech, honk, and splash" are fun to read aloud and help children sound things out. According to Pinkard, remote schooling during the pandemic has created gaps in early reading development for things like phonemic awareness among kindergarteners and first-graders. One way to help kids catch up is by focusing on books like Walter that depict elements of life they can relate to, while helping them with the phonics and word recognition necessary for them to move forward.
Both Ward and Lemire recommend Maurice Sendak's classic title as one you should still make space for on your kid's bookshelf. Ward likes that it shows how children and parents sometimes disagree and how, using his imagination, protagonist Max finds a way to escape when angry. But, in the end, when that anger has passed, he just wants to be back home.
Photo: Retailer
"I see many of our young boys and girls running to books like Hair Love because they feel like it depicts them," says Pinkard. The book, which was made into an Oscar-winning movie, tells the story of a Black father who has to learn how to give his daughter an extra-special hairstyle for a big day. "One of our students, who is in second grade this year, literally jumped up when she saw this book and said, 'I love this book, it's about me and my dad.'"
Photo: Retailer
Pinkard also recommends the award-winning picture book The Proudest Blue as a great read-aloud book to help first-graders and their families learn more about Muslim heritage and culture. The vibrantly illustrated book by Olympic medalist and social-justice activist Ibtihaj Muhammad follows two sisters on their first day of school — and one's first day of hijab.
Best fiction books for first-graders to read
Fox, Lemire, Levine, and Welsh Kruger all recommend Frog and Toad Are Friends for children starting to read alone. Welsh Kruger told us that this book, and the whole Frog and Toad series, were part of a study that she and a colleague conducted on the best books for early readers. "We were trying to see what makes early readers worthwhile; in the end, this book seems to have hit the nail on the head." Levine calls the Frog and Toad series an "absolute classic" and says that she loves how the gentle adventures play out across several short stories, which helps encourage beginner readers who might feel overwhelmed by longer chapter books.
Another early-reader series that stars a memorable duo is Mo Willems's Elephant and Piggie books. Fox, Lemire, Serrano, and Levine told us that these books, which have no more than ten words per page, are easy and incredibly popular titles for new readers. Lemire says she can't keep them on the shelves, and Fox says kids love the "fun-filled antics between the beloved Gerald and Piggie." Serrano specifically recommended this book from the series because it's designed to introduce all kinds of good reading habits to kids, including predicting outcomes and the concept of reading a book more than once — therefore encouraging reading for pleasure. Like Frog and Toad, these familiar, funny characters and their recurring adventures make learning new words less scary to first-graders, according to our experts.
According to Jacob Cohen, a teacher in Brooklyn, the Fly Guy book series is crazy popular among first-graders (and some second-graders too) these days. "They're very competitive about collecting the whole set," he says. This easy reader series is full of funny drawings and slapstick scenarios, and it's perfect for independent reading time.
Best nonfiction book for first-graders
Levine, Welsh Kruger, Fox, and Lemire recommended this title by Steve Jenkins, an author they say is known for his nonfiction children's books. Fox says Actual Size is the perfect mix of attention-grabbing story and STEM concepts "such as size comparison and animal behavior." Levine adds that "Jenkins's books make animals and bodies accessible to kids." Welsh Kruger recommends this book for animal lovers in particular because of its "beautiful, ripped-paper collage" illustrations.
Photo: Retailer
Cohen says this giant illustrated encyclopedia about all things under the ocean (and underground) is among the books that first-graders are constantly drawn to. The book is reversible, so from one side you can explore double-page spreads about submarines and deep-sea life. Turn it around, and you'll get pages upon pages about volcanoes, burrowing animals, and man-made tunnels.
The Strategist is designed to surface the most useful, expert recommendations for things to buy across the vast e-commerce landscape. Some of our latest conquests include the best acne treatments, rolling luggage, pillows for side sleepers, natural anxiety remedies, and bath towels. We update links when possible, but note that deals can expire and all prices are subject to change.