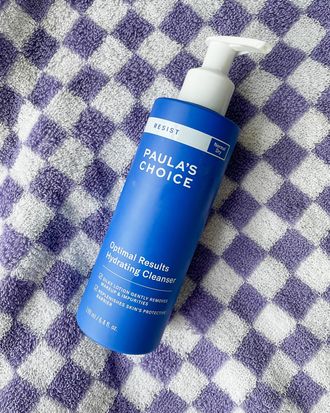 Photo: The Strategist; Photo:Courtesy
Cleansers are the unsung heroes of skincare. When folks are describing their routines, cleansers often go unmentioned. It's almost as if they're unexciting or tediously utilitarian in comparison to all their other exciting new serums or fancy exfoliators that make up a routine.
But the truth is, if there is something you should be diligent about in your skincare routine, it's cleansing (it's right up there with applying sunscreen.) Now I understand that putting a ton of care into your cleanser can seem like just another thing to fuss over. But if pollutants, sweat, and bacteria, among other things, aren't properly removed from your skin, not only will your products have trouble penetrating, your skin is more likely to develop future skin issues like breakouts, enlarged pores, and inflammation. There's a reason cleansing your skin is one of the earliest skincare habits you're taught by dermatologists and estheticians alike: It's one of the rare skincare steps that leans towards essential, rather than just indulgent — especially if acne is a primary concern of yours. All the other products in your routine are effectively useless if they're not applied to properly cleansed skin.
But you can't cleanse with just anything. If you struggle with dry or dehydrated skin, it's possible that you have, like me, had trouble finding a cleanser that works for you. Historically, I've had a Goldilocks issue: I'll buy a gel or foam based cleanser that does a wonderful job of removing makeup and sweat, but the strong surfactants (which create that sudsy foam that helps give your skin a good clean) dry my skin out like crazy. Or, I'll find an excellent hydrating, milky cleanser (like CeraVe's Hydrating cleanser, for example) that leaves my skin feeling moisturized and supple, but I'll notice little bits of makeup left over that it didn't quite get to. I've long been on the hunt for a perfect in-between — a cleanser with a skin-quenching, moisturizing formula that actually takes off all of my makeup and sweat from the day and leaves my skin feeling clean.
I was scouring a skincare sub-Reddit a while back — as one does on a lazy Sunday — when I came across a recommendation for Paula's Choice Resist Anti-Aging Hydrating Cleanser. As a brand, Paula's Choice has long been a trusted staple in the beauty community — their formulas are straightforward, effective, and reasonably priced. It's one of those few brands that dermatologists and estheticians recommend time and time again. What I love most about Paula's Choice is their emphasis on skincare education (the brand founder Paula Begoun's career started through her blog Beautypedia, an ingredient glossary that helps explain common skincare ingredients) and that spirit has really translated over to her products. All this just to say, I have long loved Paula's Choice products —their vitamin C was one of the first I had ever tried and their BHA exfoliator is a product I recommend all the time to people struggling with oily or congested skin.
So when I saw that Paula's Choice had a formula that managed to be both effective, gentle, and elegantly formulated, I wasn't totally surprised. According to one redditor, this face wash was the only cleanser that was able to take off her foundation without irritating her sensitive, rosacea-prone skin. It only took a quick Google search to discover that it's also beloved by skincare guru Rene of the Gothamista YouTube channel — she praised it for its "very gentle" and "comforting" formula, which she claimed is perfect for wintertime. And as I did a scan of the ingredient list I was pleased to find many of my favorite calming and soothing ingredients like green tea extract and glycerin. And as far its cleaning agent goes, it uses surfactant decyl glucoside, which is derived from coconut oil and glucose, and is of the milder options available in skincare. While decyl glucoside still creates a kind of sudsy, cleansing effect, it's free of sulfates, making it much gentler and less stripping on the skin. Another cleansing ingredient I spotted was methyl glucose sesquistearate — it's both an emollient and a gentle emulsifier, so it manages to lock moisture into the skin while simultaneously cleansing it. This particular ingredient is known for its kindness to sensitive skin — in fact, it's often found in eye-safe cleansers — and it leaves behind a soft, satiny, hydrated feel. Convinced by the cocktail of gold-star ingredients and gentle surfactants, I added it to my cart.
I've now been using this cleanser for about three months and it's since become my go-to evening face wash (I usually just splash my face with water in the morning). When applied to dry skin, it almost feels like you're cleansing your face with a thick, gelatinous moisturizer — it's deeply hydrating, rich, and easily glides over the skin. Texturally, I found it was quite similar to Glossier's Milky Jelly, but I found the Paula's Choice formula to be much kinder to my skin (I always break out after using Glossier's cleanser, which I suspect is due to its use Rose Flower Water).
Once you're done massaging the cleanser into your skin (get into all the little nooks and crannies where makeup might be hiding), add water. The formula then turns into a lightweight milk that easily washes away, without leaving that sticky film that so many hydrating cleansers do. If it hurts to smile after I've washed my face, it's usually a sure sign that the cleanser I've used is too stripping on my skin. This Paula's Choice cleanser, however, does quite the opposite: It leaves my skin feeling bouncy, smooth, and moisturized. And as far as makeup goes, I did the classic towel test — I rubbed my face on my pristine, white towel and no traces of mascara or tinted moisturizer were left behind.
Throughout my career as a beauty writer, I've tried more products than I could even begin to count. So it is, admittedly, a little amusing that it's taken me this long to find a cleanser that works for my fussy, dry skin. But its ability to remove both foundation and mineral sunscreen, all while keeping my skin hydrated and soft, has won Paula's Choice Resist Anti-Aging Hydrating Cleanser a prime spot in my medicine cabinet.
The Strategist is designed to surface the most useful, expert recommendations for things to buy across the vast e-commerce landscape. Some of our latest conquests include the best acne treatments, rolling luggage, pillows for side sleepers, natural anxiety remedies, and bath towels. We update links when possible, but note that deals can expire and all prices are subject to change.