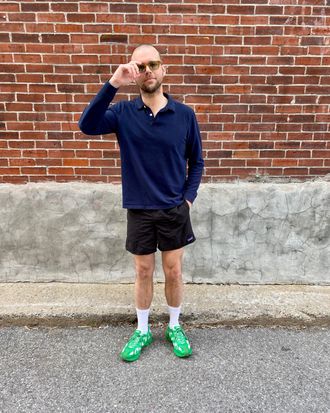 If you're looking for the most powerful hair dryer or the handiest chef's knife, those things can be easy enough to find. Other objects of desire are a little more taste-based. What's the next status water bottle or hand wash, for instance? If you have a burning question about the next fanny pack or Noah rugby shirt, Chris Black is here to answer it in a regular column.
What sort of snacks have you been indulging in during quarantine? 
Snacking is the enemy but unfortunately unavoidable when locked inside virtually all day. I am not going insane, but I am letting myself have a little something — especially on days when I burn more than 1,000 calories on a self-distanced outdoor run.
SkinnyPop popcorn is a go-to. It's light, vegan, gluten free, and certified kosher! Good luck not finishing an entire bag in one sitting. SMFH.
Organic nut butter is essential in any kitchen. My fave is this creamy almond butter from MaraNatha. Add it to a piece of Ezekiel bread with fresh berries, put it in a protein-packed smoothie, or take a couple of hits straight off the damn spoon. No rules, baby!
Almonds — specifically sprouted almonds — are the superior nut. I buy them from Nuts.com already sprouted (which means they've been soaked in water for a period of time), but you can also buy any regular raw almonds like these from Target and soak/sprout them yourself. Sprouted almonds taste just as great, and the soaking makes them easier to digest and chew.
Hippie Snacks Cauliflower Crisps absolutely slap. The crunch is sublime, and even though they are gluten free and vegan, they give off a little cheese flavor. A++!