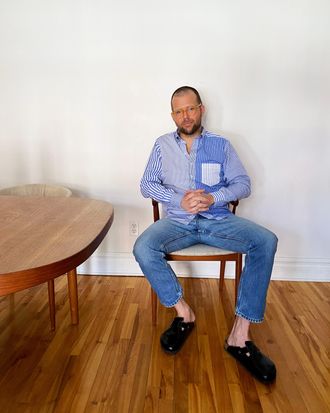 If you're looking for the most powerful hair dryer or the handiest chef's knife, those things can be easy enough to find. Other objects of desire are a little more taste-based. What's the next status water bottle or hand wash, for instance? If you have a burning question about the next fanny pack or Noah rugby shirt, Chris Black is here to answer it in a regular column.
What are you watching or streaming to pass the time these days?
What a time for streaming! I am a known cable television enthusiast, streaming … isn't my favorite, but desperate times call for drastic measures. Fire up the damn AppleTV. Don't worry; I am not going to recommend Tiger King or Friends. [A note that some of the services below offer free trials, and prices shown are for services' monthly subscriptions unless otherwise noted.]
I don't know about you, but I am feeling nostalgic. Too much idle time has me thinking about the shows I truly love. So I'm drawn to streaming some of the classics in full, front to back! Dawson's Creek still hits. Trust me. Pacey is always hot, and Dawson is still a dork. The quaint, sleepy setting and melodramatics feel like a warm hug right now.
Sex and the City is probably the most excellent show of all time. If you are a displaced New Yorker like me, nothing will make you miss home more. It's an excellent reminder of how glamorous and beautiful the city is. I will be reserving a table at Buddakan for after the isolation lifts. From Amazon, you can buy individual episodes from the series for $2 each, or full seasons for $15 apiece.
Veep is really really funny: I laugh out loud during every single episode. It mocks the political system in such a smart, cutting way. Julia Louis-Dreyfus is a national treasure. Watch every season. Laugh — so you don't cry! To watch on Hulu, you will need an additional $15 subscription on top of the service's basic $6 subscription.
Sports Night is a short-lived, half-hour comedy-drama from Aaron Sorkin, about a fictional sports-news show (rumored to be based on the SportsCenter team of Keith Olbermann and Dan Patrick). It might be some of Sorkin's best work. The show features Josh Charles, a favorite of mine (he's amazing in The Good Wife), starring as anchor Dan Rydell, a Connecticut-raised Dartmouth grad. The rapid-fire dialogue will keep you from dozing off on the couch while you're "working" from. From Amazon, you can buy individual episodes from the series for $1 each, or full seasons for $15 apiece.