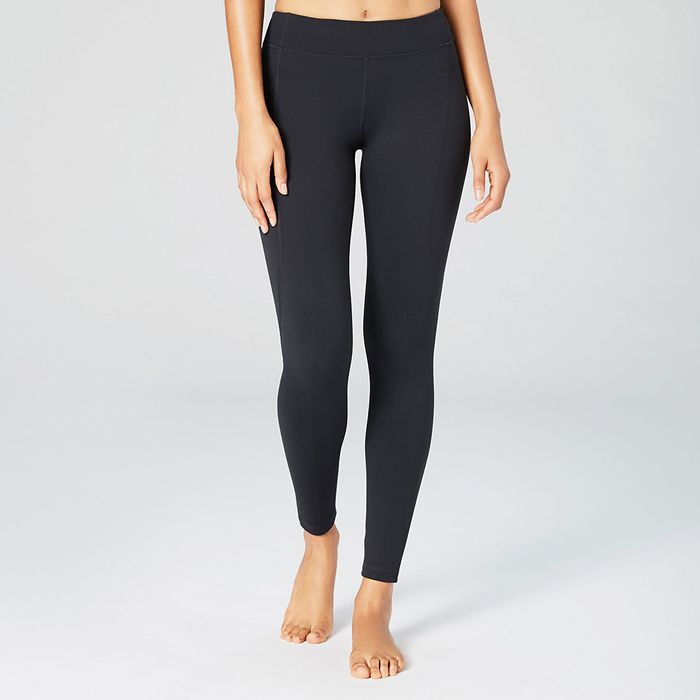 The way my seven-eighth leggings fit look more like the full-length version.
Since introducing a handful of in-house fashion brands last year, Amazon's private-label offerings have ballooned to more than 70 brands, with a good chunk of those in the clothing and accessories categories. One of the most exciting of these, if you're easily excited by affordable athleisure, is Core 10, an activewear line priced far below competitors like Lululemon and Athleta, only available to Amazon Prime members.
Along with sports bras, performance running tights, and some very comfortable-looking fleece joggers, Core 10 sells "build your own" yoga pants and leggings. They aren't totally custom — this isn't Alexa taking laser measurements of your legs and 3-D-printing pants on the spot yet — but with options for length, leg opening, and waist style, there are dozens of possible combinations. They're also eligible for free returns, a rarity for anything customizable.
As obsessive as I can be about my workout clothes (see here), I've been searching for leggings that hit exactly at my ankle bone — not as easy as it sounds when you're four-foot-11 — so I was intrigued by the opportunity to design my ideal pair. Although I can get away with short lengths in regular pants (usually 28 or 30 inches), in fitted leggings, those leave too much material bunching at the ankles. Cropped and Capri leggings get close, but the leg openings are too baggy since they're designed to hit at the calf.
I ordered two pairs: full-length, high-waisted, short-inseam tights; and medium-waist, seven-eighth length tights. The short full-length pair has an inseam of 26 inches, which were a tad too long, but the seven-eighth length has a 24-inch inseam, which made all the difference, falling at the specific spot that has long eluded me. It's the two inches I'd probably have hemmed off all of my pants if I had the time and money to have everything tailored, but this is the closest I'll get as a busy person with a Prime account. The inseams span from 19-inch Capris to 34-inch tall, full-length pants, so there's a solid chance that you'll find your length of choice, too.
Sizes range from XS to 3XL (or 0 to 24) and I'd recommend sizing down if you like a snugger fit. I ordered two sizes and preferred the smaller one that was supportive without being overly compressive. The material is thicker than Lululemon's Wunder Unders or a running-specific tight, so while they are made from a moisture-wicking synthetic blend, I wouldn't use them for very sweaty activities like running or hot yoga. But they'd work for a barre class or lifting weights in the gym, especially since the thicker material is opaque and won't show panty lines, no matter how you're twisting or bending. Soft and stretchy, they're also perfect for days when you're more about the leisure half of athleisure.
These fleece-lined sweatpants look like a much cheaper version of writer Sierra Tishgart's favorite cozy Outdoor Voices joggers. Like most Core 10 pieces, they're also available in plus size here.
The black mesh top of this sports bra would look great peeking out from a bright-colored top.
Mesh cutout leggings complete the look.
Or mix it up with these moto-style bottoms.
These star-printed leggings might be my next purchase. Besides being very cool, the stars are reflective to make early morning or late-night running safer.